Birthdays are opportunities for us to celebrate our favorite people in the best way possible. Presents and birthday cards are great for the occasion. But, handmade birthday card design brings a unique touch that may not be possible with a store-bought card.
Designing a handmade birthday card isn't difficult. You only need to put on your creative cap and let your ideas flow. If you have difficulty figuring out where to begin, this resource will guide you! Let's look at how you can create the perfect birthday card design.
Birthday Card Design: Tips for Handcrafting a Card
The feelings a handmade card will evoke in the birthday person are enormous. This is why you should put effort into making the perfect one. With these tips, you're bound to create an impressive handcrafted birthday card that the recipient will cherish.
1. Consider who the card is for
Is the card for a child or an adult? Think about the person's personality, what they like, their best colors, and so on. While a birthday card can be made with anyone in mind, ensuring that it is designed specially for the recipient is vital.
2. Gather your materials
Put together your work tools and stationeries that you'd need to make the birthday card. Some of the things you might need are:
Construction paper, cardstock, or any paper you have.
Coloring utensils such as markers, crayons, and colored pencils.
Glue (optional)
Stickers (optional)
Glitter (optional)
Ribbon (optional)
Pom-poms (optional)
Other add-ons (optional)
3. Create the birthday card
While it isn't so difficult to create a birthday card, it does take a little creativity to make one that is special. With your materials in place, create a unique birthday card.
Fold cards into different shapes, and get creative with the design. You can also use stickers or other embellishments for extra flair. You can use the person's favorite colors in the design for a more personalized feel.
4. Add pictures
The best part of making cards by hand is putting in some personal touches. You may want to add a print out picture of you and the person you're making the card for. You can also decorate the card with birthday cakes, cartoon characters, or pictures of candles, according to the recipient's preference.
5. Include a personal message
Your handmade birthday card would be incomplete without a birthday message to the person. Think about your relationship with them and the memories you've shared. Write a heartfelt and genuine message congratulating them and expressing your love and feelings towards them.
6. Sign the card
Without your name, the recipient wouldn't know who the card is from. So include the name the recipient knows you by. You can also write down your phone number and email address to offer them an easy way to keep in touch.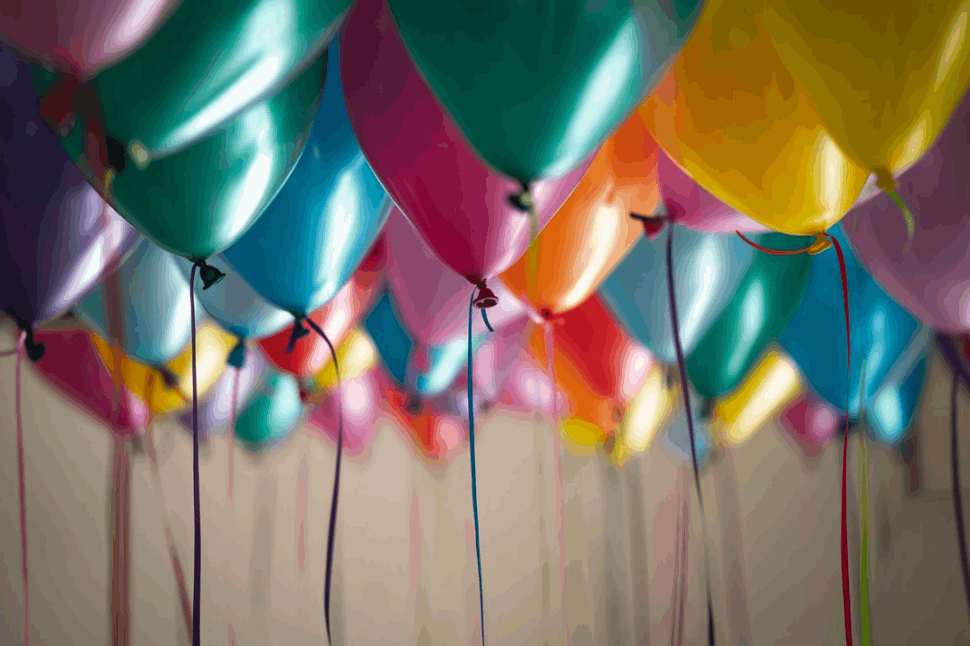 To Wrap Up
Designing a birthday card for your favorite person on the occasion of their birthday will leave a lasting impression. With the craft materials and time invested, your handmade card will express love to the receiver and wish them a happy celebration. Plus, the handwritten message will be well appreciated.
So, go all out, and let your creative juices flow! Show your loved ones that you care and appreciate them with the perfect handcrafted birthday card.
Frequently asked questions
How do you make an aesthetic birthday card?
What should I write on birthday card?
We hope you have many happy memories in your celebration!
We wish you a wonderful day.
Have a wonderful birthday!
Hope the year ahead takes you well.
Let's have fun! It is all yours!
Wishing you all the happiness on your birthday.
How do I print cards from Canva?
Create or open the existing design you want to print.
Trim and add margins. Take some measures if needed.
The buttons on the toolbar above the editor are clicked.
Select PDF Print from the dropdown menu.
Click Download
How do you end a birthday card?
Happy birthday!
Happy birthday to you!
That's your big day!
The day is special, so enjoy it.
Let your day unfold for you!
Wishing you many blessings.
Celebrating you
Your wishes for your birthday celebrations are all coming true.
How do you make a card step by step?
Double-sided paper or cardstock should be thick enough to hold a 4×5″ rectangle. You can buy double-sided paper at any craft store.
Make an opening
The fold lines should be smooth.
The pieces of the X are cut into segments.
You can add decorations the way you want.
Add your greeting
How do you decorate a homemade card?
Stickers. Stickers aren't a new idea, but they have come a long way since we were young – especially when you pair them with other cool things.
Sequins
Paper Quilling
Gems
Wood
Embossing
Ribbon and Trims
Shaker Windows
How can I make a birthday card?
Open Canva. You can start your design with a search for "Cards" within Canva.
Choose a template. Choose one of Canva's professionally designed card templates.
Personalize your card. Send a truly personal and heartfelt card.
Rework your design with more elements.
Order your prints
What are the types of card making?
Stamping, watercoloring, decoupage, and mixed media are some of the most popular cardmaking techniques used by craft beginners.
What is the best birthday message?
Wishing you a joyful day and a great year. Happy birthday!" "Sending you smiles on every moment of your special day..Have a wonderful birthday!" Hope your special event brings you happiness!
How do you make unique cards?
How do you make a birthday card Wikihow?
To make your card, you can also use a piece of quality cardstock (A4 size), slice it in half, and fold it down the middle based on how big or small you want it.
If you have an envelope you would like to use for the card, fold the paper so it fits inside the envelope.
What is a unique way to wish someone a happy birthday?
It gets better with age!
I am thinking of you on your birthday!
You will want to eat, drink, and be happy on your special day.
We hope your birthday is filled with joy and excitement.
Let's have the sweetest birthdays!
How do you make a professional greeting card?
How do I make a card template in Word?
Create a new document using Microsoft Word. Click File > New.
You can freely create or edit content within the open document.
Create images for your card template.
Save your page as a template by clicking "Save As".
How do you say happy birthday in unique style?
You sustained another year.
My birthday wishes have been better than those of others.
Why didn't we celebrate this year in advance?
It was a year after you lost one.
Keep your day busy, don't count the candles.
Happy you day
It is just a number.
I am glad you were born.