Flowers are a timeless token of love and compassion. They're an excellent gift for every occasion, especially for birthdays! Attach a heartfelt happy birthday flowers message to make a bouquet even more special.
If you don't know what to say, don't worry because we're here to help. In this article, you'll learn how you can make a great message with your beautiful flowers. We've also collected some great birthday messages you can get inspiration from.
Check them out!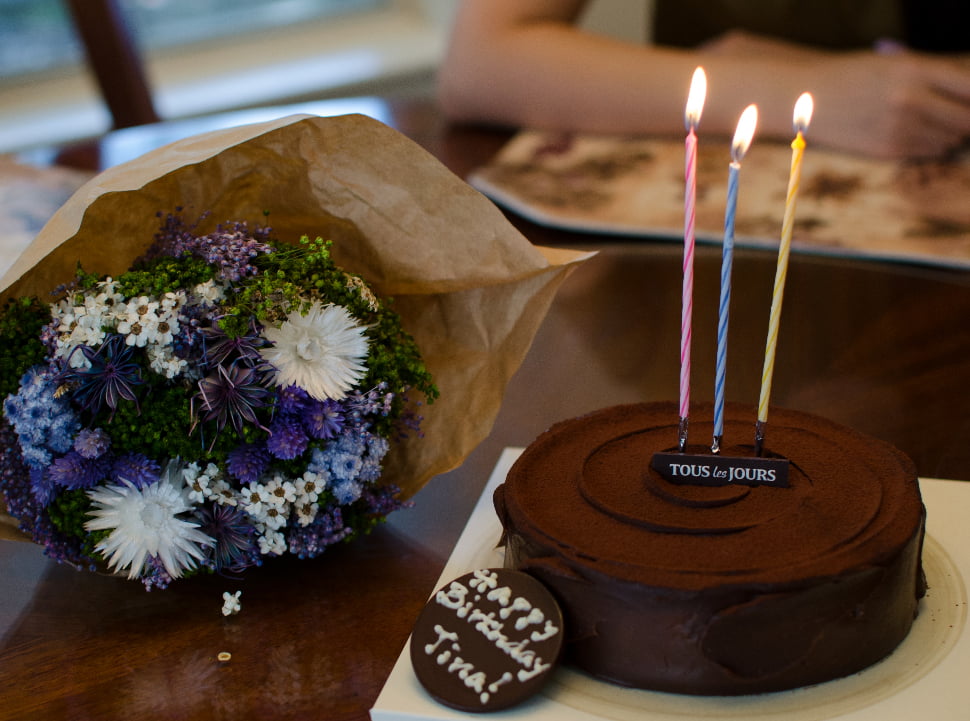 How to Write a Great Happy Birthday Flowers Message
Translating your emotions into words is not a piece of cake. It takes some time, careful consideration, and a plan. Learn how to compose a message for your flower bouquet with these simple steps.
1. Keep it Short
Birthday messages don't have to be several paragraphs long. A few sentences will be enough to let them know how you feel without being too cheesy. Choose your words wisely to make sure you get your point across.
2. Make it Simple and Sweet.
You want them to feel extra special on their Birthday, so be sure to make your message simple but sweet. Let them know what it is you love about them and how much you appreciate them.
3. Avoid the clichés
Using cliché messages like "you're the best" is an easy hack for good old-fashioned heartfelt messages. But fresh ideas are often what make it memorable. Get creative with your messages, don't make them generic.
4. Write Them a Poem
If you fancy yourself a poet, why not write a poem instead of a normal message? This can be a great way to express yourself. They'll definitely find it romantic.
5. Mix in Some Jokes
Keep it light and funny by mixing in some jokes in your message. Maybe bring up an inside joke or share something funny that you heard on the news. Another great way to get some laughs is by using puns. Try it out. After all, laughter is a pretty good gift.
Sweet Birthday Messages
For Your Parents
Thank you for being the sunshine in my life. Happy Birthday!
Beautiful flowers for my beautiful mom. You deserve nothing less.
Everything I am is because of you. I'm so thankful for you every day.
Happy Birthday to the world's best dad! How did I get so lucky to have you?
The beauty of these flowers is nothing compared to you!
You've aged pretty well after everything I've put you through. Happy Birthday, Mom!
You're like fine wine. You improve with age. How do you do it?
I wish you nothing but the best. You deserve everything and more.
Happy Birthday to our very own superhero. Thank you for all that you do.
I celebrate you today and every day. The world would be terrible without you.
Happy Birthday, Mommy! Thank you for being a fantastic Mom and for being there for me.
I wish you a happy day and a joyful year. Have a Happy birthday!
We wish you great happiness every day.
I hope all your dreams come true.
Sending a bouquet of happiness your way. I wish you a very happy birthday!
For Your Friends
A beautiful bouquet for a beautiful soul.
Age is just a number. And you've got a pretty big number. Kidding! Happy Birthday!
Happy Birthday to the only person whose birthdate I can remember. I love you!
I can't wait to go on more crazy adventures with you. Cheers to another year!
Happiest of Birthdays to my favorite sister from another mother. Enjoy your day!
Cheers to all the good times we've been through. Happy Birthday!
Sending you warm hugs and some beautiful memories.
I couldn't have asked for a better friend. Have a fantastic day!
Happy Birthday to my partner in crime.
Let's celebrate like it's your Birthday. Because it is!
I hope this Birthday is more awesome than your last one.
Congratulations on another incredible year. Happy Birthday!
It's going to be your best Birthday yet. Cheers to you!
You are superb. Thank you for the fun times. Happy Birthday!
Happy Birthday to my confidante. You make the world a better place.
For Your Partner
Roses are red, and violets are blue. I miss you like crazy. I can't wait to see you!
Happy Birthday to someone I could never live without.
Cheers to a wonderful day full of celebrations for you.
Happy Birthday to someone that means the world to me.
May your Birthday be just as beautiful as your smile.
Thank you for being such a wonderful person. I'm fortunate to have you.
Have the most beautiful day. You deserve nothing less.
Every year, I am more grateful that I have such an amazing person in my life.
You are a blessing to me. Wishing you a very special birthday.
Sending you an ocean of love and some beautiful blossoms. Happy Birthday, my love.
There will never be enough flowers to show you how much I love you. But here's a start.
Billions of people in the entire world, but I managed to find you. Couldn't be happier. Have a Happy Birthday, Beautiful.
To Wrap Up
Birthday flowers are always a wonderful surprise. Nothing brightens a day more than a birthday bouquet. Don't forget to write your heart out on your card.
A happy birthday flowers message and a vibrant bouquet are great ways to celebrate another turn around the sun. Whatever kind of flowers you choose, they are guaranteed to warm their hearts.
Frequently asked questions
What is the best flower color for birthday?
Birthday Flower Colors A bright bouquet of rainbow or yellow roses is a tradition for birthdays.
What flower means love?
Camellia. There is a general meaning to these flowers: love, affection, and admiration.
What is the most romantic flower?
Rose. The red rose is among the most romantic flowers. Like many of the flowers we've explored, red roses have a variety of meanings that can be understood. Among the reasons for this are bright red roses, red rose flowers, and burgundy flowers representing love at the very least.
How do you say thank you for unexpected flowers?
Dear [Name], I was excited to receive flowers from you in [occasion/holiday]. They are lovely, beautiful, and lovely, and [flower types] are my favorite. When I see them, I think of you and appreciate that you thought of me.
How do you say thank you for flowers for birthday?
I am surprised that you remembered my birthday! I'm so happy! I will keep the flowers at my desk for as long as they last. Two thanks to the team for their birthday flowers!
How do you thank someone and appreciate them?
Thank you for your support.
I appreciate you
Thank you for taking the time to take the time.
Your insights and guidance are valuable to me.
Thank you very soon.
I appreciate your confidence that you expressed in me.
What is the best flower for birthday gift?
Lilies. A flower of happiness and positivity, a lily represents success.
How do I say thank you to my daughters flowers?
Thank you so much for flowers. Let's just jump in and thank them for being so thoughtful. You are free to tell us about the lovely flowers, where you have placed them, how great they smell, and how much you enjoy them. You could say, "Thank you so much for the lovely tulips!".
Is flower good for birthday gift?
Flowers can be the perfect birthday gift when you want to show how much you care. Firstly, flowers are beautiful and mood-lifting-they are beautiful. Your gift of a bouquet or flowering plant on someone's birthday sends the clear sign that their happiness and well-being matter to you.
Why flowers are a good gift?
In our vocation as gifts, flowers are meant to connect with an emotion. Flowers communicate the deepest feelings in the most elegant way, whether it be love, joy, affection, appreciation, sympathy, romance, or apologies.
What to say when someone surprises you with flowers?
The perfect gift for you!
02″I just needed this!
03″How did you know I love [input type of flowers].
e"You always know how to make me feel loved and appreciated.
05"Wow!
Thank you for making me feel special on my birthday.
How do you say thank you meaningfully?
I'm so grateful. It is as simple as saying thanks, so let's get started.
I appreciate it
This is a great project, thanks for doing it!
You couldn't have done it without me.
This is a retribution to me.
Much obliged
I appreciate your kindness.
It is with great gratitude that I offer my sincerest thanks.