Your mouth may already be watering at the sight of this perfect breakfast menu. We feel you! But don't let this scrumptious display of food distract you. We're here to talk about the best food blog titles!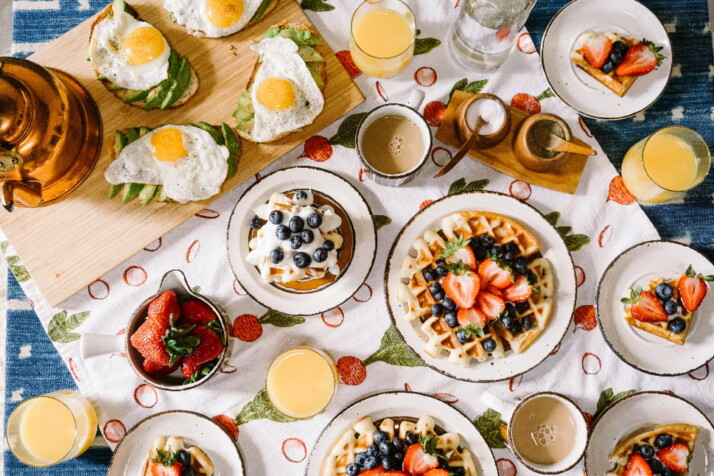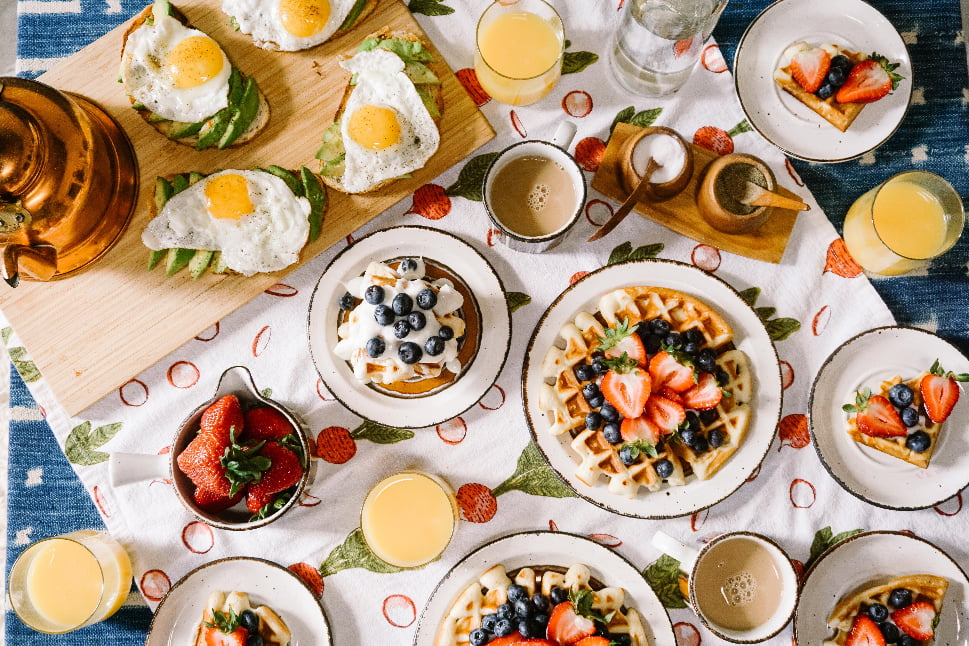 If you're a food lover, starting your food blog will feel completely natural. It can give you a great space to share your love of cooking, baking, cuisine, and more.
Food is a big part of our everyday lives. This is why food blogs are hugely popular all over the world.
With tons of other food blogs on the internet these days, you'll need to find a way to stand out. And an excellent food blog name can help you do exactly just that! You need a name that will truly draw people to your website. Something that will make them want to dig even deeper into your content.
Luckily for you, we have done the hard work and listed some of the best food blog titles in this article. All you'll need to do is choose which one fits your vision for your blog!
60+ Best Food Blog Titles
General Food Blogs
Everyone's Meal
Meals of the Heart
The Food Muscle
Food lover
Meal Time!
Gastronomic Delights
Spice Kingdom
Kitchen King
Cookin with My 3 Sons
Making the Best of Less
Kitchen Dreams
Daily Dish
The Family Kitchen
Way to Cook
Crazy Good Food
Must Have Food
The Food Enthusiast
Food Wars
Delicious Food, Inc.
Food Spinners
For Vegan Blogs
Upgrade Meals
Cook On Health
Pinch of Health
Living Health Dish
Paleo Flavors
Wellness Dinner
Muscle Plan Eat
Fit People Proof
Plant Eats & Treats
Vegan Kind Life
The Raw Blessings
Whole Vegan Craze
The Vegetarian Mama
Garden Nutrition
Foodies Restore
Baking Blogs
Everything Chocolate
Dry Heat
Treasures from the Oven
The Healthy Baker
Cake Queen
Cupcake Haven
Happy Frosting
Hot and Fluffy
The Home Baker
Baked Delights
Grandma's Oven
Smelling Sweet
Sweet N' Fluffy
Muffins, Tuffins, and More
Oven Baked
Witty Blog Names
Cooking Heaven
Cookie & Sweet Dreams
Cooking the Books
Sweet Cuisine Surprises
Taste Adventure
Cooking Heavy
Food Cravings
Pop the Blender
Not Tasted Before
A Bite of Yummy
Creamy and Crunchy
Cupcake Nation
How to Make a Good Food Blog Title
Here are some tips to help your create an excellent food blog title.
1. Think About Your Niche
Before you choose a blog name, you need to figure out your niche. Are you great at baking? Cooking Mexican cuisine? What's your expertise?
This is very important because your blog name must match your expertise. Once you've defined your niche, you can choose a more suitable blog name.
2. Determine the Goals of Your Blog
What do you hope to gain from your food blog? Ask yourself this first before going straight to naming your blog. Do you want to share your cooking expertise? Or maybe you want to sell cooking products online. Regardless of your goal, make sure your blog name reflects it.
3. Boost Your SEO
A catchy blog name is not enough. You must also boost your blog's SEO to rank higher in Google searches. And this means using the right keywords in your blog name.
Use keywords that are relevant to the content you want to make. This will help you draw in more readers to your blog.
4. Check Your Competitors' Food Blog Names.
You need to know the blogs that you're up against. Make sure not to choose a name that's too similar to your competitor. This can confuse your visitors and can make it hard to spread brand awareness.
5. Keep It Short and Catchy.
The ideal length for a blog name is 1 to 3 words. This is because shorter blog names are much easier to remember. And a memorable blog name will help you gain momentum and grow your blog's reach.
6. Make Sure It's Readable.
Your name should stand out from the other bloggers in your niche, but it should still make sense to your readers. It's best not to include slang terms that people might not know in your website title.
7. Get Creative and Make It Fun.
A blog name needs to be unique. It needs to reflect your love for food and cooking, so don't be afraid to get creative with it. To add in some humor, you can make use of puns or play with words.
Remember to anchor your title in your niche, but also make it catchy enough to bring more people to your site.
8. Use a Blog Name Generator.
Free yourself from the struggle of coming up with a good blog name by using a blog name generator. There are tons of these tools that you can find online. And they can save you a ton of time while giving you a winning blog name!
To Wrap Up
Use only the best food blog titles to help with the growth of your blog. Make sure you choose something that sounds appetizing and catchy.
Finally, make sure that no matter what, your blog name captures the essence of what you're doing. It should help you connect with your readers, encouraging them to get to know your brand.
Explore All
Blog Title Generator Articles