With emails and texts becoming the default means of communication, handwritten notes and letters may seem old-fashioned, but they never lose their charm. If you want to send the love of your life a special message, a love letter to a man is an excellent choice.
Handwritten love letters are a great way to express your feelings for your loved one and create an intimate, meaningful bond. The time and attention required to write such letters may be off-putting, but more often than not, sending them will undoubtedly feel worth it. The romantic letters in this guide will inspire you to write a heartfelt letter that will take your relationship to the next level.
When to Send a Love Letter to a Man
Love letters are romantic gestures that say a lot about your devotion to the person you love. The letter gives them a sense of security and reassurance of your love. It provides comfort in times of insecurity and keeps their spirits up in the most challenging times. A love letter can also be used to express your deepest emotions and passions. It can be a powerful tool if you use it wisely.
A love letter can create a magical moment and make your significant other feel cherished. There's no particular time to send a love letter to your lover. You can write it on occasions like anniversaries, birthdays, Valentine's Day, or any random day.
How to Write a Love Letter to a Man
Begin by saying why you're writing the letter, then tell how you're thankful for his love, care, and support. Tell how you appreciate his kindness and always will.
Share a memorable event you both experienced; it could be when you spent time together watching the skies or when you first met. It could be a warm moment you shared or a funny and somewhat embarrassing moment. End your letter with some beautiful words or an affirmation of your love.
When you write a love letter, share your natural feeling. Be honest and sincere, don't go overboard to impress your lover. You may use a card or a writing paper, but write your letter by hand.
Look through the letter, and make any necessary edits before you send it. You may put it inside an envelope and hand it to him when you meet. If you want to surprise him, you can put it inside a book he's reading, under his pillow, or in his pocket.
Sweet Love Letters to Your Man
If you're struggling to put your thoughts into words, here are some love letters you could draw inspiration from. Each letter is from the heart and can be personalized to your husband or significant other.
…………………………………..
Hi love,
I didn't think it was possible to love someone so deeply, but you've given me faith that true love exists. I've no worries because you're always there to save the day. I keep thinking about you and how incredible you're.
You've made me feel so good and so unique. You're the reason why I smile. I remember our first dates and how we played with each other's hands at social gatherings, hoping nobody could see us. These were the best things in my life. You're my world and I hope you know that. I love you with all my heart.
…………………………………..
My sweetest boy,
When I am with you, I can't help but smile. You're so special to me, and it's fantastic to be here with you. You're life's greatest gift to me, and I feel so blessed being your girlfriend.
I love how you make me laugh without even trying. I love it when you look at me with those gorgeous eyes and a smile. You're the best boyfriend, my love. You're my very own little sunshine! I cherish all the precious moments we've shared, and I look forward to many more. I love you so much, and I mean it.
Amazing Heartfelt Love Letters to Your Man
Dearest boyfriend,
I want to appreciate you for your care and love for me. You came into my life when I was in terrible pain and made me happy. You always comfort me when I'm sad and stand by me no matter what. I can't forget all the time we've spent together and the laughs we've shared. You're extraordinary, kind, and compassionate, and I can never imagine my life without you.
My greatest wish is to spend forever with you. I can't wait for us to discover new things in life together. Every journey will have its roadblocks, but we will overcome them together and be more powerful as a couple. I love you so much.
…………………………………..
Hey Sweetie,
You mean everything to me and I love you. I feel fortunate to have you as my remarkable man, and I know you feel the same. With you beside me, all my dreams are coming true. It's incredible to have someone to share everything with. You laugh at my jokes and listen to all my stories. Without you, I would be lost and lonely. I love you deeply, and I can't even imagine being apart from you.
…………………………………..
My partner in crime,
It's incredible how we've been together for over ten years, yet I still feel like it's just the beginning. You've given me the best years of my life, and I'll be thankful for it forever. I'll love and respect you forever and always be there for you whenever you need me. I know now that I've found the love of my life.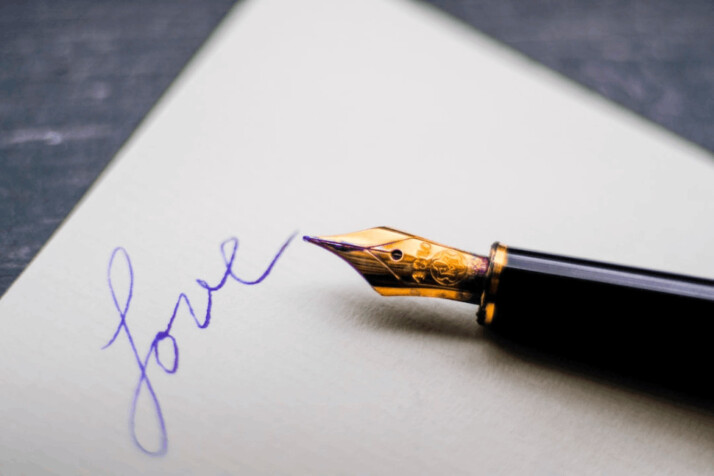 Wrapping Up
Letting your man know that you love him is priceless; with the right words, you can make him feel special. But finding the words to express your feelings to your man in a love letter can be pretty challenging. This guide's collection of love letters will surely leave your man feeling loved and adored.
Explore All
Love Letter Generator Articles