No matter how careful they are, two people in a relationship are inevitably going to run into each other, sometimes unintentionally. When this occurs, the person who said or did something hurtful to their partner is required to apologize.
Apologizing can be more difficult to do than it is to say. How do you pick the ideal phrases? What are some sincere ways to do it? What are the most heartfelt condolence messages you can send to a loved one? In today's post, we are going to show some example apology love messages for her.
Sounds exciting, right? Well then, keep reading our guide until the very end!
Why Write a Love Message For Apologizing To Her?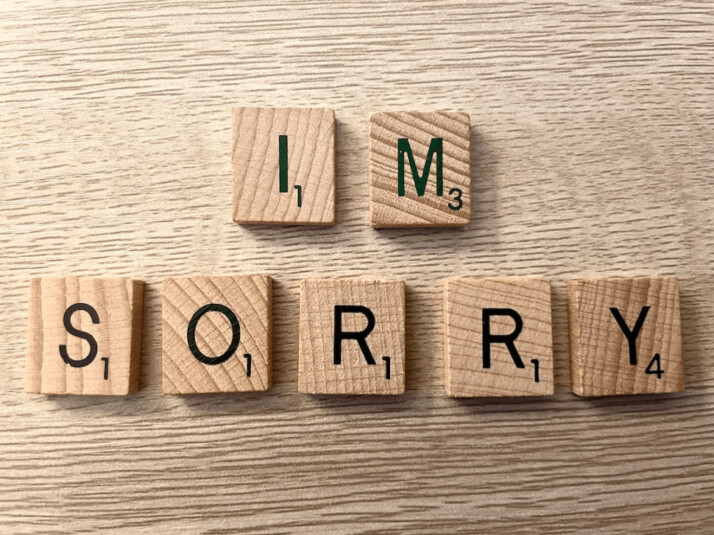 Request forgiveness from your wife or girlfriend by sending your significant other sincere messages of apology.
There is no perfect relationship. There are always highs and lows in any relationship. Relationships will inevitably require us to apologize to our partners, whether we like it or not.
No matter how wonderful the relationship is, someone will make a mistake at some point, and the other party may get hurt.
Giving an sincere apology is the only way to make things right. But it's difficult to say I'm sorry. To ask for forgiveness, we need the strength, dignity, and full acceptance of responsibility.
However, expressing your regret is the only way to repair the relationship and trust between you and your loved one. You are able to express your regret via phone call, in-person apology, email, card, or text message.
Best Apology Love Messages For Her!
Although I am a flawed human, this does not excuse the errors in judgment I have shown you. I am aware that saying I'm sorry won't make a difference. But I will stick to my promise that I will change because I want to improve myself for you.
You are important to me, so I never intended to upset you. It will ruin my life if I lose you. I humbly beg your pardon for making you feel the opposite. I will always love you.
Every time, I make a mess. You are never to blame. I'm sorry for making you uncomfortable. I find it incomprehensible that I hurt you. My only chance at survival is through you. I'll do everything in my power to improve myself for you, I swear.
You aided my personal development. Sincerity dictates that I work extremely hard to improve for you. I'm sorry for inflicting you with harm. I beg your pardon most humbly.
It's said that arguments are a given in relationships of love. They clash over their differences because they care about them. I'm interested in you because of that. However, being impolite and hurtful is never justified because I have hurt you. I had no intention of harming you.
I'm sorry for assuming you would always be there, baby. I understand now, and I've made a mistake. I am eagerly anticipating your return. I'm sorry.
You deserve so much more, my love, than I've given you. Therefore, I kindly ask for your forgiveness and welcome back into your life.
Everyone is not perfect, as you stated. We all have shortcomings. You were let down by the errors I made. Please accept my apology. I love you so much.
More Apology Love Messages For Her!
I apologize for the mistakes I made that let you down. Due to your unwavering loyalty to me despite my injustices, you are the best girlfriend in the entire world. I sincerely apologize.
Only you could have taught me that begging for forgiveness in a humble manner is the bravest thing I have ever done. My frustration stems from the fact that I offended the most important woman in my life. You, my dear, are that. Please accept my apology and my request for pardon.
I'm sorry if I offended you. Due to the things I created, I am currently in pain. Because I hurt you the most, I felt like I was losing life's greatest blessings. I'm sorry. Please forgive me.
You deserve a boyfriend, and I've never been that for you. But, darling, I firmly promise that you will be with a new man you truly deserve by tomorrow. I'm sorry.
You have filled me with all the love and care in the world ever since I first met you. However, I abandoned you with a broken and bare heart. Nevertheless, you enrich my life with all the pleasant things I can observe, but I filled you with sobs. I'm pleading with you, baby, to pardon me.
You are my inestimable love. I'm sorry for ignoring you and taking the opposite path. I am fully aware of my terrible error. I will always love you.
I'm sorry for using foul language with you. It brings tears to my eyes. It depresses me and leaves me feeling empty. I beg your pardon in the most humble manner.
I hope you can find it in your heart to pardon me. My heart is troubled. I have tears in my eyes. I apologize sincerely.
Continuing Sorry Messages For Her
Fighting is important. We are developing our ability to compromise, deal with challenges, and advance spiritually. It does not imply that hurting one another is acceptable. Baby, I'm sorry for how I acted.
You can say you're sorry with flowers. Your lesson has been learned, according to date. A diamond says these two things. All three of them combined are raising her ire.
You are the only woman I love, honey, as you well know. Our silence is heartbreaking to me. Although I want to cry, I am out of tears. Please speak up; being this way hurts. My love, pardon me.
I remain the same person you adore so much. Nothing has changed about me. It was merely an error that occurred without my intention. Dearest, I love you.
The fact that I have a partner like you makes me the luckiest person on the planet. But I'm the one who always gives you trouble. I swear to work hard to grow into someone you can be proud of. Regret my errors in judgment.
I long for the times when we could tap our backs, cry, and laugh together. But I've done you harm and made you suffer. Please keep in mind the joyous occasions we shared. I'm pleading with you to pardon me.
Although I hurt you, it doesn't mean I no longer have your unconditional love. I experience pain as well. I apologize, my beloved wife.
An attractive, gorgeous, and loving woman can never be angry with me. I sincerely apologize. I hope things return to normal soon because I'm already missing you.
The errors I make are terrible! I irritated and enraged you. You no longer believe in me. However, I assure you I will exchange it for kisses, hugs, and love. Sorry again.
More Sorry Messages For Your Girlfriend!
I am saddened when I see you fret because you are such a wonderful person. I find it intolerable to witness your tears. Therefore, I kindly ask for your forgiveness for all of my errors. I swear I won't make the same mistakes again and won't ever hurt you.
I miss having you around, exchanging cute texts with you, and making plans with you. Right now, all I get from you is your disinterest whenever I see you. So please accept my sincere apologies. We should enjoy ourselves just as much as we did before. I sincerely apologize.
Being selfish caused me to act without realizing what I was doing. Never in my wildest dreams did I think I'd hurt you so badly. I sincerely apologize for cheating on you, and I hope you will accept my apology. Let's get back together now.
Accept my heartfelt apologies, my love. I feel like a big chunk of me has been taken away since you left. I desire your return. You should stand by my side right now. It's a living hell not having you around. I sincerely apologize for hurting you so badly.
Darling, I'm so broken that I can't believe I hurt you. I might never be able to make it up to you, in all honesty. But would you please let me try? Accept my sincere apologies. I'm sorry. Please forgive me.
Although I am aware that this is not the ideal apology, I sincerely hope you will accept my request for forgiveness. Recently, I have been irritable, which has led me to say unnecessary things. I have since come to understand that some things are better left unsaid. Sweetheart, I sincerely apologize. Please forgive me.
Even More Sorry Messages For Your Girlfriend!
I apologize if anything I said or did at the party last weekend offended you. I had no intention of hurting you. You'll be able to forgive your sweetheart's boyfriend, right? Please forgive this idiot!
I never considered myself to be capable of such a thing. Knowing that I hurt your feelings hurts me. You should be getting much better than this. For you, I'll go above and beyond to improve. Please forgive me.
Conclusion
We hope you found our compilation of apology love messages for her useful. Sometimes, just saying that you are sorry doesn't cut it. You need to write an excellent sorry message to repair your girlfriend's broken heart again.
Explore All
Love Letter Generator Articles