Some would argue that writing a love letter is a dying form of communication. It is a holdover from ancient times that is no longer relevant in our current culture of instant gratification.
A love letter is a remarkably romantic and meaningful gesture in today's world because it is slow, deliberate, and deeply personal. We are also forced apart by social distance and separated by physical and invisible barriers.
We are entirely dependent on more impersonal forms of communication like email, social media, and video chatting. That's why,we are going to be looking at the best ways to write a love letter.
We're also going to look at some examples of love letters to give you an idea before you take the pen and paper
Why Write a Love Letter In This Day And Age?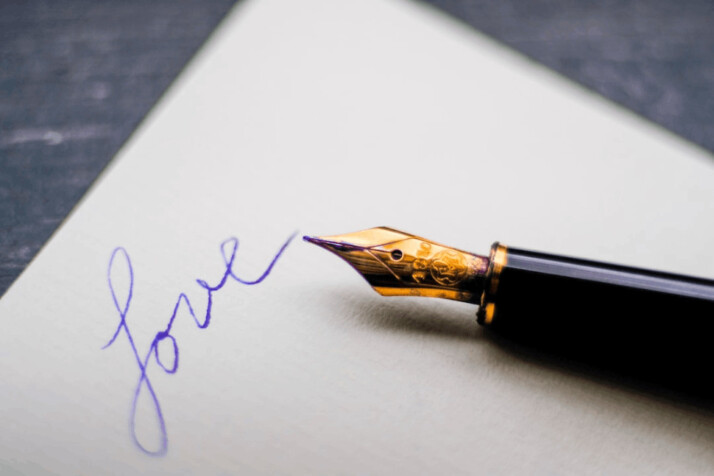 As the name suggests, a romantic letter is written to your significant other, such as your spouse, girlfriend, or boyfriend. Romantic letters are thought to be the most delicate ones to convey the most complex emotion, namely love.
In a letter, you have room to express yourself fully and let the recipient know how much they mean to you. Although leaving a note is the easiest way to express love and feelings, it cannot take the place of a letter.
Exceptionally private and individualized, a romantic letter. Although it can be challenging, writing a romantic letter is relatively simple. Despite the fact that expressing love is simple, choosing where to begin is never easy.
Therefore, the recipient should be explicitly named in the letter, and a kind salutation using words like "beloved," "darling," "sweetheart," or "dear" should be used. The body of the letter is the main section of the love letter.You should start by emphasizing how important the recipient is and assuring them of your love.
When writing a romantic letter, you should sound authentic and sincere in your thoughts, expressions, and emotions. Write about the other person's strengths, your favorite aspects of them, the lengths you would go to support them, and your admiration for them.
In writing, you can also put your thoughts about them, as well as your memories or the lovely memories you shared. In your letter, describe how you feel about your relationship and any particulars that set it apart. When writing your letter, use appropriate language and express yourself honestly.
Tips for Writing a Love Letter
Give your letter's purpose some context at the outset. It might say, "I just had to express my feelings because I feel so full of love for you today." Or, "This is the only Valentine's Day we'll spend together as an engaged couple." It's similar to how I love you, it is distinctive.
Don't begin your letter with that lovely stationery, even if you have chosen it. Every great author understands the importance of editing. You should first write your note down on scrap paper or using an electronic device.
You should write initial drafts. Look for opportunities to express yourself more clearly or forcefully. Lastly, and most importantly, check your spelling. Make use of a spellchecker. Misspelled words could mean something completely different. Put it on the appropriate stationery only after you have given it a thorough edit.
Clarity about your feelings for someone takes time, as does figuring out how to express them in writing. Likewise, you are free to take your time writing the letter. Include a brief anecdote about a shared memory or a time when you were specific rather than just expressing your feelings.
It's possible that your love letter isn't the best one ever written. However, if it comes from you and is genuine, the recipient will consider it perfect. That's the only thing that counts in matters of the heart.
Examples of Love Letters
Now that we know why love letters are important, and how should we go about writing them, let's look at some example love letters.
Example Love Letter #1
Dear Karla,
The most amazing thing that has ever occurred to me in my entire life is being with you. I didn't realize how lucky and content I am to have you in my life. I feel at peace and find new purpose in life when I consider being by your side.
My ears find your voice to be music, a soothing song that lulls me into peaceful dreams. When I gaze into your expressive eyes, I am able to see everything as being lovely and vibrant. My spirits are lifted, and my weary heeds are calmed by the gentle murmurs of your alluring voice. The warmth of your embrace dazes me. Your radiant smile disperses all my worries and ambiguities.
No amount of language could ever capture the joy I'm feeling right now. In fact, having you in my life makes me feel blessed. You have given my life a new purpose, and I cannot imagine what it would be like without you. The most traditional thought that has ever crossed my mind is loving you. Nobody will ever be able to fill the special place you hold in my heart; it is unique. You have my undying gratitude.
Forever Yours,
WW
Sample Love Letter #2
My One and Only Jessica,
I love you very much and want to stand by your side. I feel so warm and safe in your arms. We can sit and talk for hours, and I'm satisfied and at ease. I feel relieved knowing that I'll be by your side.
When you remain by my side, my heart finds harmony. My heart trembles, and my emotions sway because of you. I can't wait to meet you and am desperate to get close to you.
With sincere love,
Georgie.
Sample Love Letter #3
Dearest Maria,
I'm not one to write the best love letters, but here goes.
Only you and you and you are my favorite women. I feel entirely pure in your love. Due to the fact that I didn't have you before, I have stumbled so much in life. You are the most significant and outstanding companion I have ever had. I want to experience life's adventures with you. You are a wonderful friend with whom I adore sharing my darkest secrets. You make the ideal companion.
I appreciate how loving and encouraging you are, and I pledge to reciprocate. I'll help you carry your burdens and lovingly encourage you as you strive to be the best version of yourself. Baby, you make me feel like a romantic man and inspire me. You are the woman who extends her arms toward me and smiles broadly and warmly. You'll be the woman I long to love all the days of my life.
I adore you.
Jose
Conclusion
We hope these examples of love letters was able to assist you in writing a love letter of your own. If you are still looking for more ways to write a love letter that will relay how you actually feel, we have one more trick.
Take a look at our love letter generator tool, here at INK! This nifty little love letter generator utilizes AI, so you can be sure that the love letter is original. Just input some words to start and you will writing the best love letters out there in to time. Not convinced? Well, come and try it out!
In any case, if you liked our post on examples of love letters, consider sharing it with a friend who has the same problem!
Explore All
Love Letter Generator Articles