Does your hubby make sacrifices for your happiness? Then, express your gratitude by sending a heartfelt message to husband.
To create a lasting connection with him, telling him how much he means to you is crucial. Taking the time to appreciate and value your husband's contributions will compel him to show you the same level of devotion.
Here are some of the most beautiful love quotes and heartfelt message for husband ever written. You can gift them to your husband and shower him with eternal affection.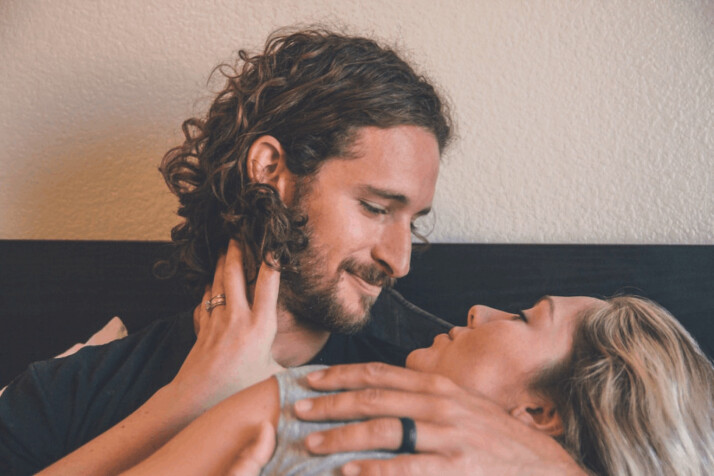 Warm Heartfelt Message For Husband
Sending warm, heartfelt messages to your husband could make a massive difference in his life. Surprise him with sweet notes like those below next time you text him.
"I can do without a morning cup of coffee, but not without cuddling my handsome hubby."
"The best thing life has brought to me is you. Thank you for being my partner all the way."
"Every beat of my heart belongs to you. Every ray of sunshine comes from you, and every whiff of air that I breathe, I breathe for you."
"I stole U from the alphabet because U belong to me!"
"God gave me my husband, so we could withstand the storms of life together."
"Being someone's first love may be great, but to be their last is beyond perfect. I love you!"
"I'm glad I chose to walk with you. I'm more than willing and happy to walk an extra mile with you as I hold your hand. I love you!"
"Each time I look at you, I smile to myself and think, 'I couldn't have done better.' You are perfect the way you are. I love you, honey!"
Long Charming Messages to Husband
Charming messages are soothing and soulful. They are perfect for a husband and all relationship partners. Tell your hubby how much he means to you with these messages.
"Many people say that once you get married, the romance is over. You do not know the pride I take in our relationship. No day passes by without us filling each other with words of kindness and love. Thanks for being you. I love you dearly".
"I have a good, loving husband who is there for me. Making me feel so loved and special. I want to return the sweet favor by letting you know how much you are appreciated and loved. I Love you!"
"I don't need a superhero. I don't need a character from romantic novels. I don't need a prince from a fairy tale.
"You are a warm cup of coffee on a rainy morning. A soft blanket on a cold night, the rainbow following a storm and the sauna at the end of a difficult week. You are the love, passion, and comfort of my life."
"You are the reason for my happiness and tears of joy. You have never distressed me. I'm ready to tell you how much I love you, appreciate and respect you. You are the best."
"Monday morning blues have become colorful. Boring weekends have turned into fun. Xbox has become interesting. Cooking has become romantic, and watching TV has become much cozier in the arms of a husband like you. I love you!"
I Miss You Notes for Your Husband
Waiting can be challenging if your husband is a frequent traveler or if you are in a long-distance relationship.
However, the sweetness of the anguish of missing your love is real. It's the ideal time for sending your hubby love letters or poems. Here are a few lines you can use to express your love and longing for him.
"I wish I were kissing you instead of missing you."
"It's not that I don't know why I miss you… it's just that I don't know how to put it in words."
Every second with you is special. Years have gone by, but I still long to see you again. I love you, dear. I am missing you so much right now.
"You are my strong support, blessed to have a soul with a good rapport."
"If I had my life to live all over again, I would find you sooner so that I could love you longer."
"When we're not together, my soul feels hollow; my heart feels numb, my emotions become shallow. Like a rainbow without colors, like poetry without rhyme, times I spent away from you are the darkest ones."
"I wish I knew a magic spell to bring you here. I wish I could teleport myself so we could be near.
"Silence has a voice; I know this because it screams when you are away." – Tyler Knott
Long Inspirational Quotes For Husband
Consider using these quotes for your husband, and you'll be sure to make them smile.
"I never had a moment's doubt that I loved you. I believe in you completely. You are my dearest one, my reason for life." – Ian McEwan Atonement
"The success of marriage comes not in finding the "right" person. It is in the ability of partners to adjust to the real person they inevitably realize they married." John Fischer.
"A man's success is measured by what his wife and children say about him. Money and accomplishments mean nothing if you let your home fail. And you, dear husband, have never failed us in any way."
"A strong marriage rarely has two strong people at the same time. It is a husband and wife who take turns being strong for each other in the moments when the other feels weak." – Ashley Willis
"No relationship is ever perfect and I know I'm far from perfect. But, as long as you're willing to try, I'm willing to stay through anything."
"Your love is the doctor to my wounds, friend to my sorrows, mentor to my dilemmas, teacher to my actions, companion to my joys."
"You are my always & forever. My happily ever after. A soul mate. My best friend. A dream come true. For always!"
Thoughtful Messages for those in Relationships
One of the best ways to help your husband or significant other is to tell them what you love about them. Let them know that they are a gift to you through these messages.
"When I truly love someone, desiring to please them is a natural reaction. – Tom Otiende
"You are the poem I never knew how to write; this life is the story I always wanted to tell." T.K. Gregson
"You are the sun in my day, the wind in my sky, the waves in my ocean, and the beat in my heart."
"You are my sailor, my ship, and my captain. Your love is like a strong, dark, mysterious sea forever there for me. I'm happiest when I am with you."
"Moderation in everything is my goal, except for one thing: you. I want you to surround me with your love and hold me forever. It may be excessive, but I want it so terribly."
Final Thoughts
We want to thank you for taking the time to read this article. We hope you found a heartfelt message for husband and had an excellent read.
Remember that those you love are exceptional people and to never take the happiness and feeling of being loved for granted.
Explore All
Love Letter Generator Articles