Despite how perfect your love for one another may be, events can separate you. Perhaps obligations or a better job opportunity are preventing you from being a couple.
Take heart if you find yourself in a distance relationship; it's only a test to strengthen your love for one another. Maybe it's difficult for you to communicate your true sentiments to your long-distance lover. Given how far you are from one another, it makes sense that it would happen.
Maintaining a satisfying and unique long-distance relationship can indeed be challenging. However, there is one undeniable thing: distance cannot be the cause of how souls and hearts are rupturing apart.
That's why, we're going to look at the best examples of long distance love letters for him in today's post. If you have a man overseas and want to surprise him with a letter, keep reading until the end!
Why Write Love Letters in a Long Distance Relationship?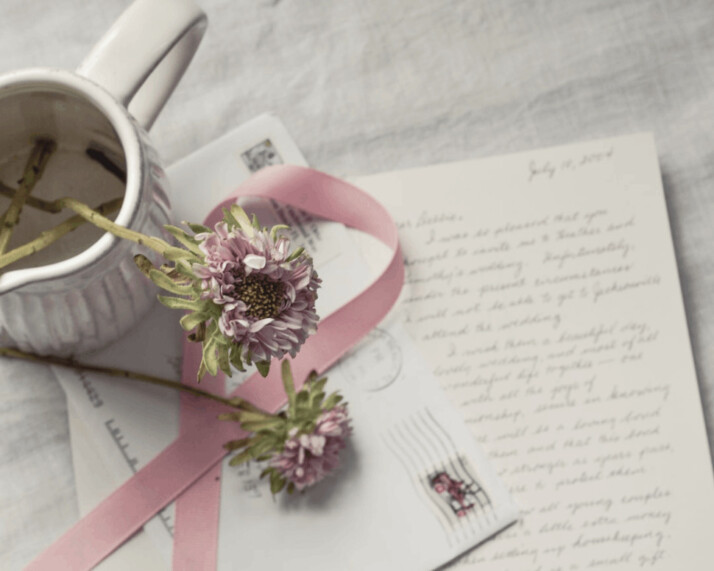 Handwritten letters have all but disappeared in today's technologically driven world. Examples of open and sappy long-distance relationship letters for him are provided in this post.
While many of us continue to text, voice call, or video call, receiving a handwritten letter can feel incredibly special. Your guy will smile and feel valued and essential if you give him a lovely handwritten note that includes some beautiful memories or moments from the past and promises for the future. You can write your boyfriend a personal letter as a surprise and reassure him that your relationship is still strong despite your physical separation.
It takes work to maintain a distance relationship. Travel back in time and compose long-distance love letters for your partner instead of sending him standard text messages and emails!
There is just no getting around the fact that sending and receiving love letters is incredibly romantic. The excitement you experience before receiving your partner's letter is another factor.
Do this to let your partner know that you still have thoughts and feelings for him despite being apart. Do what, you might ask? Write down your feelings and thoughts for him.
Share your deepest aspirations and fantasies with one another in order to keep the flame of your romance burning, as well as the promises of things to come when you two meet.
Best Long Distance Love Letters for Him!
Every day, I long for you. Through the long, sweltering summers and into the chilly winter months. I'm looking forward to the day you return. I can overcome any obstacle I come across in life because of your love. It also makes me feel weak without you when you're not here. We are separated by many miles, and I wish I could just be in your place. I wish I could take a plane to your location and live with you the way we were meant to. But there is a place and a time for that, and I recognize that we must first take care of our obligations. That said, my love, it doesn't stop me from missing you every single day. I am expecting you because I love you.
Compared to yesterday, I miss you more today, but not as much as I will tomorrow. Everything I see makes me think of you. When I soak up the sun, I think back to the comfort of your embrace. Every time a distant melody that makes me think of our time together plays, I remember the comforting sound of your voice. When I hear the wind howling in the chilly winter months, I think of you and your laughter. I think of you whenever I see you, hear your voice, or feel your presence. One day, we will forget all this, remembering when I am finally where you are. However, while I wait for that day, I let the outside world constantly remind me of you and how much we love each other.
More Love Letters for Him
I'm left feeling empty and depressed because I know we're separated. When I think of you, I feel like I am the world's most fantastic person. I simply can't find the appropriate words to express how extraordinary your love is to me adequately. You know what, I sincerely hope you never forget that someone here is considering you on a second-by-second basis. I sincerely hope you never forget that you have my undivided attention. No relationship could possibly be stronger than the one I have with you. You have my undying love, sweetheart.
I smile daily, knowing that you are my man and we are going through life together. You are the one who consistently has my mind racing. You have never once left my thoughts, despite the fact that you are not physically present with me. We may remain apart because of distance, but our hearts will always be linked. Never a moment goes by when I don't think of us when I consider love. I'm so in love with you that being your girlfriend makes me happier than I ever imagined it was possible to be. Sweetheart, I adore you.
My heart immediately thinks of you when I hear words of love. I have listened to so many people discuss how they can control the amount of love they give, but I am the one who gets to choose how much I love you. Simply put, you are so amazing that I cannot adequately describe you to the rest of the world. I want to be in your arms and experience your warmth on a deep level. I've always wanted a perfect creature in my life, and you are that. Oh, baby, how I adore you.
Even More Love Long Distance Love Letters for Him
I feel weak and depressed about how far apart we are throughout a single day. Though I am confident that time will bring us together, I find it challenging to handle the present without you. My entire heart belongs to you, and I'm willing to give my whole being to you. You are the most precious person in my life because you are the kind of lover who deserves to be cherished above all else. My sweetheart, I adore you with all of my heart.
I never talk about love without mentioning the beauty of what we have in common. Even though we aren't together right now, it's evident that our hearts are the same. Do you know how much you mean to me? I wish you were right here with me so I could look you in the eyes and tell you. I really want you to get something from what I've just said. I'm telling you this to let you know that nothing in the world can halt the development of my love for you.
The worst thing that could possibly happen is waking up alone. The time since we last spoke seems to have dragged on for a very long time. It's nearly intolerable. However, please know that you have my unwavering support, and I am proud of what you are doing. Despite how much I miss you, knowing that you are content doing what you love gives me comfort. I am genuinely happy for you because you are now where you always wanted to be. It's just that I only want to see you again soon so we can make up for the time we lost spending together. I intend to visit you soon.
Other Samples of Long Distance Love Letters
Since we've come so far together, I never go a minute without thinking of you. You are simply too perfect, and I want more of you with every fiber of my being. Distance has been able to keep us apart for some time, but I'm confident that there will come a time when we will be together forever, sharing stories about the times we constantly missed each other's hearts. You are the most excellent boyfriend in the world and merit such intense love.
I am so happy that you are my boyfriend and I get to spend every day with you. You possess a truly unique personality. I frequently ponder whether anyone else in the world is fortunate enough to possess a soul that is as kind and loving as yours because you are simply too fantastic to be true. Can't wait to see you because I will give you my entire self so that you will have to question whether you are the only person I know in the world. I couldn't imagine my life without you.
If being apart makes the heart grow fonder, I believe I have the greatest love in the world for you. Spending time apart from you feels like it has been years. Even though I am aware that we made a commitment to persevere, there are times when I wish you were here to comfort me and reassure me that everything will be okay. Netflix alone is not enjoyable, and even my favorite fried chicken tastes bland without you. I sincerely miss you and look forward to the day I will see you again.
Conclusion
Long distance relationships are a very complicated dynamic that can often become especially difficult as time goes on.
The struggle with this notion is where the origin of writing love letters in a long distance relationship is born from. If you want to take the leap into that unknown territory and commit to the romance for the long haul, the best way to win the war is through letters.
Explore All
Love Letter Generator Articles