Your friends, your boyfriends, girlfriends and your most romantic lovers can be gone from your life in a heartbeat. But, your family always stays by you, no matter what happens.
They are the ones who will support you when you need encouragement. They will encourage you as you celebrate your victories. And they are the ones who laugh along with you when you make the silliest mistakes (and, at you).
That's why it's important to let your family know how much you care for them. And what better way to do that rather than writing love messages for the family?
In today's post, we've compiled the best love messages for the family you can find on the Internet! Sounds exciting? Well, keep on reading!
Why Write a Love Message For Your Family?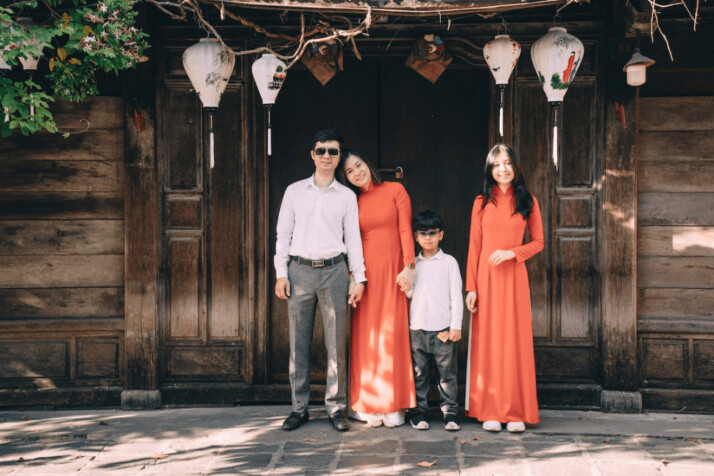 When was the last time you told your family how much you love them? It doesn't have to be something big – sometimes the simplest gesture can be the most powerful. Why not write a love message for your family and let them know how much they mean to you? It doesn't have to be fancy – a few sincere words can make all the difference. Take a few minutes to tell your family how much you love them – you'll be glad you did.
Family is the most essential thing in life. They are the ones who we can always count on, no matter what. They are the ones who give us their unconditional love and support us through thick and thin.
A love message for your family is a beautiful way to show them how much you care. It can be short and sweet. Or you can make it long and detailed. But no matter what, it is special and cherished gift that they will always treasure.
So take some time to write a love message for your family today. It will mean the world to them. Now that we know why a I love you message for your family is important, let's look at some examples. These will give you an idea to formulate your own family love message!
Sample Love Messages for the Family!
I consider the relationship we share my most valuable possession, and I am fortunate to have a family like yours.
Families are our havens of peace and harmony where we can always be found.
No one has the ideal family, but mine is the ideal one for me! Love to you all.
Families are the true superheroes in society. Every morning, the parents get out of bed to work to provide for their children. To get through life, they deal with stress and work. Love you, mom and dad!
Without my family, I couldn't have progressed as far as I have. They shaped who I am and empowered me by demonstrating my limitless potential. Today is the ideal time to express my love for them.
Love can take many forms. That which is most beautiful is love for a family. You won't find a love like that anywhere else because it is the most understanding and forgiving of all loves. Make every effort to look after it.
I want to express my gratitude to my family for never giving up on me. And for standing by me on this lovely day. For your generosity and encouragement, I will always be grateful. I'll be there for you whenever you need me because I love you.
I consider myself incredibly lucky to have the family I do. I am confident that you will all be there for me at all times to support and mentor me.
The only place that can compare to your family as a personal sanctuary is your family. Everything is about the family.
Our families are the foundation of who we are; they cheer us on during our darkest moments and celebrate with us during our brightest.
More Examples of Family Love Messages
Since my family is in heaven already, I don't have any fear of passing away. The only ideal location where I am happiest to be.
I never realized I had such a wonderful family. We appreciate your support during this difficult time. The journey through a trying time was made easier because you were all there for me.
Everything to me is my family. As a result of everything they have given me, I am grateful to my mother, father, brother, and sister. I am grateful to them for my education.
Family units resemble tree branches. Although we take different paths in our growth, our roots never separate.
When you have a family, you are a part of something wonderful. It denotes the certainty of lifelong love and adoration.
The best happiness is shared with one's family. Being with you makes me happy. You help me advance toward my objective, you uplift me to satisfy my soul, and it is your love that completes me.
While you cannot choose your family, you can decide how much you will love them. Your love for your family will grow as you are reminded that they are a gift from God.
Happiness is having loved ones around you, whether they are near or far away, big or small. As long as there is love, everything will be happy.
One essential component—love—is the foundation of every strong family legacy. Without love, there is no support for one another. An unsupportive family will never rise to the level of a great family.
Everyone in the family can benefit greatly from family life. It would not be possible to have a happy life without a happy family, career, environment, or anything else.
Conclusion
No matter what happens in life, our first priority should be our family. After all, family comes first. Family bonds are the strongest, and we must feel blessed for having such a lovely home and family. They give us the strength with their loving demeanor. We must show how much we love one and each family member in our lives. And, family love messages are a great way for that.
We hope this selection of great family love messages was able to help you come up with your own family quote. However, if you are still having issues, you can try out a love letter generator tool, like this one! By writing some simple inputs, you can have original love messages for your family in no time! So go ahead and try it out right now!
Explore All
Love Letter Generator Articles