Romantic good night love quotes are simple ways to show your loved one that you care for them. They are a way to tell your lover how you feel about them and that you want them to sleep soundly. Sadly, emotions tend to steal our eloquence and leave us speechless. There are far better ways to say "good night."
This article will give you some examples you can use to charm and endear your beloved. But first, let's delve into the essence of a good night message.
Why are Good Night Greetings Important?
Good night messages are important because they carry the sentiment of love and appreciation. A good night message is based on the assumption that we are most vulnerable when we're asleep. It also touches on the essence that sleep is important because it prepares us for another day of challenges, new experiences, and meaning.
Good night messages wish the recipient a peaceful, restful slumber. It's a great way to stay in touch, with an added sentimental touch that everyone will appreciate.
If you're struggling to write the right words to represent your truest feelings and express your love, read on. The following section will provide you with some quotes you can use or take inspiration from.
Romantic Good Night Love Quotes
Think of me as a cool breeze that gives you a comfortable sleep. Good night! I love you!
Good night, my Love. May you dream of us together and remember all the sweetness and love.
Good night, Sweetie. I wish for all of our dreams to come true.
If we were together right now, I'd hold you in my arms like castle walls. To keep you safe and warm.
Good night, Dear. Sleep tight. Sweet dreams. Don't mind the night. I'll always choose to wake up with you every morning.
Goodnight, my Dear. I envy the Moon because it gets to stand vigil over you, so you sleep safely. I envy the Sun. It gets to kiss you with its rays as you wake up in the morning.
Sending my beautiful angel all my love. May you have the sweetest dream the moment you close your eyes.
Good night, Darling. May your pillow remind you of the should that's always there for you. May your blanket remind you of the hugs we shared all those months away. I'll be sleeping soon and dreaming of you. Never forget the time we spent knowing we felt the same way for each other.
Good night, Baby. You'll always be the shining light in my life. Anywhere I can't hold you in my arms is already much too far. I go to sleep with a lonely man, but I don't worry at all, because I know I'll see you again.
The bright stars get me thinking of you every night. The thought of seeing you tomorrow makes me smile. I can't wait to fall asleep and wake up to a wonderful day.
Sweet Good Night Love Quotes
This message is to say that you are the most special person in my life. I want to chase away all your nightmares and fill your dreams with love. Have a lovely night. Sweet dreams.
All these stars pale in comparison to the sparkle I see in your eyes. I just can't wait to be with you, whether it is in dreams or reality. Good night, love. See you there.
It's simple. I just can't fall asleep while I'm thinking about you. You're everything I want. I can't wait to feel your kiss and see your smile again.
Honey, you are an amazing woman. Loving you has brought me the best things in life, and I believe God meant for our souls to meet. Whenever I sleep, I only think about you and our lovely time together. Good Night. Have sweet and lovely dreams like me! You are my reason for reason, and you are the dream girl I never knew I needed.
Hello, Love. Sleep well tonight! I love you so much. I'm always wishing you the good things in life. You mean the world to me, and I'm happy I get to see you shine bright. Rest well today. You don't want to miss tomorrow.
Good night and sweet dreams, my Love. Your beauty puts the stars to shame. It makes the angels sing songs about you. You are my happiness and the first thing I think of every day.
Every when we're miles apart, I know this relationship is strong. You're more than my girl. You're my best friend. I can't imagine living without you. Good night, my love. Come home soon.
Hopeful Goodnight Messages
Thinking of you tonight. Sleep tight, my love. Tomorrow is another day full of hope and love. I want to say a heartfelt goodnight to the person I love the most. May your dreams be easy, kind, and beautiful. Go to bed knowing that I'm here to stay.
Hey, Sweetheart. I want to say good night to the most special person. You are the perfect woman. You are the caretaker of my soul and the keeper of my heart. Good night my Love. Talk to you soon.
I wish it were possible to turn back time and stop it at the moments we spent together. Sending you my love. I can't wait to see what tomorrow has for us, to feel your sweet kiss, and to hear your gentle voice. Sleep well tonight, my angel.
The time and distance between us can stop me. I'll always be there to love and protect you. It doesn't matter where or when. I'll hold you tight until the morning comes. We'll face the world together and help each other's dreams come true. I can't wait to just lay down and relax with you.
Wishing you a wonderful night and a special day. God knows I miss you, Baby. Don't worry about me, Darling. I need only look at your pictures to remember that I have someone special waiting for me to come home.
Baby, you're my Sun and Moon. You mean the world to me, and I can't stop thinking of you. Thank you for blessing me with your company. I enjoyed every second, and I miss you already. The thought of you and your love keeps me warm at night, Sweetheart. Until we meet again.
Sincere Good Night Messages
Ever since the day we met, you've always been a big part of my day. I love you forever. My head's in the sky, and I don't want to come down. I just want to drift among the clouds with you. God blessed me with such a good man. I'm always grateful.
I hope you're doing well in Ca. This text is all I can do for now. Thank you for today. Tonight, I'll be thinking of you again. I want to tell you that you're the reason I smile every day. My feelings for you are true, and I know you're the right person for me. You're always on my mind. I can't wait to kiss you again as we watch the sky turn from dark to dawn. Goodnight, my dear. Stay cute, stay mine. I love you so much, Honey.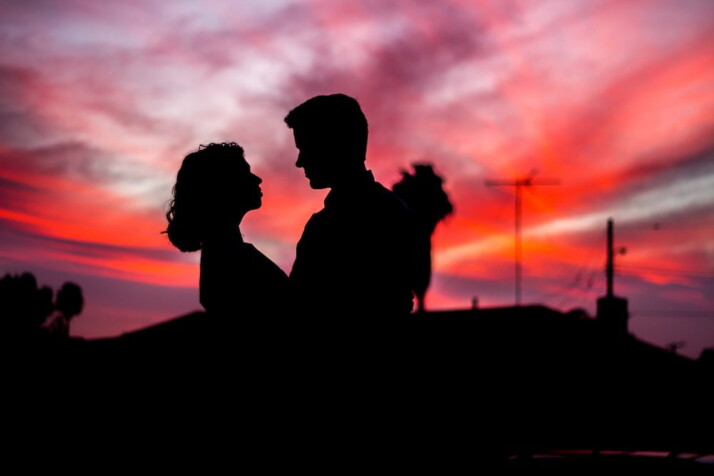 The Bottom Line
We hope these romantic good night love quotes help you come up with an idea for a good night message. Remember that you're free to change these words to best suit your message. Good night messages are a nice way to remind your special someone that you're thinking of them.
They can come in all forms. Whether they're long or short, the important thing to keep in mind is that they need to be sincere. You can start with a cute message and end it with a heartfelt good night note. Never miss the chance to tell someone you love them. They won't be here forever.
Explore All
Love Letter Generator Articles