If you're a guy struggling to come up with romantic things to say to your girlfriend, you aren't alone. After all, you don't want the words and phrases that are already commonplace to become meaningless.
You are seeking novel approaches to approaching women. You understand the value of well-spoken compliments in fostering fulfilling connections.
Do you have difficulty communicating your feelings to the woman you love? If you're more of a guy who prefers to show rather than tell, you might find yourself at a loss for words with your girlfriend.
Even though it might not always be easy for you to express yourself verbally to your significant other, doing so can positively impact your relationship. That's why, we prepared this guide to help you find the most romantic things to say to her.
Sounds exciting? Well then, keep reading to learn things that will melt your woman's heart!
Why Say Romantic Things To Your Woman?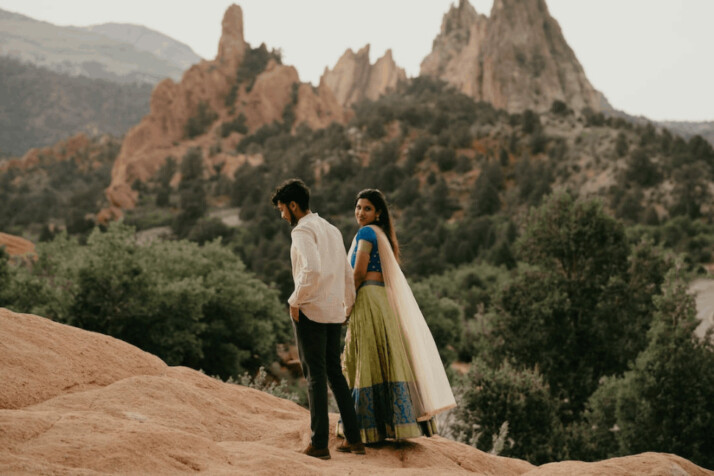 Your loved one will feel happier and appreciated more than you realize if you show them your affection and occasionally say something kind. For this reason, we've put together a list of the sweetest and most romantic things you should say to your partner right away.
When you're in a relationship, you get your lover, best friend, confidante, coworker, and partner in crime all rolled into one.
Because they have grown to be a significant part of your life, your significant other deserves a reminder. This reminder shows just how awesome, lovely, and unique they are to you.
Despite the depth and intensity of your feelings, there are times when you simply are unable to come up with romantic words. Words that would adequately convey how you truly feel without sounding corny.
Although your heart is overflowing with all the beautiful emotions that are stirring inside you, you cannot express them.
Examples of Romantic Things to Say to Her!
I think I'm a better man because of you.
Every time I enter a room holding your hand, I consider myself the luckiest man alive.
I would say that I would love you until I could not breathe if I had to choose between doing so and staying alive.
Some people believe they can only experience love once, but every time I see your smile, my heart melts again.
I want to stay by your side forever.
Although I can let my thoughts wander wherever they want, it surprises me how frequently they turn toward you.
I love you not just for who you are but also for who I become with you.
I'm smiling because of you.
You make me fall in love with you repeatedly every time I look at you.
I don't just say I love you because I always do. I want to let you know how great of a thing you are in my life.
You are someone I would never want to lose. You are both the sun and the stars in my world. I am still here because of you.
I'll be on your team and I'll be obedient, I swear. I'll apologize right away. You will always be surprised by me. I'll support you no matter what. I commit to you, honoring you, and supporting you.
I can't quite put into words how you make me feel. You have a unique way of making me smile. Every day I fall more and more in love with you.
I occasionally become obnoxious, strange, and overly emotional. However, I will continue to love you indefinitely.
I'm so happy when I hear your voice.
If I had a penny for each time you made me smile, I'd be a trillionaire!
More Romantic Things to Say to Her!
I don't express my love for you just because I should. I say this to let you know how wonderful you are and how fortunate I am to have found you.
I'm only interested in spending the rest of my life with you.
Nothing else matters right now besides us working together.
I adore taking you out. It gives me a chance to brag on others by showing you off!
I never imagined that I would find love like this in my entire life.
The love of my life was something I used to dream about finding, and now here you are.
I rekindle my love for you every time I look into your beautiful eyes.
Your joy at a spontaneous smile was something I had never before encountered.
Search for me by gazing into my eyes. To find yourself, just look inside my heart.
You are what makes me get out of bed in the morning.
I adore you more and more every time I see you.
Know what I'm thinking? I would be the luckiest man alive if you would take me as your wife!
I only need one hand to win as long as you hold my other one.
You've inspired me to become better.
The most enjoyable time I've ever had was with you.
I love all of your imperfections because they make you unique.
I love the blue in your eyes. It's my favorite color.
When I first saw your smile, I fell head over heels in love with you.
I can find happiness in thinking of you on even my worst days.
For the entire day, I would adore cuddling with you.
I'm so glad you're in my life, and I love you.
Conclusion
This is a collection of phrases to say to your woman to let her know that she means the world to you. One of the most important things in any relationship is communication between the two.
This ensures that they are getting the best from the other and are supporting one another in the critical times. It doesn't matter if it's her birthday or a holiday, or you just need to show your appreciation for all she does for you. These romantic phrases to say to her will be a hit.
Explore All
Love Letter Generator Articles