Many factors go into creating a good business card tagline. The most important factor is choosing the right words and saying them in the appropriate context. This article explores the idea behind business card taglines and why they are important.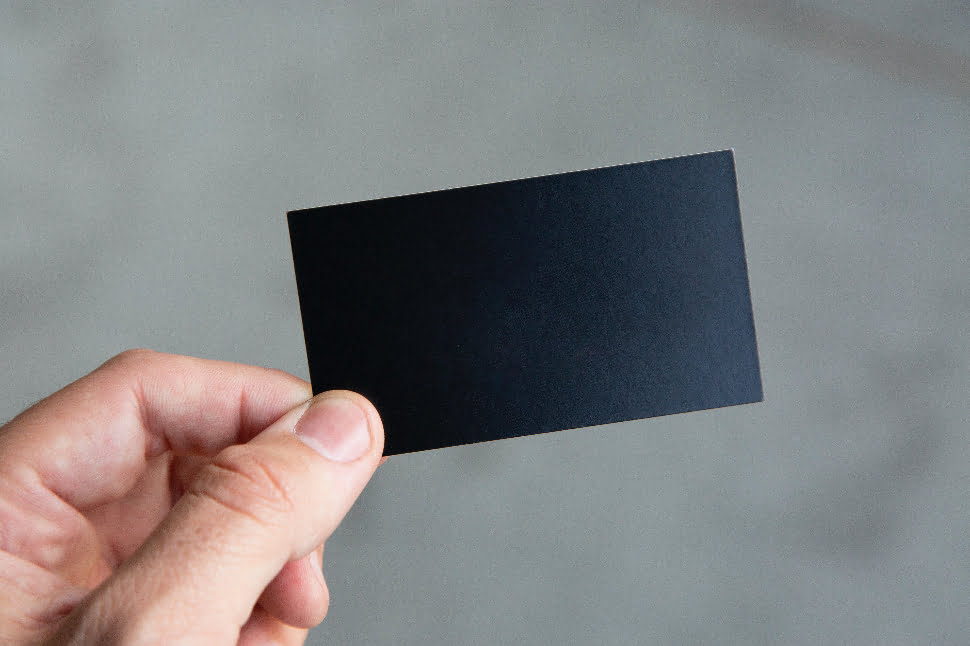 What Is a Business Card Tagline?
Every business card has a tagline — a sentence or two on the back that tells others about who you are and what you do. Personal taglines are usually something vague and broad, like "Dedicated Professional" or "American Leather." On the other hand, a business card tagline is often more specific. It can be a quote from an influential person, a goal, a company philosophy, or even a single word describing your product or service.
Taglines are a vital element of word-of-mouth marketing. They are designed to be memorable, attention-grabbing, easy to remember and visually appealing. The language of taglines should be informal and often catchy and amusing.
How Important Is a Tagline for a Business Card?
Taglines are important for branding and business cards as they support each step in the relationship-building process between your company and its customers. 
Business card taglines help customers discover your brand in a memorable, entertaining, and distinct manner. If successful, your tagline encourages consumers to think about your business when a need arises for a product or service.
For instance, someone could have collected several business cards for bakers. When they actually need one, each business card's distinct tagline serves as the first step toward a successful business relationship. Thus, the bakers with taglines on their business cards have an advantage over others. Their business appears more personable. The tagline spurs potential clients to make that first contact.
Conclusion
Taglines are very powerful and can help businesses that are trying to stand out in the crowded world of marketing. Your tagline is what people will read first on your business card. A good tagline will grab people's attention and set your business apart from all the other mismatched card designs. 
Frequently asked questions
Is a tagline the same as a slogan?
Sometimes, themes and slogans are similar, but there are small differences between them. Your brand's tagline is more permanent, while slogans can be changed frequently and vary according to specific campaigns.
How do you come up with a unique tagline?
Keep It Simple
Avoid the marketing meeting effect.
Tell a Story
Explain Your Offering
Communicate With Clarity
Please describe who you are.
Double-take must be done.
Keep it Short and Simple.
What qualities make a good tagline or slogan?
Timeless
Unique
Target audience
Concise. The best slogans are remembered because they are short.
Catchy. The most compelling slogans catch the attention of anyone who hears them.
What is a tagline example?
Walmart's tagline – Save money is an excellent example of a descriptive tagline. Live better. Definitely a good example of a descriptive tagline is KFC's It's finger-licking good.
What is a business tagline?
In order to keep you on the same page, a tagline is a catchphrase or slogan for advertising a brand. In conjunction with the corporate logo, this phrase or series of phrases is intended to add meaning to the brand.
What are some catchy phrases?
(KFC) Finger licking good.
– Eat fresh (Subway)
Wings are given by Red Bull (Red Bull).
In De Beers', a diamond is forever.
– Save money. Live better.
MasterCard (MasterCard) is used for everything else.
– Have a break
(Nike) Do it yourself, just do it.
What is a professional tagline?
A tagline is a clear statement of what you do, whom you do it for, or how I should feel. Simple, descriptive, and not too long are all necessary. Make sure you balance the creative and the individual character of your firm (fun-loving, practical, innovative, etc.).
Why is a tagline important?
Why is a tagline important? Taglines gain consumers' attention. Whenever consumers hear your tagline, they get a clear idea of the benefits of your product. Identifying advantages or advantages a brand has over others with similar products helps differentiate one from others.
What makes a tagline catchy?
A good tagline aims primarily at function. Your business should explain the unique value of what you offer as much as possible. It is true that many classic taglines are really smart. "Let your fingers do the walking" is a clever play on words.
What are some good taglines for business?
Finger licking good (KFC).
– Have a break. Have a KitKat. (KitKat).
(De Beers) – diamonds last forever.
Then just do it (Nike).
– Save money. Live better. (Walmart).
Red Bull gives wings to you (Red Bull).
– Eat fresh (Subway)
Other options include MasterCard (MasterCard).
What is the purpose of a tagline?
Using taglines is a way of making a company's message crystal clear, eliminating guesswork. Having a good tagline will set you apart from other companies that offer similar products.
How many words should a tagline be?
You should make your tagline short and clear enough that people won't drive off a road trying to read it if it's on a billboard. This means you should choose words that are crystal clear. Keep your business's tagline even shorter if it is long.
What makes a good product tagline?
Marketers think a tagline should fit, but only three factors have a positive impact: Clarity of message. Creativity of phrasing. Benefits that are included.
How do you create a brand tagline?
Focus
Put together a message that your target audience is interested in and understands.
Make it memorable
Keep it short
An open voice is enough.
Use it in your logo design.
Make it yours
How do I create a tagline for myself?
Make it specific. Put a word in your action description. At least one dynamic emotion or feeling word should be included. Make affirmations for yourself and not others.