Cereal is a part of many staple breakfast items, and it's still very popular today. There's been tons of different commercials, many featuring American icons and some tongue-in-cheek advertising.
So if you want to stand out, you're going to need some creative ideas for cereal box slogans!
Innumerable creative ideas can be used to promote your cereal brand. With the examples in this article, you will have an easier time finding something that fits your brand well.
You'll also pick up some helpful tips on how to write your awesome slogan!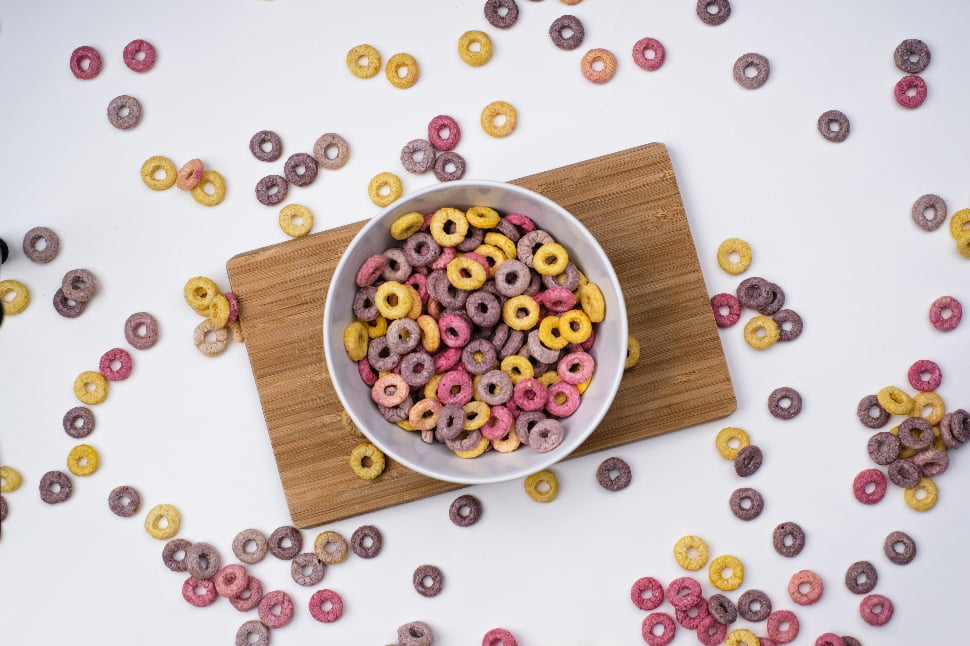 What is a Slogan?
A slogan is a phrase that represents an essential message from a brand. It's an ad copywriter's jingle or a speaker's pep talk. Some slogans are short and catch a consumer's attention; others are long and detailed to convey specific information.
Slogans are crafted toward the target audience and the product being advertised. Cereal box slogans, in particular, use fun and memorable words and phrases to grab attention. It's catchy and silly, and it works to attract its audience.
Why You Need a Slogan
No matter your business's industry, you need an excellent slogan to advertise and promote your brand. A slogan, while short, is still a great way to attract customers and provide clarity to a brand's message. A great slogan can make a big difference to your company's success!
Here are some other benefits of using a slogan:
Establishes a consistent brand image
It helps raise brand awareness
It makes products more memorable
Increases overall conversions
Cereal Box Slogans Example
Do you want to make a lasting impression with your brand's marketing and advertising? Look at these creative, memorable, and catchy ideas for a brand's cereal box slogans.
Cereal Box Slogans
The best way to start the day.
Enjoy goodness in a bowl.
Feeding Americans one bowl at a time.
Supercharge your morning routine.
Not just delicious, but also nutritious!
Life starts with a bowl of cereal.
A bowl a day keeps hunger away.
Cereal, how do you live without it?
Breakfast never tasted this good!
Fiber done right.
Goodness in every bite.
Milk's best friend.
One bowl to rule them all.
Cereal – simple, tasty, packed with nutritional goodness.
The best mornings start with cereal.
Kids love it!
Nutrition in the form of crunchy goodness.
We'll take care of your mornings.
Wake up to something tasty and nutritious.
We take the stress out of breakfast.
Make every morning special.
For a delicious and nutritious morning.
The breakfast you can count on.
It's what's on the inside of the box that counts.
Enjoy every crunchy texture.
Serving every household.
Rise to the taste of healthy goodness.
Cereal that will help you become slim!
Tasty breakfast treats inside this box.
The stress-free way to make breakfast.
Sweet and nutritious.
Joy in a bowl.
Catchy Cereal Slogans
The simpler, the better.
The sweetest surprise ever found in a box of cereal.
There's no taste like Cheerios.
They're A-B-C Delicious.
Let's discuss cereal.
The Breakfast of Champions.
Cereal believers.
The Big G stands for goodness.
Achieving cereal greatness.
The largest cereal producers.
You won't find cereal similar to this.
The best to you each morning.
The cereal from the gods.
Cereal makes the world a better place
Try this crisp for something a bit different.
Famous Cereal Slogans
Breakfast of Champions – Wheaties
Gotta have my pops! – Corn Pops
He likes it! Hey Mikey! – Life Cereal
Follow my nose. It always knows. – Fruit Loops
Two scoops of raisins – Kellogg's Raisin Bran
I go cuckoo for Cocoa Puffs! – Cocoa Puffs Cereal
Lucky Charms. They're magically delicious. – Lucky Charms
So happy together! – Golden Grahams
The taste you can see! – Cinnamon Toast Crunch
Follow my nose. It always knows. – Fruit Loops
Key Tips on Making Your Slogan
Making cereal box slogans is an art form. It's important to know that a slogan should be catchy. If your slogan sounds too formal, it will lose the attention of your target audience.
Think about what your target audience is drawn to and cater to the impression you want to give. For instance, if you're marketing to children, it is best to make your slogan sound like a song. You can also use rhymes to make it more catchy.
Here are some other helpful tips you need to keep in mind.
Brainstorm and organize your ideas.
Keep it short and simple.
Make it sound fun and memorable.
Know your target audience
Let the audience know what makes you unique.
Be consistent
Ask for feedback
To Wrap Up
Slogans are an essential part of the marketing strategy. With the tips you've learned in this article, you're ready to write some awesome cereal box slogans. Release your creativity and have fun!
Frequently asked questions
What is the best slogan?
"Disney is the most joyful place on Earth.".
I'd say, "Just do it.".
Old Spice: "The original".
The diamond is forever, according to De Beers.
MasterCard: "There are certain things that money cannot buy.".
Samsung: "Do what you can't do.".
What is the slogan for Life cereal?
U.S. Life cereal advertisements contain the slogan "Life is full of surprises".
What is Frosted Flakes slogan?
Mascots. Since the invention of Frosted Flakes, Tony the Tiger has been the mascot. Tony's slogan is: "They're Gr-r-reat!" (the "r"s in "Great" are drawn-out).
What slogan is have it your way?
Burger King developed an exceptionally successful advertising campaign with the slogan, "Have It Your Way," based on the fast-food chain's willingness to tailor orders to each individual's tastes and preferences.
Does Lucky Charms have pork?
Gelatin used in Lucky Charms is pork gelatin. Lucky Charms contains pork collagen and is a pork-derived product offered by General Mills.
What are Pops cereal?
Corn Pops is Kellogg's puffed grain breakfast cereal that is described as "crunchy sweetened popped-up corn cereal." The cereal was introduced in 1950 as "Corn Pops.". In 1951, the name changed to "Sugar Corn Pops" and later to "sugar Pops".
What is the Froot Loops slogan?
Advertising has been announcing the character since 1963. Froot Loops is a sensation he can smell for miles from. He often locates a hidden bowl of cereal when I hear, "Follow your nose! It always knows!", sometimes followed by "Fa.
What is a slogan on a cereal box?
Honey Nut Cheerios: Bee Happy, Bee Healthy. Honey Nut Cheerios – It's a Honey of an Oatmeal. I have to get my Pops! Kellogg's Corn Pops – Gotta have them! Life is filled with surprises.
What is Rice Krispies slogan?
Kellogg's Rice Krispies packets originally featured the words "Snap! Crackle! Pop!" during the same year the jingle first aired.
What should I name my cereal?
All Charms are Lucky Charms.
Good Morning Grains
The Yummy Mummy
The Choco Arroz
Poncho and Polly
Mr Peanut Butter
Puffed Rice Fruit
Loco Choco Flakes
What are some catchy cereal slogans?
"I want your cereal!" – Count Chocula.
Honey Bunches of Oats are what's for breakfast.
I've seen the taste of cinnamon toast Crunch!
"Oh, those golden grahams! – Golden Grahams.
'It tasted like a chocolate milkshake, only crunchy," – Cocoa Krispies.
What is corn flakes slogan?
Cornelius "Corny" Rooster is the mascot since his debut. During his early commercials, he would say, "Wake up, up, down to Kellogg's Cornflakes!".
What shapes are Lucky Charms?
Lucky Charms cereal was inspired by circus peanuts and came out in 1964 with bells, fish, arrowheads, clovers, X's, green clover, pink hearts, orange stars and yellow moons.
What cereal slogan is magically delicious?
General Mills – Lucky Charms – Frosted Toasted Oat Cereal with Marshmallows – Served with milk
Country
United States
Introduced
March 20, 1964
Markets
United Kingdom, Canada
Tagline
"They're magically delicious."
What do Lucky Charms taste like?
Cheerios are just so sweet in the cereal, and then marshmallow bits are super sweet in it. It's pretty tasty, but you'll just hunt out the marshmallow and forget about it.