The fundamental step to creating an effective campaign is understanding the target customer and then effectively communicating with them. The right slogans can be powerful marketing tools. Here are some cleaning service slogans that we've compiled.
But before we share some cleaning slogan examples, it's essential to understand these fundamental concepts.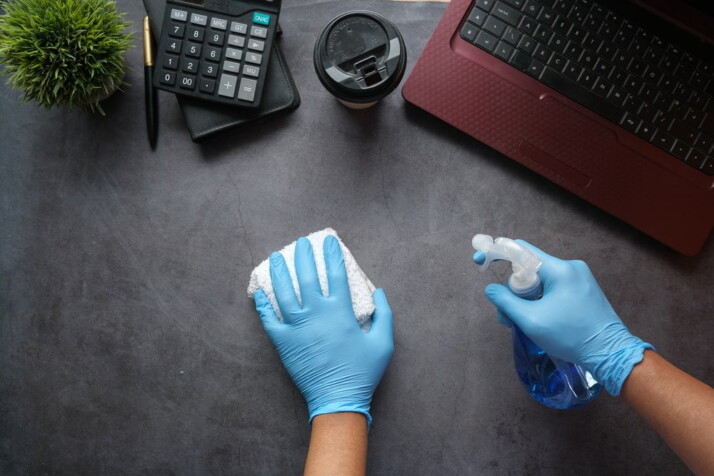 What Is a Slogan?
A slogan is a tagline or phrase that helps your brand, content, product, or service stand out. A catchy slogan also draws focus to your business values. Slogans are integral to every business because they help establish brand identity and tell your story.
Slogans promote a campaign or movement. Perfect slogans are short, simple, and memorable. The primary function of a slogan is to attract attention and give your business brand identity. This is crucial when competing against established brands.
Why Is It Important?
A Slogan can play an essential role in all advertising campaigns. A concise and compelling slogan focuses attention on the core strengths of your business and positions your brand in the best light. Your cleaning business slogan can set client expectations on what you offer.
For example:
People recognize the slogan "stronger than grease." and relate it to the Ajax brand. The phrase implies that Ajax products are great at cleaning and can handle grease easily.
Slogans improve brand awareness by using a principle called "brain priming."
Brain priming is a principle of Psychology that states that the brain associates stimuli with all related objects and entities. Slogans are easier to remember than logos because they are made of words rather than complex visuals.
Companies always display their logos with slogans and taglines to prompt the audience to associate the slogan with the logo and business name. When the brain recalls the slogan, it also remembers its brand and logo.
Emotions can also prime the brain to recall related memories. When a slogan makes a customer happy, the same feeling may be associated with your company.
40 Examples of Catchy Cleaning Service Slogans
Every cleaning company should emphasize the quality of their services and equipment. If your cleaning business aims to improve client loyalty, you'll need a slogan that conveys your commitment to delivering quality housekeeping services.
Here are a few cleaning service slogan ideas to inspire you:
Make your place look its best.
We make your house shine like a diamond.
A new perspective of house cleaning.
Our vision of housework is to sweep the room with a glance.
Don't let the sparkle of your home fade away.
We know a smarter and better way to clean.
We are your all-purpose cleaners.
The touch of personal perfection you deserve.
Got carpet dirt? Call us.
Expert dust busters on call.
We are fresh, funny, and clean!
Let your woman relax. Leave the mess to us.
Efficient cleaning services for peace of mind.
A cleaner place is a healthier place.
We provide the perfect shine every time.
A cleaning friend you can trust.
We clean your worries away.
A clean home is a happy home.
Clean homes, clean lives, healthier, happier people.
We love the cleaning you hate.
Clean up your home at a fair price.
Professional, reliable, and affordable cleaning.
Spotless cleaning on a budget.
Try not to stretch; let us clean the wreck.
Taking the work out of housework.
Bringing cleanliness to new heights.
Cleaned right the first time.
We always come clean.
Making a clean difference.
For when you need a dirty job done clean.
Spotless cleanliness is our goal.
One call, no mess is too small.
We are the kings of the cleaning world.
We mean to be clean.
A clean view is priceless.
We treat homes like castles.
Hire us and consider it clean.
Wanna be dirt-free? Call us!
Cleanliness that impresses guests.
Experience the power of clean.
40 Examples of Simple Cleaning Company Slogans
We clean and wash, and you relax.
A clean house starts with us.
Results fit for royalty.
Don't stress; we'll clean your mess.
Your satisfaction, our sparkling success.
Let your windows sing.
Breathe in a clean space, and let your body stay safe.
Our cleaning standards aren't standard.
We are the spirit of cleanness.
Better cleanliness, better safety.
Always ready to meet your cleaning needs.
No dirt problem is too great.
Fast quality cleaning for your whole building.
We clean the way you want.
Forget the messy old house.
Cleaning is always necessary.
Maid for you.
Don't live in dust.
Cleaning is easy with a little help.
Making your home look its best.
Leave the home cleaning to us.
We clean clear like diamonds.
Top-of-the-line cleaning.
Your health demands our cleaning methods.
We clean everything from glass to surface.
Keep the germs away from your family.
Extreme cleaning from floor to roof.
Cleaning excellence at a fair price.
Cleaning services to enhance your home.
The one-stop commercial cleaning company.
We clean houses any day of the week.
Got dirt? We're the key to clean!
Clean your house and clean your mind.
Call us for a neat and tidy office.
Best cleaning experts in the city!
Cleaning doesn't have to be hard.
The highest level of cleaning for special clients.
Keep your house clean all year long!
Your home's in good hands.
Keeping it clean, keeping it green.
The Bottom Line
The professional cleaning industry is among the most saturated. The competition is fierce and there are many businesses that offer the same types of services. It usually boils down to which business is able to leave a lasting impression on its customers.
A catchy slogan can help drive customer interest and sales by giving customers a hint of what you offer. If you still haven't found a slogan you like, you can also try using a motto generator to provide you with more ideas.
Explore All
Motto Generator Articles