School graduation is an important event for many people. It marks the end of a stage and the beginning of greater responsibilities and opportunities. It's about telling the world you're about to become somebody. If you need help coming up with the perfect mottos, try these graduation motto examples.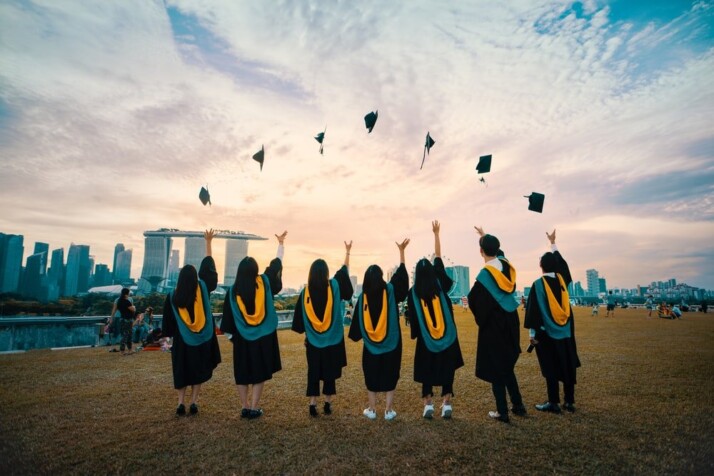 What Is a Motto?
A motto is a short phrase made of simple words that express your story. It is an inspiring message that gives direction to your life and is a vital part of your life and job.
It represents an individual's goals, experiences, and general outlook in life. A motto is usually something personal, and it can outline how a person acts or responds to varying situations. Mottos also carry advice to help the reader accomplish goals or find purpose in life.
Mottos are also called slogans. In the marketing world, they are used to help a target audience remember a brand, product, or service. Slogans are usually funny or serious, and they are an effective way to generate user interest.
An effective graduation quote uses a hopeful, happy tone and voice. It shares a person's aspirations for the next stage in life, whether that's high school, college, or work.
Why Are Mottos Important?
Mottos are important because they can serve as a guideline for your behavior. They are inspirational quotes that outline your direction, path, or mindset. Mottos also keep you focused on your short and long-term plans.
They can also encourage people to take the first small steps on the path meant for them. They may even share the inspiration with someone else.
Mottos work for people of all ages. They teach lessons to the people who read and hear them, and they prepare you for the real world. They inspire people to recognize that the future is full of opportunities to change the things that matter to them.
35 Graduation Motto Examples
If you're having difficulty writing a graduation motto idea, try to follow these examples:
We keep studying even after we graduate.
Life is the ultimate teacher.
Dream big. Don't stop.
Great results come from hard work.
Pick your profession like you would your soulmate.
Never rest 'til good becomes better, and better becomes best.
Today is the first day of the journey of our lives.
We create our future.
Hold your head high, and look the world right in the eye.
Cherish the past, live in the present, and reach for the future.
One step at a time.
Education's roots are tough, but the fruits are tender.
You can't dream of becoming something you know nothing about.
Learn from failures and start again.
Everyone's dreams matter.
Everybody needs passion. It's what keeps them going.
Celebrate the present, and remember the past.
Success comes to those who trust their hearts.
Think of education as your ticket to change the world.
Use what you have, and do what you can.
Always try your best and live without regrets.
Four years, we'll never forget, even with some things we did regret.
This is a great time to ask for money.
We're ending now, yet barely beginning.
Believe you can, and you're already halfway there.
Follow your dreams, and stay true to your heart.
Let's give a big cheer; graduation time is here.
Love what you do, do what you love.
Be what you're meant to be.
Moving to a new chapter of life.
Win if you want, lose if you must, but never give up.
I am now a student of life.
Set your goals, work, and live your dreams.
The road to success is always rough.
Grow the courage to pursue your dreams.
35 Creative Graduation Motto Examples
Learn as if you plan to live forever.
Strive to become a man of value rather than a man of success.
The wisest minds always have something left to learn.
Work for the tomorrow you want.
Stay true to your dreams. Stay true to yourself.
I got here by working hard, not by wishing hard.
You can achieve anything if you master yourself.
Only great things lie ahead.
Rock and roll, we're the class you can't control.
Moving on to far better things in life.
Success feels good.
Now's the part I make my dreams happen.
The sky is not the limit.
Intelligence plus character. That is the true mark of an educated person.
We've paid our dues, and now we're through.
Learn from everyone you meet.
No progress is too little. They all add up.
Today's reader is tomorrow's leader.
Fear has no place in a hopeful heart.
So many faces going many places.
Wonder deepens as knowledge increases.
It always seems impossible until it's done.
You can achieve what you can imagine.
Prepare for success.
You learn before you earn. You fall before you soar.
The past is nothing compared to the future.
Turn your fear into an adventure.
Life is a challenge. Always keep moving forward.
Today belongs to the grads.
School was a beautiful experience. I can't wait for life's next challenge.
There's beauty in being able to stand strong.
Education is the key to learning to lead.
Hope makes everything possible.
Walk away from people who don't know your worth.
Don't be afraid to deal with the cards life hands you.
The Bottom Line
Graduating from school is a significant part of life that marks the beginning of the next stage of your life. Whether you're moving on to high school, college, or you've completed your education, inspirational graduation quotes are a great way to prepare your mind.
A graduation quote is a good way to express what you believe in, what you want, and how you plan to move forward. They provide you with a path to follow as you step into a new world.
Funny graduation quotes can also calm nervous graduates and show them the beautiful journey that lies ahead.
If you still haven't found a graduation quote you want to share, consider using a motto generator to expand your list of ideas.
Explore All
Motto Generator Articles