Ice cream slogans are perfect for showing off your creativity and flavor creativity. When introducing a novel product to the market, competitors readily replicate its technology, design, features, and flavor.
The one thing that competitors can never replicate is the company's primary tagline. The primary objective of the slogan is to reintroduce the brand to the customer's memory.
A slogan is a phrase composed of a few words that collectively characterize your company, campaign, or business uniquely. Every slogan has an objective, significance, and inspiration.
Famous brands have employed slogans and taglines to instill a particular image of their brands in the minds of their customers. Every slogan is intended to convey a specific message in a memorable and catchy manner.
We will look at the concept of ice cream and some old-time favorite ice cream slogans that hit the mark!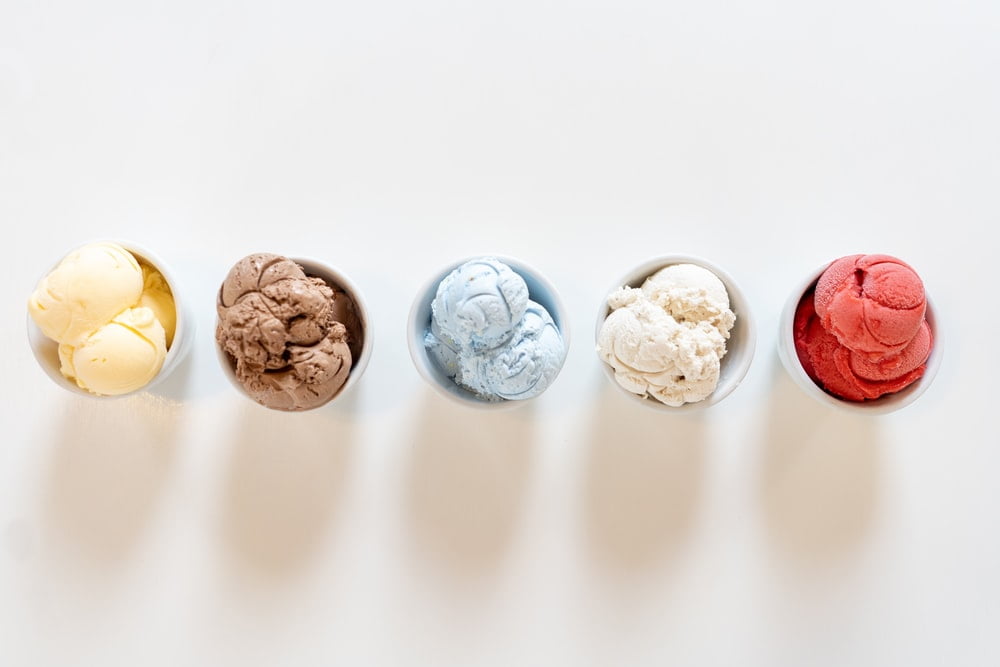 What is Ice Cream?
Ice cream is a frozen delicacy made from milk, cream, and other ingredients. It is frequently blended with fruits or other components. Using sophisticated freezing procedures, ice cream is transformed into a smooth, creamy treat.
If you wish to promote your ice cream shop, you will require ice cream advertisement slogans. This article discusses how to make ice cream slogans and provides examples of catchy slogans.
Ice Cream Slogans: Famous Brand Slogans for Ice Cream
Famous brands have utilized these slogans and taglines to establish a particular image in the eyes of their customers.
Every slogan conveys a specific idea in memorable and catchy language. We hope you draw inspiration from these slogans.
1. Wall's Ice Cream
Share happy and Stop me and buy one.
2. Magnum Ice Cream
Magnum. For pleasure seekers; Enjoy the royal treatment; Magnumize your life.
3. Cadbury Ice Cream
The essential ice cream experience; How cool is that?
4. Carte D'Or Ice Cream
Once you've got Carte D'Or, you've got dessert; Give more. Give Carte D'Or; Savour the emotions.
5. Cornetto Ice Cream Cones
Cornetto. Enjoy the ride, love the ending.
Wrap Up
Everyone enjoys ice cream, especially children. On every occasion, ice cream is served as a delectable treat around the globe. Ice cream is available in numerous varieties and tastes.
If you know everything about ice cream and love it, this is an excellent opportunity to earn a lot. Ensure you get your slogan right!
Frequently asked questions
What is a good ice cream slogan?
'Ice Cream Taglines' Always The Real Thing, Always Ice Cream. The Right Ice Cream At The Right Price. Currently, only one ice cream exists. It's Soo Great.
Which is the best slogan?
Unlike M&Ms, they melt on your lips, not on your hands.
Where is the beef at Wendy's?
Loreal: Because You'll Be Worth It.
A Diamond is Forever by De Beers.
Breakfast of Champions – Wheaties.
Nike – Don't Do This.
Coca-Cola – Open Happiness
Apple – Think Different
What are 5 popular slogans?
Nike: "Do it"
"Do what you can't.".
"Old Spice: The original".
MasterCard: "There are some things money cannot buy.".
Disneyland: "The best place on earth.".
de Beers: "A diamond is forever.".
What is the slogan of Amul ice cream?
Amul. Real milk. Real ice cream. It tastes so good!
What is Haagen Daz slogan?
Haagen-Dazs: Don't hold back in global campaign with more inclusive approach.
What rhymes with ice cream?
| Word | Rhyme rating | Categories |
| --- | --- | --- |
| ice cream | 100 | Phrase |
| icecream | 100 | Noun |
| ice creams | 92 | Phrase |
| light cream | 92 | Phrase |
What is Turkey Hill slogan?
Turkey Hill will continue to promote its slogan, "Imported from Lancaster County," which has gained a loyal following even for consumers without a foothold in Pennsylvania Dutch Country thanks to diligent marketing and education.
What is Blue Bell ice cream slogan?
It is known for its slogans: Blue Bell Ice Cream. All we can eat is sold.
What is a good slogan?
Brand slogans are usually short, catchy and easy to remember. Likewise, a song chorus that gets stuck in your head needs to have a rhythm or sound that rolls off your tongue and is immediately recognisable.
What is Dairy Milk slogan?
Cadbury is launching a globally brand campaign for its Dairy Milk brand, replacing its 'Free the Joy' slogan with 'Taste like this feels', although marketing director Matthew Williams says its marketing will still focus on.
What is the Blue Bunny slogan?
FCB Chicago's new ad campaign for ice cream treats called Blue Bunny translates to "Give in to the bunny.". The Chicago Business Journal offers even more insights.
What is Mayfield ice cream slogan?
But never a boring bite. Southwestern recipes and seasonal favorites are the inspiration for our limited edition ice creams.
What is the famous slogan?
| Slogan | Given by |
| --- | --- |
| Vande Mataram | Bankim Chandra Chattopadhyay |
| Quit India | Mahatma Gandhi |
| Freedom is my birthright and I shall have it | Balgangadhar Tilak |
| Give me blood and I shall give you freedom | Subhas Chandra Bose |
What is Ben and Jerry's slogan?
As the news of Ben & Jerry's spreads, more 's people are searching for a lick. Shelburne, Vermont, is the first franchised scoop shop to open in the area. 1982.
What is Breyers ice cream slogan?
It's simple to make something tasty with Breyer®.