Olympic slogans are phrases that express the true spirit and purpose of the Olympics- athletes playing for a common goal. The motto for Olympics is usually written on a small sign or banner hanging near the event hall's entryway.
Viewers of the game also print these slogans and display them to express their understanding of the spirit of the Olympic Games. Let's look at the official motto for Olympics and some of the summer and Winter Olympics slogans.
What is the Motto for Olympics?
The original Olympic slogan comprises three Latin words: Citius – Altius – Fortius, meaning Faster – Higher – Stronger. It was expressed by the Dominican Priest Henri Didon in the opening ceremony of a school sports event in 1881.
In 1894, it was adopted as the Olympic motto by Pierre de Coubertin during the launch of the Olympic Movement. The Olympic motto reflects the Olympic Movement's aspirations in its athletic and technical sense and also from a moral and educational perspective.
In July 2021, the International Olympic Committee approved the Olympic motto change to recognize the unifying power of sport and solidarity. The change involved the addition of the word "together" to "Faster, Higher, Stronger" after an en dash (-). The new Olympic motto reads "Citius, Altius, Fortius – Communiter" in Latin and "Faster, Higher, Stronger – Together" in English.
Summer Olympic Mottos
1936: Germany – I Call The Youth Of The World!
1972: West Germany – The Cheerful Games
1984: United States – Play A Part In History
1988: South Korea – Harmony And Progress
1992: Spain – Friends For Life
1996: United States – The Celebration Of The Century
2000: Australia – Share The Spirit – Dare To dream
2004: Greece – Welcome Home
2008: China – One World, One Dream
2012: United Kingdom- Inspire A Generation
2016: Brazil – A New World
2020: Japan – United By Emotion
2024: France – Come Share
Winter Olympics Motto
1988: Canada – Coming Together In Calgary
1992: France – Savoie en Fête (Party in Savoie)
1994: Norway – Fire In Your Heart
1998: Japan – Coexistence With Nature
2002: United States – Light The Fire Within
2006: Italy – Passion Lives Here
2010: Canada – With Glowing Hearts
2014: Russia – Hot. Cool. Yours.
2018: South Korea – Passion. Connected.
2022: China – Joyful Rendezvous Upon Pure Ice And Snow
2026: Italy – Dream Together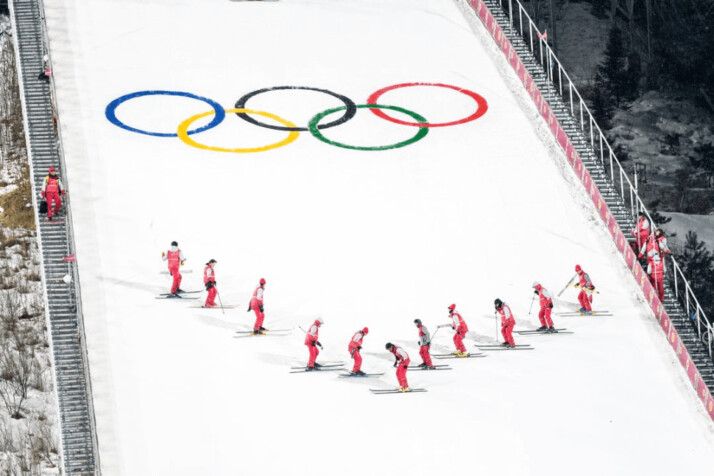 To Wrap Up
The Olympic motto often takes the form of a saying, commonly attributed to Pierre de Coubertin, the founder of the modern Olympics. The Olympics' motto was initially "Faster, Higher, Stronger." In 20 July 2021, it was slightly reworded by the International Olympic Committee to better represent the values the Olympics represent.
The new Olympic slogan reads "Citius, Altius, Fortius – Communiter" in Latin and "Faster, Higher, Stronger – Together" in English.
Explore All
Motto Generator Articles