A slogan for a construction company must be catchy and engaging. This can be done using more than words but also pictures and other visuals.
You can also use humor for a little extra creativity. This will help grab and hold the attention of potential customers. It will also give a good first impression to a potential customer.
You may be seen as disorganized and chaotic if you have a slogan that is not catchy. However, you will have a significant edge if you have a catchy and commonly used slogan.
We have written some examples below, which you can use to brainstorm and decide on a slogan for your company. You can also develop a good construction slogan for your business using our eight fantastic tips below.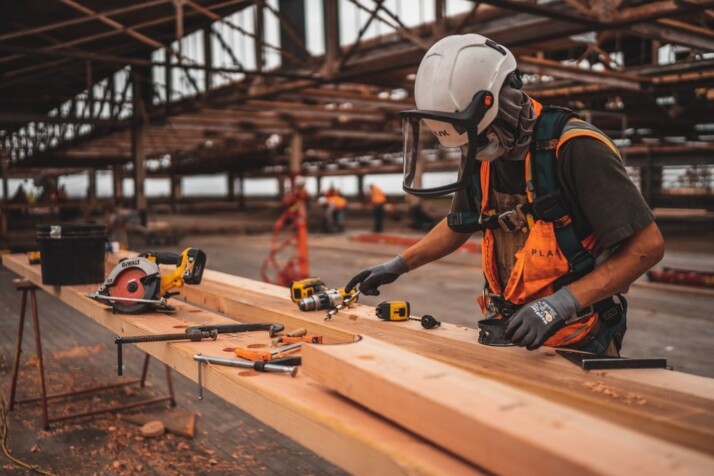 Importance of Slogan for Construction Company
Creating an attractive advertising tagline can help your construction company get traction and capture customers' attention immediately.
Your slogan will become the focal point of your firm and will be remembered for long if done correctly. However, it might send the wrong message and drive clients away if done incorrectly.
Good slogans and taglines are the keys to getting more customers and making more money. You need to plan to get your name out there, and the right slogan will help you do it.
Points to Note When Creating a Slogan for a Construction Company
1. Target audience
When you send a message or do marketing, the people you want to reach must be at the center. If your slogan does not make sense for the people you want to reach, you have lost the battle.
You need to know exactly who you're writing for to make changes. If you simply want to sell locally, you can include local lingo in your phrase.
But if you want to reach a wider audience, some people you want to get may not know what your slogan means. So, the clearer you can be about whom you want to advertise your construction business to, the better your slogan.
2. Your Words
In most construction slogans, many companies like to use a play of words. This isn't a bad thing because it can be hilarious. It can also be a slippery slope, though.
If you want to do the same, you should remember that what makes sense to you might not make sense to everyone else. Before you decide on your slogan, ask some trusted friends, family members, or coworkers what they think.
If people like your idea, you should use it. But if most people you ask don't get the joke, you should probably move on to other slogans.
3. Keep it simple
Someone has to read your slogan, and people's attention spans have gotten shorter. If your slogan is too long or hard to understand, people might not read it. If they do, it will be harder for them to remember.
Imagine that you are driving down the highway, and you see a billboard for a business. You can quickly skim it and figure out what it says if it's short. If it's too long, you might be unable to take it all in without swerving off the road.
On the website for your construction business, your slogan should be in the front and center. If your slogan is too long, people may scroll past it and not understand what your company is about.
The best way to make your point is with as few words as possible. You can be creative with ten words or fewer without losing your audience's attention.
4. Make it timeless
Seasonal, special, or limited-time events are fantastic for social media, but your slogan should be timeless. It should make sense all year long as your business is open.
5. Keep it memorable
Some of the most memorable slogans make people laugh or make them feel something or remember something. For example, "Just Do It" by Nike is an inspiring slogan that is known all over the world.
People will remember your slogan for a long if it makes them feel or think of something. And if you make someone laugh, they will not only remember your slogan, but they will probably also tell a friend about it.
6. Make it consistent
Your slogan should fit in with the rest of your brand. It must go with your logo and show what your company and crew are all about. Keeping your marketing the same across all channels, you help your audience remember how your brand looks.
7. Be truthful
You want your business to sound good, but you don't want to brag too much. It's better to promise less and deliver more than to promise too much and let people down.
Be kind to your business when making your construction slogan. Point out something good, but don't get too crazy. Don't say anything you aren't sure you can keep to.
8. Make it unique
You are different from all the other construction companies out there. There is something special and superior about your products, services, team, or what happens behind the scenes.
Use what makes you different to stand out in a crowd. For instance, if you use a process is environment friendly, you should work that into your slogan and your brand's image as a whole. It increases your value.
Examples of Catchy Slogan for Construction Company
Here are some of our favorite construction slogans. You'll notice humor, wordplay, and inspirational quotes, all of which contribute to a memorable tagline for your construction company.
Building beautiful homes one dream at a time.
No screw-ups here! We'll nail your project on time and on a budget!
Quality. Safety. Reliability. Every time.
Our crew + your dream = phenomenal results.
Dreams are meant to come true. We'll make it happen for you.
To Wrap Up
Something as simple as a slogan can build brand recognition and shareability. Whether you're an established construction company or just thinking about starting a career in construction, deciding on a slogan is crucial to attracting customers.
Explore All
Motto Generator Articles