Diversity stands for everything and everyone. It is a value, a symbol of colors, cultures, beliefs, and opinions there are in the world. In every work or business setting, cultural diversity plays a significant role in making the work environment more peaceful and inspiring.
A perfect slogan for diversity can capture the essence of unity and multi-cultural value in the workplace. This article outlines some of the best slogans and taglines for diversity to use as inspiration.
What Is a Diversity Slogan?
A diversity slogan is a short, pithy saying employed by a business to publicly announce its support of diversity in the workplace. It shows that a company is dedicated to hiring and supporting diverse employees. It also shares the social and cultural differences present in the broader community.
Diversity slogans and taglines are phrases that can be used to describe a company's values and beliefs. They can be appealing quotes and inspirational sayings. It motivates employees, students, and other community members to share ideas, learn, and progress together.
Why Is a Slogan for Diversity Important?
When we are hiring for any job, we must find someone who fits the qualifications that match our company. Understanding what fuels your company culture, the benefits of a diverse staff, and the meaning of great wording is essential.
A diversity slogan will also give your company or team a competitive edge. You will be seen as a progressive and dynamic company that offers diversity and inclusivity while growing personally and professionally.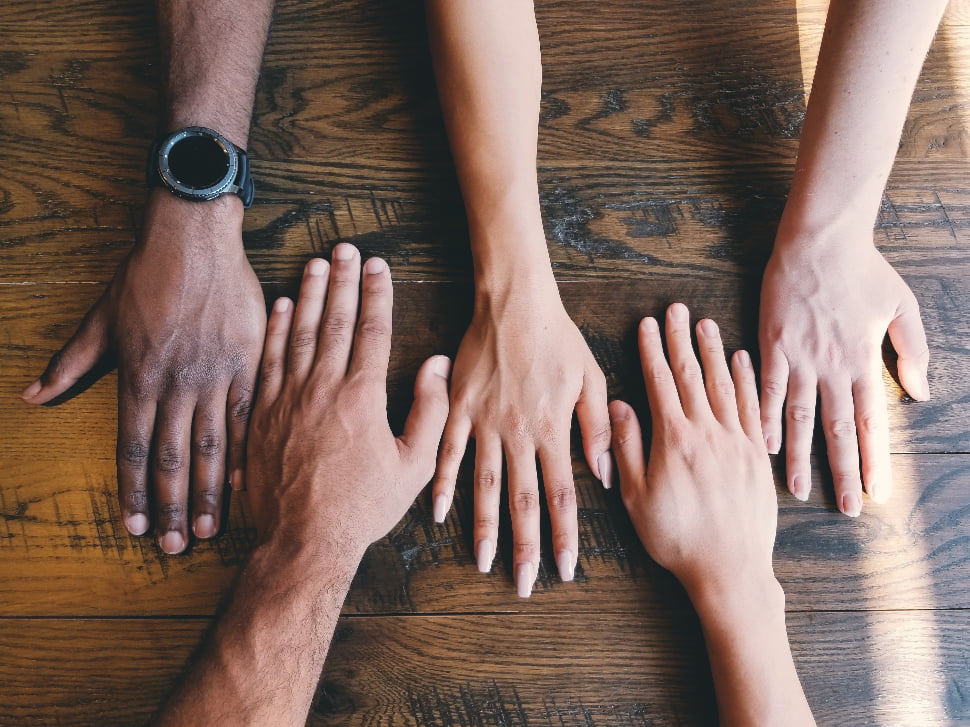 Examples of Diversity Slogans & Taglines
A diversity slogan or tagline can have a powerful impact. It can be used in everyday conversations to express your personality, reassure others, show your values, or start a conversation.
The following are some great diversity slogans that you might want to use in your daily life or business campaign. Each slogan has its unique meaning and sense of power.
Catchy Cultural Diversity Slogans
The more variety, the better society.
Let's All Culture Coexist better.
Celebrate the diversity
Understand the differences; Act on the commonalities.
Equality for diversity in this world.
We live in a society where Culture Defines us.
Together we are stronger than ever
The culture of a nation resides in the hearts and souls of its people.
Unity in Diversity Slogans
We are one big, happy family.
Rising with the help of diversity
We feature diverse perceptions.
Holding the diverse group together.
Unity in diversity is better than unity in similarities.
Celebrate Unity, Embrace Cultural Diversity
Unity in diversity is the source of strength.
Differences aside make you unite
Respect and Tolerance Slogans
Tolerance and respect go hand in hand.
Respect your people and treat them kindly
You can be respected only when you give respect
Many Cultures and One connection of love.
See the world from a different angle.
Diversity brings perfection and peace.
Wrapping Up
A slogan for diversity often serves as a reminder that things are not always the way they seem. When we stop to really think about these slogans, they become an important reminder of all sorts of things.
It reminds us to respect other cultures, to have the right to be individuals, and engage in conversations without the fear of being judged. This article provides some powerful slogans for diversity that you may use to uphold your beliefs or professional ideals.
Frequently asked questions
What is the best slogan?
The happiest place on Earth is Disneyland.
Nike says, "Do what you can.".
Old Spice: "The original".
. De Beers: "A diamond is forever.".
MasterCard: "There are certain things that money can't buy.".
Samsung: "Do what you can't do.".
What is a slogan example?
"America Runs on Dunkin Donuts" to "The Happiest Place on Earth," the Nike "Just Do It" swoosh or McDonald's "Lovin' It," all slogan examples are timeless and.
What is a catchy tagline?
A tagline is a catchy phrase that evokes an image of your brand in your customers' minds. A tagline allows people to make lighthearted associations with a company: "When I see [tagline], I think [company].".
What is a slogan for diversity?
Diversity: Make it a part of your life, share it, and celebrate it. Don't go out of your way, it helps you greatly. A changing world through embracing our differences. Let's celebrate diversity for a better world for you and me.
What is culture famous quote?
Malcolm Bradbury defines culture as a way of coping with the world. "A nation's culture lies in its hearts and souls," Mahatma Gandhi writes. "We may have different religions, different languages, different colored skin, but everyone belongs to the same race," by Kofi Annan.
Which slogan is unity in diversity?
Our aim should always be unity in diversity. Diversity equals commonality and is better than unity in similarities. Diversity is the key to a better society. Diversity helps everyone stand together.
What is the slogan of unity?
Life in unity always benefits. Don't underestimate the power of unity! Everyone wins, learn how to live in unity! Unification cannot be undermined by weakness and fear.
What are some examples of unity in diversity?
Diversity is expressed by caste, creed, race, and nationality. Moreover, physical, cultural, linguistic, and political differences are also considered as part of unity in diversity. Humans and living creatures learn to reconcile and find ways to bond, despite their differences.
What is the most appropriate tagline for the slogan and cultural diversity a people without the knowledge of their past history origin and culture is like a tree without roots?
-Marcus Garvey, Global Glimpse.
What are some quotes about culture?
Culture is the expression of beliefs elevated to a set of beliefs.
Culture is the widening of the mind and the spirit.
Culture must be kept alive if we hope to preserve it.
Culture is a way of dealing with the world by defining it as a whole.
What is Marcus Garvey famous quote?
If you lack confidence in yourself in life, you are twice defeated in the race of life.
What is the most appropriate tagline for the slogan cultural diversity?
Nabi Bab. A tagline appropriate for the slogan on cultural diversity is "Our true nationality is humanity.".
What is the best slogan for Environment?
Let's stop polluting and let's live.
Think green. Be green.
Nature is protected, so they prevent pollution.
Save the environment, eradicate pollution.
Let's love the air, save the trees.
Save the Earth, Save Yourself.
Conserve what our kids deserve.
For our environment to be pollute-free, plant trees.
How do you create a slogan?
Make a decision what you want to say. Answer a few basic questions about your slogan.
Keep it simple. While you might have a lot to say about your business, your message should always be clear and concise.
Make your company's voice heard.
Brainstorm your slogan
What is a creative slogan?
Charles Whittier wrote in his book "Creative Advertising" that "A slogan should be a statement of such merit about a product or service that is worthy of continuous repetitive advertising, is worthwhile for the public to remember, and is.