Many florist businesses tend to invest in multiple promotional tools via digital media. But they often forget the power of a slogan in captivating people. The right slogan can promote your flower shop and enhance your business growth. If you are looking for a slogan for flowers, you have come to the right place. We have some great examples of very creative flower slogans and taglines that will surely draw in many customers.
What Is a Flower Slogan?
A flower slogan is an advertising phrase used in relation to flowers. These slogans are used in window displays, advertisements, online adverts, or banners. Most flower taglines are used in window displays to attract customers and present the products to an audience in a beautiful and aesthetically-pleasing way.
With slogans for flowers, customers will not only love buying flowers from your store but also have a memorable experience with the process.
Why Do You Need a Slogan for Flowers?
Choosing the right slogan for a specific type of business is no easy feat. It can be tough to find good slogans while making them attractive enough to appeal to the customers. A lot of florist businesses struggle to come up with unique flower slogans that differentiate them from the competition.
A good slogan for your flower shop is crucial because it sets the store apart in the industry or your local market. Also, a slogan can help draw in customers to your flower shop. Turning to a pleasant and meaningful tagline can be a key to opening that window of opportunity to promote your brand.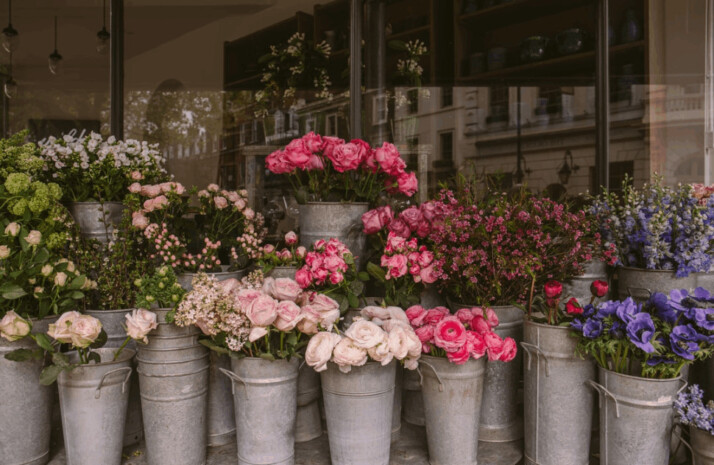 Examples of the Best Flower Slogans
Creating the finest flower shop slogan is one of the key components of a successful small business. Nevertheless, coming up with the ideal slogan that grabs attention and appeals to the audience's emotions might be challenging. Here's a list of flower taglines and slogans to provide you with some inspiration to market your florist business to a broader audience.
Best Flower Shop Slogans
Feel the Beauty & blossom
Happiness delivered in a bouquet
We are the best in the art of flora
We arrange the flowers and the smiles
Let the beauty bloom
We know the language of flowers
Flowers can say it better
We care for your important moments
Catchy Flower Slogans
A stunning centerpiece is just as easy as a single rose
We deliver the perfect rose
Spring with smile
Flowers are the music of life
You bring the love, and we'll bring the flowers
So many flowers, so little time
Flowers are always in good taste
Beautiful flowers that last forever
Funny Flower Slogans
We rose to the occasion
Where love blossoms every day
Petals above the rest!
Flowers to your face
Happiness is when you find your flower
Bloom where you are planted
Life is better in a flower-filled world
Always Blooming for You
Florist Advertising Slogans
Make your life colorful
A step beyond the ordinary flowers
We make you happy with flowers
Adorning life moments with flowers
We show the sign of love
Buds grow as your love grows
Make your morning good with fresh flowers
Gives you experienced quality flowers
Conclusion
Whether you are a customer or a store owner, a unique slogan for flowers can help your company stand out. It can help you gain more attention when trying to attract more customers.
It will not only draw the attention of the audience but also push your company to more profits. All of these different slogan examples in this post can be used to develop the ideal slogan for your flower business.
Explore All
Motto Generator Articles