A unique slogan can differentiate you from your market competitors if you're starting a game store. A good game slogan will provide a solid focal point for your business, hopefully attracting more customers. Working on a clever slogan for gaming will help differentiate your brand and create an emotional connection with potential customers.
It can be challenging to develop the perfect game slogan for your business. To help you, we've put together a list of exciting gaming slogans that'll serve as inspiration for you to create yours.
What is a Slogan?
A slogan is a short, catchy, and persuasive statement that is used to promote a brand, product, service, or idea. When used properly, a slogan can be an effective advertising tool. It combines emotion, imagery, and language, making it appealing for the target audience to remember.
The best slogans attract the audience to the product and the company. An effective motto conveys a clear message to the audience, often suggesting what the product can do for the viewer. The key to creating a perfect slogan is to come up with something memorable—not too long but with significant, powerful meaning.
A slogan for gaming should be exciting and eye-catching. It should be polished and professional, but it shouldn't be overly complicated. An ideal gaming slogan is clear, concise, and portrays the business's mission.
Tips for Choosing the Perfect Slogan for Gaming
A slogan is a phrase that reflects the identity of a brand. It's how you make your brand stand out from the rest. Consider the following tips when choosing your gaming slogan.
1. Select a descriptive slogan
Your brand's slogan should be based on the aspects of the business that you hope to portray. You want your audience to recognize what you offer once they see your slogan, so make sure it reflects this. It must communicate your company's goal, purpose, or benefit to your audience. If your gaming business is for kids, your slogan should reflect it.
2. Keep it simple and memorable
A good slogan is memorable, builds trust, and helps establish feelings of belonging to the brand. It should also be impactful enough that it sticks in people's minds. A short slogan is easy to remember.
3. Use long-lasting, timeless, and relevant words
When thinking of a gaming slogan, it's essential to consider how others might perceive your brand. You need to keep a narrow focus and try to pick a slogan that is unique and relevant to your niche. You should also make sure that the slogan remains true to your brand.
4. Look for suggestions.
It's helpful to know other people's opinions. This also ensures that you look at a broad audience and not only your interests. Go through the suggestions, select those that will work best for you, and come up with the perfect slogan that can save the day.
35 Interesting Slogans for Gaming
If you're looking for an excellent slogan for gaming that oozes quality and boasts consumer appeal, you're in the right place. Here are some interesting gaming slogans you can draw inspiration from.
Adorn your Life with Game.
A New Perspective for Gamers.
Gaming is fun.
Let's Play and Share.
Play to the beat.
Life is a game.
Play the game card.
Step up your game.
Gamers' power.
The Ideal Sport!
Live your passion.
Game on, boy!
Play more, Live more.
Powerful game console for all.
So real, but it's unreal.
Think Game, Think (business name).
The ideal content for gamers.
More than just a game.
Console for your soul.
Take your game to the next level.
Fantastic fun for all.
Game with a new perspective.
Let's find a way to win together.
Hold different, Play different.
A game with many options.
Killer of boredom.
Play the game, learn, thrive, and repeat.
Be calm, be a gamer, be a game lover.
Life is too short to play a bad game.
The future is a game.
Games are games, whether indoor or outdoor.
Let's play it.
The best games at the best prices.
Live, play the game, and lead.
Play it the way you like it.
35 Creative Gaming Slogans
Here are some creative gaming slogans to inspire your creativity.
Freedom from boredom.
Bored? How about playing?
Games, they are with you when you are alone.
The world of games.
Your rescue from boredom.
Play to your fill.
Gaming: A necessary refreshment.
You won't stop playing once you start.
Games are meant to be played.
No match for our games.
Games: More than just fun.
Play because you want to.
It's playtime!
More than just a game.
Live to play the game.
All game, All-season.
Just care for playing.
Play it, love it.
Feel the life of gaming.
A master of your own game.
Play your way into life.
Good to be a gamer.
Prepare to be addicted to the very best.
Live your enjoyment
Nostalgia never felt so good.
Live the way you planned.
Games are your best pals.
Play without limits.
Games for all.
Feel the life of gaming.
Alive Gaming, Alive you.
Gaming is also a passion.
Enriching your play.
Let's move the game ahead.
Don't just play the game; feel it.
10 Funny Video Game Slogans
Video game slogans have become necessary to get players into online games. Selecting the perfect one can make all the difference, from driving traffic and retaining customers to marketing an organized and cohesive message.
Here are some inspiring video game slogans.
Games that take you to a different world.
Fun games!
Let's fight it to win it.
Games that make you want more.
Experience the roller coaster of the gaming world.
Get an exclusive gaming experience.
Free time? Let's play games!
Give rise to the gamer inside you.
Never feel lonely with games.
Games that have no end to them.
10 YouTube Gaming Slogans
Some games can be played via YouTube streaming. If you own a gaming channel, a slogan can help you attract viewers and intrigue them to watch your live-streaming.
Here are some intriguing YouTube Gaming Slogans you can draw inspiration from.
Relax, watch, play and learn.
Let's switch on the gaming mode.
An experience that can never be forgotten.
Play the game, and experience a different kind of victory.
Make your gaming skills your identity.
Play together, win together.
Live your passion. Play the game you like.
Create your history, create your record.
Enjoy live stream gaming with your friends and family.
Welcome to a new world of gaming.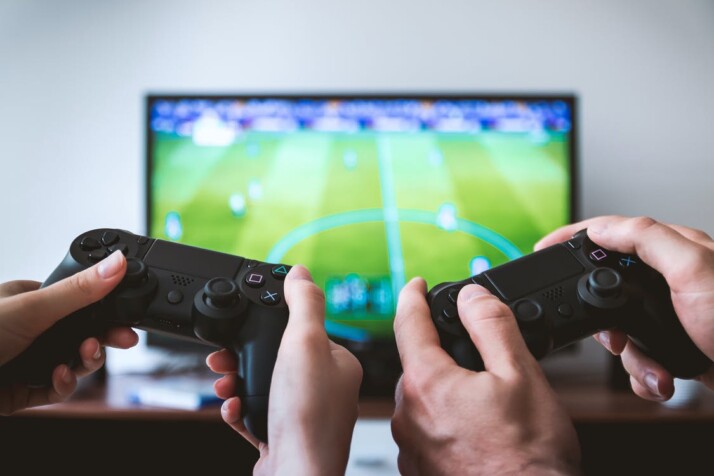 Conclusion
The slogan you decide on should align with your audience and your brand's objectives. It should be memorable and intriguing enough to 'hook' potential customers.
Coming up with the perfect slogan for gaming can be difficult and daunting, but anything worth doing is worth doing well. You can get inspiration from the gaming slogan tips and ideas in this article.
Explore All
Motto Generator Articles