Leadership is the skill of getting others to go the extra mile. Leaders inspire and motivate their followers to achieve great things and deliver excellent results. A leader has to be inspired to propel others. If you're stuck in your leadership journey or need the motivation to continue smoothly, it's time to curate a slogan for leadership.
Your slogan should convey your values, beliefs, and the culture you wish to establish. It should also be reflective of your organization's values and vision. In this article, you'll find some slogans for leadership that'll guide you into crafting a unique one.
What's a Slogan for Leadership?
A slogan is a guiding principle. It is a short and memorable phrase that is meant to symbolize the purpose of a person, company, or organization.
Leadership is a challenging responsibility, and a true leader must possess a sense of purpose and confidence to lead effectively. Leadership slogans motivate, inspire and guide leaders and, by extension, their team. Your slogan shows that you're clear in what you want to achieve and offers others the opportunity to join you.
A slogan for leadership serves as a reminder and gives a brief, memorable, yet inspirational aphorism for when you need some extra motivation. Your slogan for leadership should be concise, easy to remember, and emotional. It should also express your mission, values, and goals.
Tips for Creating the Best Memorable Leadership Slogans
1. Focus on your motive and keep your target audience in mind.
A slogan for leadership aims to relay the big picture of what leadership is about. It communicates what you stand for and represents your purpose or your organization. Your slogan should convey your motive clearly and connect with your specific audience and make them confident to join your group.
2. Keep it simple.
Make it brief and easy to understand in a few seconds. Avoid saying too much to avoid information overload. Simply focusing on your motive is always a way to create the best slogans for your organization. If the slogan is simple and catchy, it will be recalled easily.
3. Be truthful
A unique mantra that reflects your leadership style is not only truthful but has more impact. Followers expect their leaders to be truthful. You'll want to start by using your slogan to convey the truth about your mission, values, and goals. A slogan that lacks credibility will stir up doubt and distrust in your followers.
4. Avoid clichés.
Don't use clichés, and never make your slogan feel contrived. If you are using clichés, try to change it up a bit. You want to stand out, so have a unique point that distinguishes you from others. If your slogan isn't uncommon, it won't be memorable.
5. Use inspirational words that stir up emotions in people.
Your slogan should create a vivid and emotional image in someone's mind. It should be positive, inspirational, and motivating to draw people's attention to you and your cause.
6. Use captivating and intriguing words that draw attention.
The goal of a slogan is to remind somebody of the key takeaway from a cause. This can be achieved by conjuring up an intriguing or striking visual. You want to grab your audience's attention, so use captivating words.
20 Best Leadership Slogans to Inspire You
Here are the 20 best inspirational leadership slogans to add some fun to your work, vision, or goal. You can draw inspiration from them to create a unique one.
The best successes in life came after many failures.
Leadership from the heart!
The leader starts small and ends great.
Leadership is an art.
A leader knows the way, goes the way, and shows the way.
Leaders turn dreams into reality.
Serve with pride and lead with confidence.
Think leadership, think greatness.
Lead by example, not by force.
Become the leader you would follow.
Rule with dignity and honor.
A leader is one who never gives up.
Leaders don't create followers; they create more leaders.
Great leaders inspire greatness in others.
Affirmation without discipline is the beginning of delusion.
Courage starts with showing up and letting ourselves be seen.
Leadership doesn't make you famous; it makes you an example.
The best leaders envision the future and take action in the present.
It's not how long a leader lasts, it's how to impact they make.
Leadership is so much more than just being in charge.
10 Creative Leadership Slogans For Youth
The following are leadership slogans to keep you and your youth group inspired and motivated.
Lead the way to a better life.
Now's your chance! It's time to lead.
Leave a mark through leadership.
Be a leader with integrity!
The future is now—so step up!
Lead without fear!
Young and strong, leading along
Be the voice, not the echo.
Don't dream about it; work for it
Today's leaders = Tomorrow's future.
10 Unique Student Leadership Slogans
Slogans are essential as they help you convey your goal and message in a simple way to your audience. They also motivate and keep you on track. If you're a student leader looking for inspiration to create a unique slogan, you're in the right place.
Here are ten creative slogans to guide you.
Leadership is an opportunity to serve.
Honored to serve you.
Make your voice heard!
One step at a time, together, we'll succeed!
Let's join hands and create the change we want.
We have the power to make a difference.
No one can do everything, but everyone can do something!
Thrive where you serve.
Welcome to a world where we can all be one.
Our efforts are our future. Let's work together.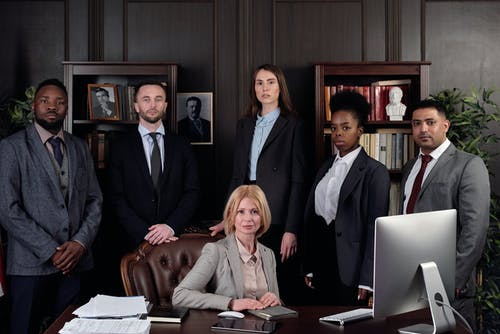 Conclusion
The primary role of leaders is to inspire and create hope for their audience despite the many struggles they may encounter. Slogans are an excellent way for leaders to remain active and remember what they want to achieve.
As a leader, choosing the right words will set the tone for you and your organization's purpose and goals. Create a slogan that's relatable, truthful, and stirs up emotions. The tips and examples of slogans in this piece will guide you in creating yours.
Frequently asked questions
What words define a leader?
Humility
Inspirational
Visionary
Charismatic
Influential
Servant
Sacrificial
Motivator
What does John Maxwell say about leadership?
The way you lead and why you lead are important to John Maxwell. YOU, your leadership, and ultimately, your contribution are defined by these principles.".
What are some good catchy slogans?
– Save money. Live better. (Walmart).
– Have a break. Have a KitKat. (KitKat).
Red Bull gives you wings (Red Bull).
– Eat fresh (Subway)
There is MasterCard (MasterCard) for everything else.
Do it now (Nike).
The Finger Flicks Good (KFC).
Diamonds are forever (De Beers).
How do I come up with a catchy slogan?
Make a decision about what you want to say. Use your slogan to answer a few basic questions.
Keep it simple. Stay clear about what you want to say about your business, though it's best to keep your message concise and concise.
Make your company's voice heard.
Brainstorm your slogan
What is a famous quote from Nelson Mandela?
The cost of failure will always seem impossible until it is done. "Most people in this country have paid the price before me and many will pay the price after me." "Do not judge me by my successes, I can't judge.
What is a memorable slogan?
Memorable slogans, on the other hand, are written with purpose. They're phrases to convey a clear idea in a compelling way.
What are 5 popular slogans?
MasterCard: "There are a few things money can't buy.".
Spices: "The original"
Disneyland: "The happiest place on Earth.".
"Do what you cannot." Samsung said.
De Beers: "A diamond is forever.".
Nike: "Do it"
What is a professional tagline?
What you do, who you do it for, or how I should feel refers to a tagline. Simple, descriptive, and not too long. Ensure that your creative ideas are matched with the personality of your company (fun-loving, practical, innovative, etc.).
What is a good leadership motto?
Management is doing things right; leadership is doing the right things. "To handle yourself, use your head; to handle others, use the heart.".
What are the best inspirational quotes?
You love your family, work hard and live your passion." -.
It doesn't happen, you create them." —.
As you might have been, you are never too late for what is to come.".
It starts with one small positive thought once in a while.
What is a good slogan for leadership?
Service with pride, lead with confidence, inspire others. Someone who can lead is what we need. A big step can be safer; you can't cross a ditch in a few steps. A true leader.
Who said true leaders don't create followers quote?
An effective leader does not create followers, but they create more leaders." Tom Peters, Adam Elgar.
What is the best leadership quote?
A leader is one who knows the way, goes the way and shows it. Leaders are best when people barely know they exist, when their work is done, their goal fulfilled, they say: we did it ourselves. The army led by sheep isn't afraid any more than the army leds by sheep.
What is a true leader quote?
1. A leader is one who knows the way, is the way forward, and shows the way." – John C. Maxwell. Providing guidance and mentoring is a great attribute of a successful leader. They are able to inspire others along the way with their knowledge. It is also important that leaders also "go the way" in their actions.
What are the qualities of a good leader?
Ethics are high and civic are high among them.
Intercultural communication is what they practice.
They facilitate strategic thinking, innovation, and action.
Develop others as a priority.
Personal development is prioritized by them.