Mother's Day offers an opportunity to appreciate mothers' role in our life. It is a special day to acknowledge the good things they do and show appreciation. While there are hundreds of things to say on Mother's Day, it can be hard finding something inspiring to tell your mom. You might even want to send a gift but lack awesome words to use on them. A perfect slogan for Mother's Day is what you need!
A slogan is one of the ways to make the most of the occasion and express your feelings, love and gratitude to your mother. Here, we will look at some Mother's Day slogan ideas from which you could draw inspiration.
Why You Need a Slogan for Mother's Day
Mothers are one of the most influential persons in our lives. They are kind, compassionate, and selfless and deserve to be celebrated for all their care and love towards us. Mother's Day is a time to celebrate your mom and show appreciation for her.
You might want to make your mom feel special with a gift or greeting card. While this is great, adding a slogan can be a big hit. If you are a big advocate of expressing words of gratitude, you can come up with a slogan that exhibits all that and more. It is the perfect way to express your love and than your mom without mincing words.
A mother's day slogan can be used on a greeting card or a handwritten note. It can also be included in flowers or gifts. You might even want to make a customized T-shirt for your mum. A slogan is a perfect write-up to inscribe on it – your mother will appreciate your thoughtfulness!
25 Creative Mother's Day Slogans
A slogan for Mother's Day must be unique, impressive, and short. Let's see some inspiring yet thought-provoking slogans that can be used for Mother's Day.
My mother is God's gift to me.
I would have no life without my mother.
Have you seen an angel? If not, meet your mother.
Thank your mother for bringing me into this world.
Mothers are not just family – they are the creators of family.
Your mother doesn't let you fight but will fight the whole world for you.
No one else will remain hungry only to fill your belly.
Your mother is the only person who will selflessly love you.
I know what love is because of my you mom.
There is nobody in the world as strong as my mother.
Motherhood is the most underrated role in this world.
Dear Mother, you made me believe in love and angels.
Mother: the epitome of love and sacrifice.
The best remedy for all problems: A mother's hug
Since God can't come down to earth, he sent mothers.
The most precious gem in my life is my mother.
Mom's got superpowers.
She taught me the basics of life; she is my mother.
My mother's lessons made me who I am today.
Happy mother's day to my super mom. You deserve all the care, love and happiness for all you do for me.
My mom is the greatest gift that I have ever got.
Thank you, mom, for being my best friend and for listening of all my tantrums.
The Sun lightens up the whole world, but it's my mother for me.
My mother's wonderful. To me, she's perfection.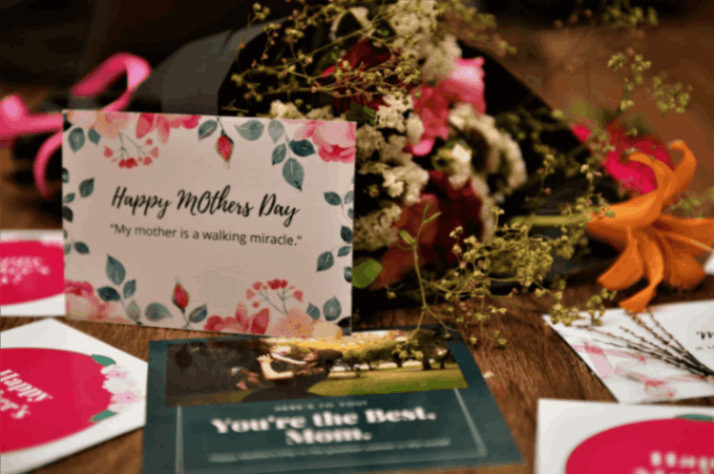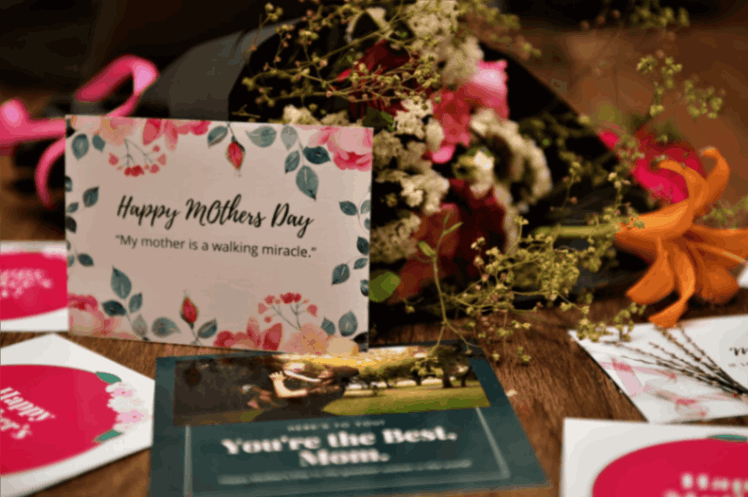 To Wrap Up
Mother's Day is about showing your mom love and celebrating her because she deserves it. With creative ideas, you can uniquely show your appreciation. You can do this by grabbing some gift cards or flowers. Writing and attaching an intriguing Mother's Day slogan can make your gift perfect.
You can pick one of the creative Mother's Day slogans in this article or draw inspiration from them to create yours.
Explore All
Motto Generator Articles