World peace starts with us. The slogan for peace is a great way to send a clear message to the world. Maybe you're carrying out a campaign for peace; a slogan will make your cause known to people and motivate them to be a part. Slogans are crafted for memorability and for inspiring people to take action.
Choosing the right slogan can strengthen your cause and encourage people to participate.
What Is a Slogan?
A slogan is a catchphrase used to convey a message. These sayings are short, memorable phrases designed to persuade the audience to believe or act. A tagline is an expression that promotes or symbolizes a belief, or idea. Slogans are often produced with the intent to motivate and inspire specific behavior.
Slogans are symbolic battle cries. They are often straight to the point and describe a movement or a brand. They have the power to change a person's thoughts and attitudes, even resolve a struggle and give hope to the hopeless. For this reason, slogans for peace are essential – they promote world peace. Choose a slogan that conveys your message and resonates with your audience.
You'd typically need a slogan for peace if you're carrying out a campaign, or you run an organization that promotes world peace. These slogans can be used in various communication mediums, including television, radio, social media, infographics, or posters.
Tips for Choosing the Perfect Slogan for Peace
A slogan will often use a powerful word to create a positive impression. Your motto should be clear, memorable, and coherent. An effective slogan will promote your cause or movement.
The tips for choosing the perfect slogan for peace are as follows:
1. Keep It Concise.
For a slogan, a brief is better than a long one. Don't make a slogan "long" because it can deter your audience.
2. State Your Purpose
Slogans are an excellent way for you to express your opinion. What's the message you want to convey? Get creative and choose a slogan that conveys your message correctly.
3. Go Straight to the Point
Avoid ambiguous statements and be specific. You don't want your audience to keep guessing what your campaign or organization is about. They should understand your purpose once they read the slogan.
4. Make It Easy to Understand
You want to connect with your audience and convey the right message – so keep it simple. Avoid complex vocabulary, unreadable fonts, or colors. Your audience will ignore your message if they cannot understand it at first sight.
41 Unique Slogans for Peace
Anything Violence can do, Peace can do better.
End the violence, and keep the peace.
From the mountains to the sea, let there be peace and harmony.
Let us embrace the beauty of every culture and faith to create peace in our world.
Peace begins with you.
We need peace for a better life.
Peace brings the world together.
War is costly. Peace is priceless.
Peace is cheaper than war.
It is possible to live in peace.
Peace today, peace tomorrow; let us not drown this world in sorrows.
Give peace a chance.
Peace today, Peace tomorrow, Peace will prevent much sorrow.
For a better long haul, let there be Peace for all.
Peace will be victorious.
Bullets can't bring peace.
Peace will save the world.
Know compassion, know peace.
Peace: Either learn to live with it or rest in it.
You must be the change you wish to see in the world.
War is always a mistake.
Power to the Peaceful.
War is Psychotic; Peace is Patriotic.
A peaceful resolution is the best solution.
Work as a solid team to make peace a realized dream.
Violence breeds violence. Let's foster peace.
Skip the war; start the peace now.
There is no other path to peace. Peace is the path.
Think outside the bomb.
This Planet is for Peace!
To reach peace, teach peace.
Peace should be in the heart.
Unite people and create peace.
Peace talks now.
For a more peaceful day, war is not the way.
Peace is the Final Frontier.
The World Says No To War.
Hear the call for Peace for all
Peace is Possible.
Real Patriots Drive Hybrids.
Conversation, not confrontation.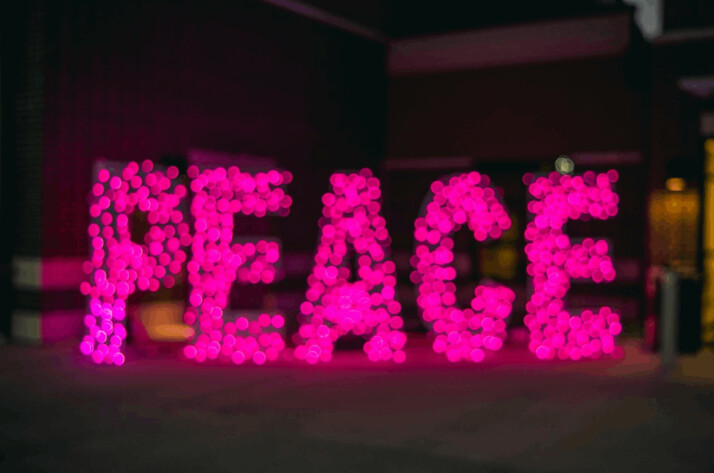 To Wrap Up
A slogan for peace can be used in various contexts, from your social media posts to the poster for a campaign. An effective motto is short, memorable, and catchy. It conveys the message correctly and persuades people to act.
Use the brilliant slogan examples in this article as inspiration to create your unique peace tagline.
Explore All
Motto Generator Articles