As a web design company, your skill set and portfolio of previous work are essential to your business success. But what is more important is how you portray your company to your potential customers. An attention-grabbing and memorable slogan can make all the difference. Web design slogans are the best way to characterize the "image" of your company.
So, how do you choose the best web design slogan that will align with your brand? This article's tips and slogan examples will guide you. Let's delve in.
What Is a Slogan?
A slogan is a short, memorable and catchy phrase that the company puts in its advertising to bring a message across. Generally, it's a phrase or sentence that sums up what the company is about and what they offer to its customers. It is designed to catch the public's attention and entice consumers to take action.
Your business slogan is a motivating tool that should carry your brand's values and mission statement. It's an opportunity to educate consumers, change their perception of your brand, and stand out from the competition. The slogan is your brand's first impression on an increasingly competitive market – it should carry a positive tone and feel.
The best web design slogans are clear, easy to remember, and short, leaving your potential customers wanting more. Your tagline needs to speak to the audience both on a logical basis and on an emotional basis.
Tips for Choosing the Best Web Design Slogans
Selecting the appropriate web design slogan can be challenging – but with these tips, you are sure to get the best results.
1. Describe Your Product/service
An effective slogan tells the audience what the company offers. Your motto should accurately describe your product or service and embody the essence of your brand.
Create a list of keywords that best describe your company, product, or service, and then move from there.
2. Easy to Understand
A slogan may sound excellent and catchy, but no matter how good it sounds, it cannot be memorable if its message is not understood. Your web design slogan should be easy to understand.
Consider your target audience and find the best way to convey your brand's message to them. Use simple vocabulary that they can understand.
3. Short and Memorable
You want to entice your consumers and draw them in, so keep your slogan short. Stick to the basics and don't give out any extra information.
The average reader's attention span is short, and your audience wouldn't be patient enough to read a long slogan. Also, short slogans are most memorable – you want your audience to remember your brand for as long as possible.
50 Creative Web Design Slogans
Here are some web design slogans that could spur up your creativity and inspire you to come up with yours.
A design agency for the digital age
Making ideas come alive on the internet
Web design at its finest
A vast web of possibilities to improve your site!
Making websites that work for you!
Look great on the web.
We make websites come alive
Make your business shine on the web
Web design with a human touch
Leading the way in website design
A strategic approach to website design
Great web design for your business
Web design solutions
Turning ideas into websites.
Build momentum by building better websites
Websites with personality
We make websites that make money,
Creating an effective website
Building efficient, beautiful websites.
Designing success through web design
Good design is good business
Get your website built
The designer of your success
Make your site great again
We make websites faster
Unrivaled creativity is just the beginning
Elegant UI/UX design.
Never settle for less than excellent web design.
We make the web work harder for you.
Cleaner, efficient layouts for your next site
We make your business look good online.
An innovative design for your next website
Conversion-driven websites on WordPress
Top-rated web design
Design thinking on steroids.
We believe in creativity
You want the best in branding.
Beautiful, conversion-focused websites
We're not your average design company.
Solving problems with technological solutions.
Online Marketing in a Box
Good design is as little design as possible
The World's Best Web Design Agency
Affordable Website Design Guaranteed
A Better Website, A Better World.
The best-converting Websites
Let's design your success
We Make Web Sites Happen
Redesign Your Website for Better Conversions
King of the web design world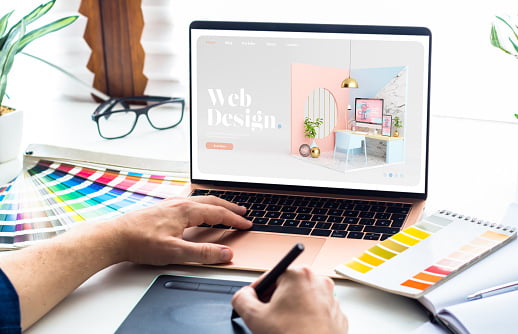 To Wrap Up
A slogan is an attention-getting message that is easy to understand and is often used to promote a product or service. Web design slogans are a way to put your company's services into words, briefly telling visitors what it is you do. They should be short, memorable, and catchy to entice and attract potential customers.
Explore All
Motto Generator Articles