Your business plan's closing statement is the last thing an investor will read, so it must be compelling enough to encourage them to invest.

The final paragraph of your business plan should do two things. It should summarize the entire document and give the reader a better grasp of your company's USPs (unique selling propositions).

By using persuasive writing techniques and language, you can ensure your ending is as impactful and memorable as possible. To help get you started, this blog post will provide tips and an example of a successful closing statement for a business plan.
What Is a Business Plan?
A business plan is a comprehensive document that outlines a business's strategy and operating procedures. It's typically used to attract investors, secure funding, and provide direction for the business in the future. Typical components of a business plan include
An executive summary
Market analysis overview
Financial projections
Details on how the company plans to achieve its stated objectives.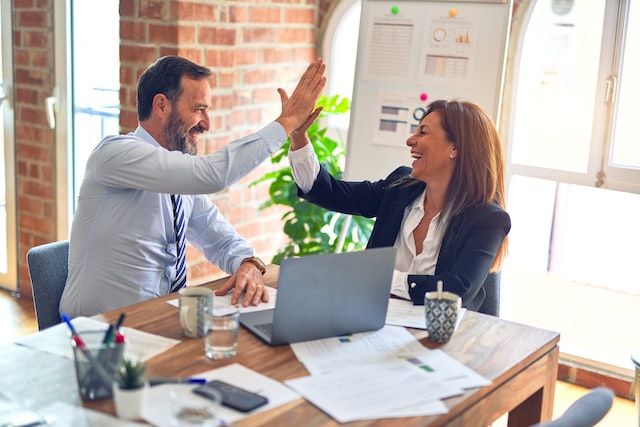 Tips on Writing a Conclusion for Your Business Plan
Your company's closing statement in a business plan can inspire investors or motivate employees. It should offer a view into the future by stating your goals for the company's growth and development.

Consider the following suggestions for concluding your business plan.
Proper Amount of Information
The final section of your business plan should include a concise summary of your essential ideas. Explain why your company will succeed and how you intend to get there. This business plan section is your last attempt to convince potential backers to put money into your venture.

The final section of a company plan written for internal use can be more optimistic. You could mention your future goals for growth or expansion in this situation. This will help the audience understand the direction you envision the company heading.

To win over investors, you might include the following in your final paragraph:
The state of your company's finances as of right now
Money to help your business expand and thrive
Customers and clients who fit your target demographic
Demand from Consumers
Particulars that set you apart from the competition
Your strategy to boost revenue.
Include the following in your conclusion to provide management with some insight into the future of the company:
Details about your company's past and its offerings
Intentions for the long-term
Future growth or expansion plans
These aren't the only points that should be mentioned in a conclusion, but they're among the most crucial.
Incorporate Data and Statistics
To make your case more convincing, you should use evidence like figures and facts. Doing so will strengthen your argument and leave the reader with a favorable impression of your company.

Your company's financial history and growth projections may help convince investors to invest in your company. Market share and customer happiness statistics can help reassure upper management that their company is on the right track.
Keep a Good Attitude
Avoid sounding pessimistic as you wrap things up. Avoid statements like "Despite our difficulties, I am certain that our business will be successful." Don't dwell on past failures, but rather on your company's successes and future prospects.

Using phrases like "I am positive about the future of our company" will leave the reader with a favorable impression of your firm.
End With a CTA
The business plan's final section should end with a call to action. In this section, you might argue why the reader should join your cause or invest in your business.

Your stand must be a concise and direct call to action. Readers need to know exactly what you want them to do, and you need to convince them to do it.
Conclude and Reflect
After you've finished writing your conclusion, it's essential to go back and read it over. Ensure that your point is made without ambiguity and that all relevant details are included. Ensure the tone is upbeat and cheerful, and check for spelling and grammatical problems.

To attract investors, it's essential to have a second pair of eyes look over the final draft of the business plan. Obtaining as much input as possible will help you ensure your argument is well-articulated and persuasive.

After you've come to a satisfying conclusion, it's time to move on to the next phase of your business plan.
Location: End of Document or Executive Summary?
Determine whether you want your business plan's conclusion to appear at the end of the document or the executive summary. If you're writing a business plan to attract investors or obtain funding, consider adding the conclusion to the executive summary.

Investors will likely skim the rest of your report before getting to your executive summary. Including it there is crucial to ensure they get your main points. Doing so will give your audience a clearer picture of where you are going with your argument.
Closing Statement Example for Business Plan
We are certain that ABC Corporation will become a key player in the XYZ industry due to our extensive market research and analysis.

Our unique combination of innovative products and services, competitive pricing, and dedicated customer service makes us the go-to provider for ABC customers.

The funds we secure from this investment round will help us develop and improve our products and services. It will also finance our expansion into new markets.

With your support, we can make ABC Company the industry leader in XYZ. Thank you for considering our business plan and taking the time to learn more about our company. We look forward to working with you and exploring the potential of this partnership.

Thank you for your time.

Sincerely,

XYZ Team
Conclusion
The closing statement example for business plan above is an excellent example of how a business model should end. It emphasizes the objective, progress, and, most significantly, the business owner's commitment to its mission.

In summary, the conclusion should restate your company's value proposition and create a lasting impression on the reader.
Explore All
Write Business Plans Articles