What should a good example of a hotel business plan include? This article will show you. A well-crafted hotel business plan is a fundamental tool for entrepreneurs seeking to launch their businesses in the hospitality industry. It is important to evaluate key elements of a business plan to develop an effective business strategy.

These elements include market analysis, marketing strategies, and financials, which are all integral components of a successful venture. This article will discuss the core parts of creating a successful business plan.

With thorough research and due diligence, hoteliers can gain a competitive advantage in a saturated marketplace.
Elements of a Good Example of a Hotel Business Plan
A well-written example of a hotel business plan must have some important elements. These elements are explained below.
Executive Summary
The executive summary of a hotel business plan must be comprehensive yet succinct. It should provide an overview of the key points, as well as relevant details such as the target market, competitive landscape, and pricing strategy.

In addition, it is important to include any tangible objectives that have been set out in the business plan. This allows investors or lenders to quickly ascertain the goals of the business and the best way to achieve them.
Company Analysis
The company analysis part of the hotel business plan is essential to understanding the current state of the hotel and its potential for growth. This includes a thorough analysis of the market, competitors, location, and customer base. By analyzing these factors, hoteliers can identify areas where they may need to improve or differentiate themselves from others.
Financial Projections
A solid financial projection is also crucial in creating an effective hotel business plan. It should include revenue projections based on occupancy rates, room rates, and other sources of income, such as food and beverage services. In addition, it must also factor in expenses such as payroll, marketing costs, utilities, maintenance, and administrative fees. A well-crafted financial projection will show how the hotel plans to generate profit and sustain growth over the years.
Marketing Plan
A successful marketing strategy in a hotel business plan must be comprehensive yet specific to the customer demographic being targeted. For example, if a boutique bed & breakfast is seeking to attract young professional couples and families, the messaging should reflect that audience.

You may emphasize features such as communal outdoor spaces or unique craft cocktails at their bar. Conversely, if an upscale luxury resort is trying to reach those same customers, they may emphasize lavish spa services or signature restaurant experiences.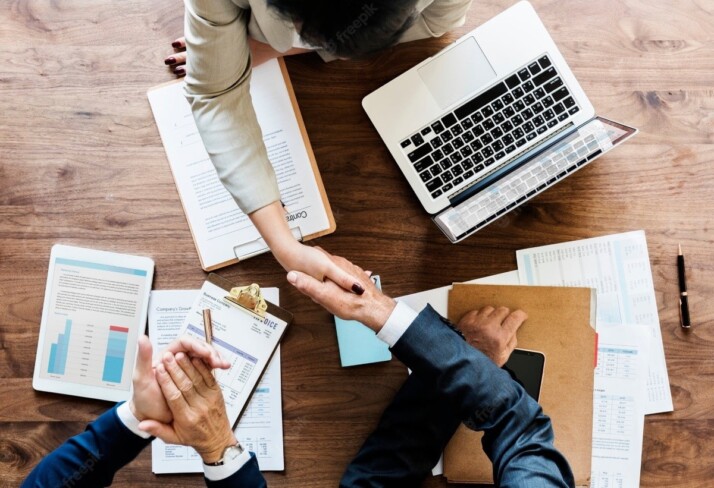 Sample Hotel Business Plan
Here is a hotel business plan template you can use
Executive Summary
Our highly experienced management team has created a forward-looking approach that combines information technology and operations efficiency with customer satisfaction surveys for optimum profitability. We also have invested in recruiting competent staff trained in technical and interpersonal skills. This allows us to focus on consistently delivering quality services for guests.
Marketing Plan
Our marketing plan employs traditional marketing techniques such as print advertising in local newspapers and radio spots to spread the word about our services. Our goal is to get people talking about our hotel and create an appealing brand that resonates with potential customers. Additionally, we will strategically place ads on social media platforms like Facebook and Instagram to further increase awareness.
Financial Projections
The financial projection for this hotel business plan is nothing short of ambitious. We anticipate that capital expenditures will need to be made to ensure its successful operation. However, we are confident that it will be well worth the investment. Through careful cost-benefit analysis and strategic planning, we expect our success rate to be high and our rewards plentiful.

Our projected revenue stream would more than adequately cover operating costs, allowing us to work towards a sound return on our shareholders' investments. Furthermore, if all goes according to plan, we could even find ourselves running at a comfortable profit within just a few years. The prospect of an impressive share price performance beckons in the future!
Wrapping Up
In conclusion, creating an effective hotel business plan requires careful planning and attention to detail. By following the key sections outlined in this article, you can ensure that your plan is comprehensive and well-thought-out.

It's important to focus on the unique value proposition of your hotel and how it will stand out in a competitive market. Researching industry trends and staying up-to-date with customer demands will help you write a good plan for the business.
Explore All
Write Business Plans Articles