Sending out invitations is a vital step in preparing for a meeting. But how do you word these invitations, so they sound polite and professional and lead to good attendance?
The steps outlined in this article will aid you in creating a meeting invitation that's perfect for your needs. Included is a sample meeting invitation letter with agenda.
Asking someone politely to attend a meeting may seem like an impossible task. Here are some tips to help you produce an invitation that will increase response rates, the size or formality of your event notwithstanding.
Three Ideas for Creating Inviting Meeting Notices.
Use these writing tips to get the best responses to your meeting invitation.
1. Align the Language With the Goal
Word an invitation to a staff meeting differently from one to a shareholder's annual business meeting. Consider your audience and the event's formality while composing the invitation letter.
2. Personalize your Invitation to Each Recipient
When feasible, personalize greetings by including the recipient's name. Consider using a cordial tone when dealing with employees, clients, or acquaintances.
3. Keep It Simple.
People value not needing to spend a lot of time on an email. Describe the fundamentals as stated above, then conclude, briefly.
What Should a Meeting Invitation Include?
As you prepare for your next meeting, observe the different parts of a meeting invitation. This will help you plan for the meeting and ensure you know what to expect.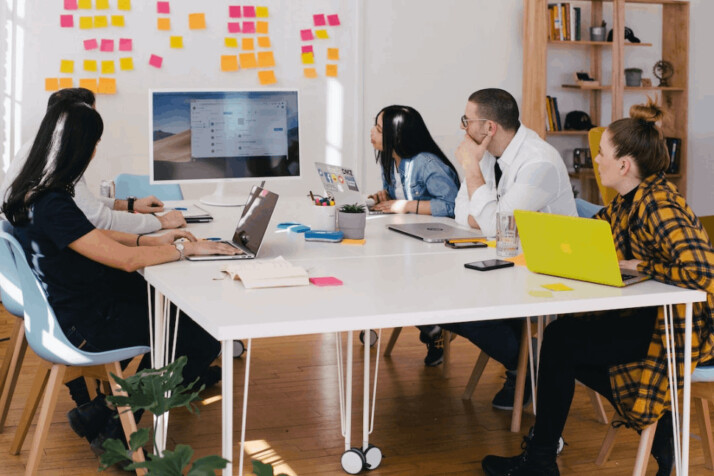 1. Timing and Location
The first part of a meeting invitation is the date and time. That is, the start time and end time.
Date: This should state the calendar date of the meeting.
Time: This should tell when the meeting will begin and defines the duration.
Location: Give a detailed description of the venue of the meeting. You can attach a direct link to ensure attendees find the location.
2. A Clear Agenda
An agenda is an outline of topics to be discussed. This outline is crucial to the success of the meeting. Knowing what will be discussed in advance can help you prepare adequately! Also note any specific items requiring attention (such as approval or discussion items).
3. Contact Information
Most invitations have contact information for one or more people organizing the event – their name(s), email addresses, and/or phone number(s). This gives attendees a channel for making inquiries.
4. An RSVP
RSVP is a French acronym for requesting a response to an invitation. It would help if you used this to ask for a reply from invitees confirming their acceptance or possible absence.
In Writing Meeting Invitations, Take Note of a Few Things:
Be explicit about the meeting's objectives and those invited.
Include all relevant information, such as date, time, and location.
Use a friendly tone of voice that makes everyone feel welcome.
Steps to Writing a Meeting Invitation
Step 1: Come up With a Creative Idea
It would help if you thought of a unique invitation idea before you begin organizing your session. This can be anything from a funny pun to a catchy phrase. Once you have a creative idea, it's time to start brainstorming to decide the content of the invite.
Step 2: Create a Template
Create a template for the invite. This will make it easier to format the information and be sure to include all the important details. If you have a clear idea of your meeting's purpose, write it down. If you're not the organizer and are unsure about the reason for your appointment, ask the organizer.
Step 3: Draft the Meeting Agenda
The agenda is the heart of the meeting. It is the most significant determinant of the success of the meeting. Draft the meeting agenda. This should include all the key points you want to discuss during the meeting.
Step 4: Add Graphics and Images
Finally, add graphics and images to make the invite more visually appealing. This can increase the number of RSVP requests.
Step 5: Send Out the Invitations in Time
Your invitees must get your invitations ahead of time. This will enable them to prepare adequately for the meeting. Make sure each invite has the correct details. Include the event's title, and, if applicable, a contact email.
Step 6: Invite the Right People
Inviting the right people and anticipating their needs can help make the meeting successful.
Importance of Including an Agenda in a Meeting Invitation
A meeting agenda is typically a document that lays out the topics or items that form the talking points during a meeting. It includes information about each item, such as who is responsible for presenting it. Arrange the items on the agenda according to their order of priority.
An agenda is vital in a meeting invitation because it helps ensure the meeting will be productive. Knowing the topics to be covered will enable participants to arrive prepared and make meaningful contributions to the discussion.
Furthermore, an agenda provides a framework for keeping meetings on track and prevents them from dragging on for too long. Set aside specific time for each item on the agenda.
Some standard sections to include on a meeting agenda include:
Opening remarks/introductions
Review of previous minutes
Old business
-Action Items from the last meeting
New business etc
Sample Meeting Invitation Letter With Agenda
The internet is full of sample meeting invitation letter with agenda for different types of meetings. Here are a few samples that can be a helpful start for conjuring up a great meeting invitation for your next event.
Sample 1
Good day, [Name of recipient].
I sincerely hope you are doing well as I write this email. I'm inviting you to a meeting on Thursday, December 15, 2022, to discuss the next step in our community project.
The community hall's conference room at [Meeting address] will serve as the meeting location. It will run for approximately 2 hours. The following are the most crucial subjects on the agenda:
Fundraising progress so far
Need for a review of building projects
Possible visit to the governor
Please click this link to RSVP if you plan to attend. Please respond by the 8th of December 2022, so we can plan accordingly.
Best Regards,
[Your name]
Convener, [Organization name]
[Your name]@gmail.com
Sample 2
This meeting invitation template will be useful if you're organizing a more formal business meeting, especially one with invitees you don't know well.
[Name of company]
Greetings, [invitee group]
I hope you are well and are reading my email. To discuss [subject], we will meet on [day, date, and time] at [location].
A video conference will take place at or near [location] and will last approximately [number] hours. The meeting's agenda is included.
The following are the most crucial subjects to cover:
[Item-1 on the meeting agenda]
[Item-2 on the meeting agenda]
[Item-3 on the meeting agenda]
In order to confirm your attendance, kindly call. Please respond by [day and time] so that we can plan accordingly.
Regards,
(Your name)
[Your position and email address]
How Do You Invite Someone Professionally?
In a workplace, attendees typically create an email invitation or invite. A vital element of the invitation is the information, especially the agenda and contact information. The invitation should also be highly informative and include all necessary information for the decision-makers and those attending.
Takeaway
An invitation to a meeting can be exciting if you know how to approach it correctly! When writing a meeting invitation, it is important to include an agenda. The sample meeting invitation with agenda provided here will guide you.
Review the information in the meeting invitation carefully. Doing so will allow your invitees to make adequate arrangements to attend.
Explore All
Write A Meeting Agenda Articles