A safety meeting is essential to any workplace. It helps ensure that everyone is aware of potential hazards and knows how to complete their tasks safely.
By holding regular safety meetings, employers can promote a safe working environment for all employees. And to make sure your meeting runs well, a meeting agenda is a must. If you're unsure how to create your agenda, looking at a sample safety meeting agenda template can be helpful.
In this article, we'll look at an effective template you can refer to for your meeting. We've also laid out some tips to ensure your meetings are always successful.
Importance of Having a Meeting Agenda
An agenda is an essential tool for any safety meeting. It ensures that all topics are covered promptly and helps keep the discussion on track. An effective agenda also allows participants to come prepared with ideas and comments.
Other benefits of having a well-written agenda are:
1. A meeting agenda helps ensure everyone is on the same page regarding what will be discussed during the meeting.
2. It can help keep meetings short and focused, as participants will know what topics will be covered in advance.
3. Having a written agenda can also provide a record of decisions made or tasks assigned during a meeting.
Without an agenda, meetings can quickly go off-track and become ineffective.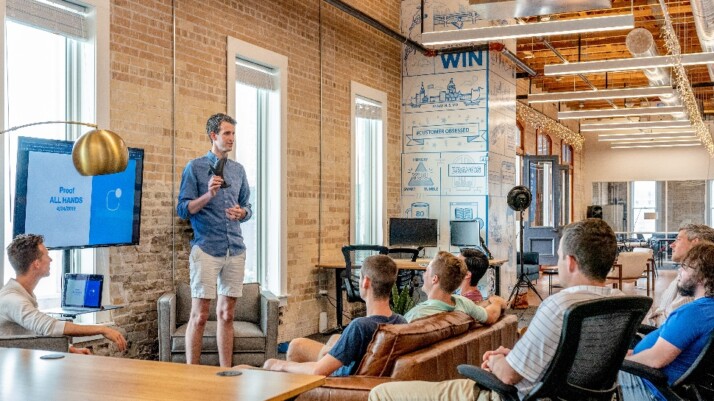 Steps For Making Your Meeting Agenda
Making your agenda doesn't need to be overly complex. Here are some steps you can follow to get started:
Start by identifying the topics you want to cover during the meeting.
Next, create a timeline for each subject and map out what will be covered under each one.
Draft an opening statement that will set the tone for the meeting and introduce everyone in attendance.
Make sure to allow Time for discussion and questions from attendees throughout the meeting agenda.
Finally, close the session with a recap of key points addressed and any follow-up actions that need to be taken.
You aren't responsible solely for setting the agenda. Make your team contribute as well. By making a collaborative agenda, you'll be able to add other essential points for discussion. You'll also be able to have more of a conversation in your meetings than a boring old monologue.
What Your Meeting Agenda Should Include
You can think of the agenda for your weekly team meeting as your roadmap. It helps ensure the conversation is productive and meaningful.
When you make a meeting agenda, you should consider including these key elements:
Names of meeting attendees
The purpose of the meeting
The meeting duration, as well as the Time to be spent on each topic
What you'll be discussing
There's no need to recreate a new agenda for every meeting. Set up recurring topics you want to discuss regularly as the basis for your agenda. You can also have a section for ad-hoc items that may arise during the week that need to be addressed.
Sample Safety Meeting Agenda Template
Example 1
Department of Fire And Emergency Services
[Date]
[Time]
[Attendees]
[Department or guest speaker who will conduct the meeting]
[Location:]
Agenda
Call to order.
Introductions and comments
Handing out minutes of the [previous meeting] held on [Date of the meeting].
Presentation by [name of the individual] from the [Name of Department].
An appointment of a subcommittee to work with the planning department on seismic retrofit standards.
Elections of vice chair and chair.
Staff report.
Adjournment.
Example 2
Weekly Safety Meeting
[Date]
[Time]
[Attendees]
[Guest Speakers, if any]
Agenda
1. Introductions
2. Review safety goals and objectives
3. Discuss potential hazards in the work environment
4. Review emergency procedures
5. Assign tasks to ensure that all safety requirements are met before leaving the meeting.
Final Words
Safety should always be a priority, regardless of which industry you're in. And safety meetings are necessary for carrying out that goal. With the help of this sample safety meeting agenda template, you should know how to carry out your meeting smoothly and productively.
Explore All
Write A Meeting Agenda Articles