When it comes to writing a business and IT personal statement, many students feel overwhelmed. After all, this document is one of the most important pieces of your application package. It is a written declaration of your plans, goals, and intentions for pursuing a career in the field of business and information technology.
A personal statement is what admission officers will use to determine if you have the skills and experience necessary for their program.
This article outlines what goes into a great personal statement. We'll also provide tips on making yours stand out from the rest. So whether you're just starting out or you've already started drafting your statement, read on for helpful advice!
What Is a Business and IT Personal Statement?
A business and IT personal statement is a document that outlines an individual's qualifications, experience, and goals in the business and information technology fields. It can be used to apply for jobs, scholarships, or other opportunities in these areas.
The statement is important because it allows potential employers or scholarship committees to better understand an applicant. It helps them determine if an applicant is a good fit for the position or opportunity.
Tips to Write a Business and IT Personal Statement
Whether applying for a job, grad school, or other opportunities, below are some effective tips for writing a solid business and IT personal statement.
Know the purpose of the personal statement
A personal statement for business and IT should showcase your skills, abilities, and experience in these areas. It is not a resume or CV, so do not simply list your work history or education. The focus should be on why you are interested in a career in business and IT and what you can bring to the table.
Tailor It to Each Application
Each personal statement must be tailored to different programs or jobs. So make sure to highlight various aspects of your background depending on where you are applying. Do some research into the organization/program before writing so that you can target specific points they are looking for.
Be Clear and Concise
Keep your statements short and sweet – no one wants to read a long-winded essay! Get straight to the point by highlighting your key strengths and experiences related to business and IT without rambling on about irrelevant details.
Use Strong Examples
Back up any claims with concrete examples from past experiences, whether at school, work, or other activities. This will help illustrate just how talented you are when it comes time for reviewers to see the evidence.
Make Sure to Proofread
Make sure to proofread your essay for mistakes before submitting it – one typo can really ruin an otherwise great piece of writing! In addition, using proper grammar shows that you cared about this document.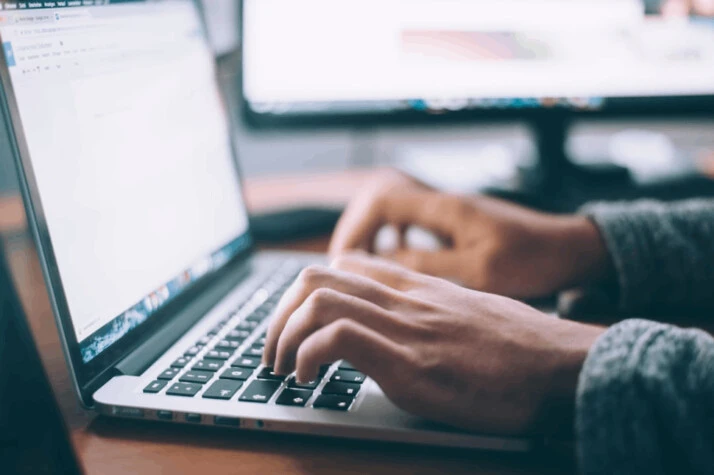 Personal Statement Examples for Business and IT
The key to writing a strong personal statement for the application of your choice is to be clear and concise. Use the following example to write a customized personal statement for yourself.
Personal Statement Example 1
My love for business and information technology began at a young age. I was always intrigued by the way businesses operated and how technologies were used to support these organizations. My interest in IT stemmed from my desire to understand business and IT. I wanted to explore how different aspects of technology could be integrated into the business world to improve efficiency and productivity. As someone with strong technical skills, I know that I would be an asset to any graduate program in information management.
For the past four years, I've worked as a web developer. This has given me experience translating complex business needs into tangible IT solutions. In addition, my academic background includes coursework in data analysis, systems analysis, project management, and enterprise resource planning (ERP). These courses have prepared me well for a career in information management. Furthermore, through extracurricular activities such as Toastmasters International, I have developed essential communication skills that will benefit me in this field.
Given my passion for business and IT, I am confident I will excel in a program like yours at [university name]. The curriculum is tailored specifically for students who want to pursue careers in information management or another related field, such as MIS or analytics. I believe acquiring a Master's degree from [university name] will help me fulfill my long-term goal and flourish in my career.
Personal Statement Example 2
The decision to pursue a business and information technology degree was an easy one for me. I have always been interested in both the business world and IT. And I saw this program as the perfect opportunity to learn more about both subjects. My skills with computers started early on when my parents bought me my first computer. From there, I began teaching myself how to use different software programs, which gave me a strong foundation in IT.
I am excited to apply what I learn in this program to the business world. In previous jobs, I have used my knowledge of IT systems to help improve efficiency and solve problems within companies. For example, at my last job, we were experiencing some issues with our email system that were impacting customer service operations. After investigating the problem, I found a solution that solved the issue and also saved the company money on their monthly internet bill!
My future goals include working in a business role where I can continue using my IT skill set. I wish to make positive contributions and strengthen businesses from within. If given a chance, I would be able to use my understanding of business processes and IT tool sets to build efficient systems. It will help streamline operations in ways never imagined before.
Personal Statement Example 3
The business and information management program at ABC University is the perfect fit for me. I've always been interested in business, and through my coursework, I have discovered a love for information technology as well. In today's world, businesses rely more than ever on IT to stay competitive. My education in both areas will give me the skills to succeed in the business world.
I am confident that I can benefit your program. I have excellent organizational skills, which I developed while managing billing operations for a large company. My experience with data entry and analysis will also come in handy when dealing with big data sets in the IT field. Furthermore, my future goals include starting my own computer repair shop. An enterprise that would greatly benefit from my knowledge of business and IT systems security administration techniques.
I believe that ABC University offers an outstanding business and information management program that will help me reach my career goals.
Conclusion
Personal statements are crucial when applying for specific programs or job opportunities. If you're passionate about pursuing a career in business and IT, reflect that on your personal statement. This article lists effective tips along with examples to help you write a great personal statement for Business and IT.
Explore All
Write Personal Statement Articles