The Common App is a Godsend to students worldwide. It eases the application process by allowing students to apply to multiple schools and colleges. Whether applying through the app or traditionally, learning how to write common app personal statements is a foundational skill.
This article will explain the importance of personal statements and give tips for writing common app personal statements. But before we delve into them, it's essential to understand the Common App and how it fits into modern academic life.
What is the Common App?
The Common App is an online platform that enables students to apply to more than 900 colleges and universities worldwide. It allows users to fill out a single application for applications to multiple institutions.
By streamlining the college admissions process, this invaluable tool helps reduce the stress associated with gathering various application materials for each school application. It also provides much-needed transparency into the college acceptance process.
While the common app alleviates many of the stresses encountered in college applications, it raises the stakes. Since you'll be using the same materials across all your applications, a single mistake can affect all your prospects.
This is why it's crucial to get everything sorted in the best possible way.
The Importance of Personal Statements
Personal statements are special essays that showcase your personality. They help recruiters and admissions board representatives gain a deeper understanding of a candidate beyond numbers and bullet points.
Common app personal statements are crucial in college applications because they allow applicants to share their experiences, qualities, and character creatively. How you write can influence the impression you leave on your readers.
More importantly, personal statements allow you to give a vivid depiction of your ideas and introduce the human touch to your application. They can make you relatable and likable, unlike resumes and transcripts that have only a limited mode of expression.
If you want to take full advantage of personal statements, here are a few tips you can apply.
Related: Common App Essay Prompts
A common application would be incomplete without its different prompts. These angles of approach provide structure to your common app essay and allow you to focus on one aspect of your background.
Essay prompts are also a way to check your ability to read and understand instructions. They provide the admissions officer with a basis for evaluating the relevancy of your writing. Here are some prompts that you're likely to encounter:
This prompt encourages students to tell their personal stories. It is an exercise that helps readers gain a new understanding of a person. Make sure to write about things that are so meaningful to you that they are part of your personality.
Prompt 2: Learning From Obstacles
Prompt 2 encourages students to talk about a failure they suffered and how they turned it into a learning experience. It should showcase their struggle and how the lesson they learned helped them go on to become better with other future goals. You can make your essay personal by sharing personal experiences, obstacles you had to overcome, or uplifting experiences you have had.
Prompt 3: Challenging a Belief
This prompt focuses on a student's experience when they challenged a belief or idea. Their essay should reflect their experience and reasoning behind their disagreement. Challenging a belief without resorting to overt acts is a fundamental skill. It allows us to engage people with different perspectives and to see new ways of thinking.
Prompt 4: Solving a Problem
This prompt lets students share an essay about when they were tasked with solving hard problems. The way a student approaches issues can be fundamental to later success because it demonstrates their thinking ability.
Prompt 5: Personal Growth
This college essay prompt asks students to discuss a period of personal growth. Make sure to discuss an accomplishment or realization that helped begin a period of personal growth that changed the course of your future. Recount how this experience was instrumental to your development into the person you are today.
Prompt 6: What Captivates You?
This prompt focuses on the things that motivate and inspire you. It focuses on the type of culture you are immersed in. Talk about something that sparks your interest and is so engaging you lose all track of time. Explain its importance and how it forms part of your identity.
Prompt 7: Topic of Your Choice
This prompt gives the writer a reasonable degree of freedom to pick any topic they want to raise. You can choose any topic from the list of prompts to draw from or create your own with the same prompt! The point is to make it a personal reflection in which you can shine a light on any aspect of your story.
Tips for Writing Personal Statements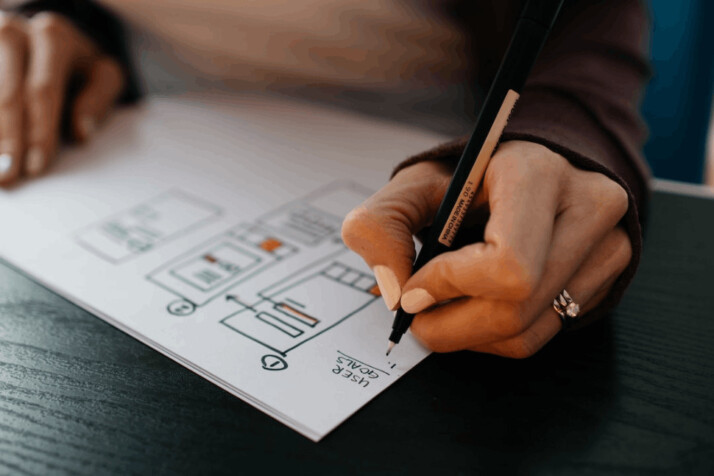 Brainstorm and Create an Outline
Before writing, it is essential to brainstorm ideas that would best suit the personal statement. This allows writers to frame their words deliberately and express their views clearly. An outline also helps writers focus on crucial points of their content and improve the logical flow between topics.
An effective way of doing this is by creating a comprehensive outline detailing which topics should be included in the essay. Make sure to include the main argument and the specific points that need to be discussed. This will guide the writer through their essay and make sure nothing is missed or left out.
Showcase Your Experience
Since the writer has relevant experience on the topic, it is vital to showcase these experiences throughout the essay. Using concrete examples can give your essay credibility and illustrate points that could have been difficult to explain.
Make sure to include only the experiences most related to the program you're applying to. If you don't have any relevant experience, use your experiences to showcase your character instead.
Use Clear and Concise Language
To get your point across effectively, use simple language. Avoid using big words or technical jargon unless necessary. Also, include variety within your sentence structure while maintaining clarity of thought. An expansive vocabulary will not only showcase your communication skills but will also help you write vivid descriptions. Remember that profound ideas require equally-profound words to represent them. Do not mar your message by using bland words or unnecessarily complex words.
Write with Emotion
Writing an effective common app personal statement requires the writer to tap into their emotional side. While facts are important, expressing thoughts and feelings accompanying them adds depth and substance to the essay. Moreover, people are more likely to remember the way they felt rather than the exact details of an experience. The same Psychology principle rings true for the things we read.
Words are powerful tools that allow us to convey ideas and evoke emotions. Use them well.
When appropriate, add anecdotes or details about how specific experiences made you feel – this will make the reader more invested in reading further.
Incorporate Uncommon Words
A great way to demonstrate expertise on a topic is by including uncommon words or terminology throughout the essay. However, care must be taken not to overuse these words as they may take away from the overall message being conveyed. Your words should fit naturally into the context of the sentence; if it doesn't, then it should be replaced.
Sample Common App Personal Statements
Sample A
I have a long-standing passion for exploring the unknown, which I have developed through my involvement in various extracurricular activities throughout high school. My appreciation for knowledge has prompted me to delve into areas of study far from traditional learning systems. I find myself drawn to the search for spiritual truths within all facets of life. This leads me to ponder seemingly impossible questions about existence and meaning that can sometimes leave me perplexed and frustrated.
But no matter how difficult things get, I always manage to persevere due to my unwavering enthusiasm and determination. As an individual who relishes discovery and adventure, I am eager to continue my journey of self-discovery in college.
Sample B
I've been fascinated with innovation and engineering ever since I was a child. Growing up, my family instilled in me an appreciation for the science behind how things work and the importance of never settling for mediocrity. While this curiosity has kept me intrigued throughout my academic career, it has also pushed me to explore opportunities beyond what is expected. It pushed me to participate in research projects involving solving complex problems with innovative solutions.
My passion for problem-solving led me to join the Robotics Club in high school, where I worked diligently on several difficult projects. Our team had to devise efficient algorithms to power our robot and address technical issues with coding and circuitry. Although our project encountered a few roadblocks due to its complexity, we persevered and ultimately succeeded in producing a functional device that exceeded expectations. It was during this process that I developed a newfound admiration for technology and its potential to revolutionize our world.
Through my experiences, I've come to understand the vital role creativity plays in any form of progress or success. As such, I'm committed to using my expertise to make meaningful contributions to society. This commitment motivates me daily and encourages me to strive for excellence in everything I do.
Sample C
I have always believed in the power of my own design to accomplish great things. As a student, this concept allows me to combine knowledge from multiple sources to create something new. My drive to push beyond what is expected has allowed me to take on projects that others may consider too difficult or complex. This willingness to embrace challenges has opened doors for further personal growth as well as professional achievement.
Falling short of expectations was once a source of shame for me, but now I use failure as fuel for improvement. Whenever I face obstacles, I remind myself that little can be done without first taking a bite out of the unknown. The open-endedness of these moments offers insight into how much more there is to discover. This awareness motivates me to act on my desire to learn more. Taking the initiative despite feeling incomplete has led to excellent outcomes and experiences shaping my belief system and who I am today.
My passion for learning and appreciation for books, classes, and community engagement helps foster an ever-evolving personal development process.
Each accomplishment brings me closer to understanding who I am meant to be and how I might best offer myself to those around me. These experiences keep pushing me forward, allowing me to positively impact wherever I go. Finally, this unyielding determination compels me towards greater self-discovery and, ultimately, better days ahead.
Sample D
I had never thought of myself as a leader until I joined my high school football team. Here, where I followed the example of our coach and strived to be an inspiration for my teammates. This experience taught me how to identify opportunities in challenging situations and use them to further my goals and create new possibilities for success.
Later on, I found exciting ways to apply this same approach while volunteering at homeless shelters and after-school programs.
I'm excited about exploring my future in college, where I will take the knowledge gained from these experiences into the classroom and beyond. I aim to become more proficient in synthesizing information to develop creative game plans that enable others to achieve their dreams.
In Summary
The main purpose of a personal statement is to showcase your suitability for a job or program. Unlike a resume, it allows writers to demonstrate their qualifications creatively. It will enable them to connect with a reader and establish a strong positive impression.
Interesting common app personal statements are imperative because they impact multiple applications simultaneously. It is a piece that reveals your writing skills and showcases your value.
Remember to practice writing your essays and apply the simple tips in this guide. Respond directly to prompts, and answer questions clearly.
Explore All
Write Personal Statement Articles