A Finance master's personal statement is an essay crafted by a prospective student applying for a master's degree.
The statement's purpose is to provide insight into the applicant's personality and how they can contribute to the program. It also demonstrates their experience and expertise in the field.
Applicants should tailor their personal statements to each specific university and their unique requirements. This will help make it stand out from those of other applicants.
The Importance of a Personal Statement
Personal statements aren't redundant. While applications and resumes already enumerate an applicant's qualifications, the main advantage derived from personal statements lies in compelling exposition.
The exposition of your qualifications matters significantly. It can influence the impression you establish on readers. Moreover, it allows you to highlight specific skills and experiences to paint yourself as a prime candidate.
Personal statements are also a way to demonstrate a genuine dedication to mastering the subject or course.
The best thing about personal statements is that they are reasonably straightforward despite their value. The following section provides a few tips for crafting effective personal statements.
Tips for Writing a Finance Masters Personal Statement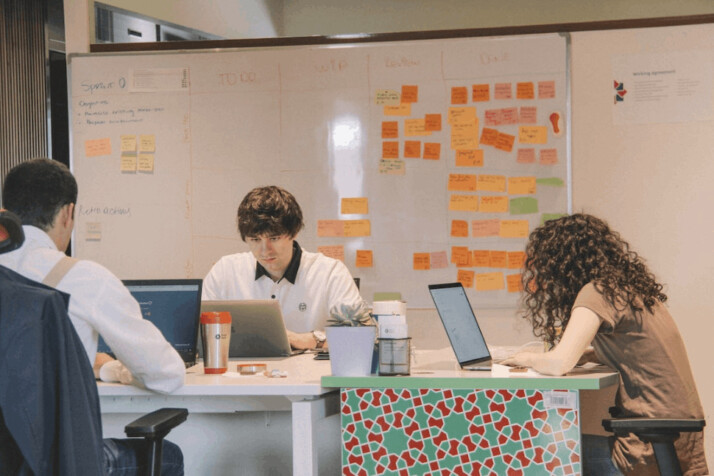 Highlight Your Finance Accomplishments and Knowledge
Explain how your experience has given you a unique perspective on the subject. Showcase your achievements and competencies, such as internships or volunteer work related to Finance. These will show your passion for the industry and your dedication to learning.
Reference Research Experience
Referencing any related studies you've conducted or written about demonstrates your industry exposure. This will show that you are equipped to succeed in an advanced program and shows your hunger for knowledge.
Use Concrete Examples
Concrete examples are valuable because they are a reliable basis for your general performance. Include a few to support any skills, characteristics, and values you claim to possess.
Add an Opportunity Statement
Explain how a Finance Master's degree can benefit your career, business, or academic life. Show your readers the allure that led you to pursue a Finance Master's degree in the first place. This is valuable information because it gives admissions board representatives and recruiters a glimpse into your motivations.
Write With Clarity and Structure
To craft a clear, structured statement, you must use active language, well-rounded sentences, appropriate transition words, and utilize common English idioms when applicable. Avoid sounding overly robotic or overusing technical jargon. Let your personality shine through while demonstrating your mastery of the material.
This ensures you deliver a clear message and keeps your reader invested in your personal statement from the first sentence to the last.
If you're still struggling with writing a Finance Masters personal statement, don't fret. Here are a few examples you can gain inspiration from.
Sample Finance Masters Personal Statement
Sample A
I am an experienced professional with a decade of experience in the financial industry. I have always been passionate about pursuing further education to ensure I stay at the highest level of the market. Last year, I pursued a Masters's degree in Financial Management (M.Sc.) from an internationally renowned school.
I wanted to gain a better understanding of this area and expand my knowledge of economics and accounting principles. This will help me develop greater capability in dealing with processes in the ever-changing global environment.
By taking up this degree, I will also have the opportunity to sharpen my skills through various job roles. I will also gain access to professionals who can provide real-world insight into the area.
Moreover, My ability to apply within any business setting sets me apart from the rest of the market. I have a strong service orientation and focus on developing innovative solutions. These are qualities that are essential to excel within the management sector. After completing my M.Sc., I would be more than ready to take on future challenges and deliver excellent results.
Sample B
I come from an international background and have been immersed in investment banking for the past six years. My work experience and Business undergraduate degree create a solid financial knowledge foundation. I want to build upon this foundation, so I seek an MSc in Finance. I recognize the need for more formal training to reach my long-term goals in the finance sector.
Through my experiences, I believe I understand the challenges faced in working within the global banking system. I have become adept at anticipating and dealing with potential problems as they arise. My current role requires that I be able to analyze different markets and predict outcomes accurately. I feel confident doing this after having undertaken significant research in this area.
Additionally, I manage portfolios and negotiate deals between clients and other businesses, a task further enhanced by my fluency in English and Spanish.
I relish the opportunity to further develop my understanding of Finance through a Master's program. It will allow me to explore new topics like derivatives trading and financial engineering. I also look forward to pushing myself academically and developing professional connections. These networks could be vital when it comes time to pursue my career aspirations.
This course offers me the chance to gain the skills needed to do precisely that. Pursuing an MSc in Finance is the right decision for me.
Sample C
I believe my qualifications in Financial Economics and varied work and activity exposure make me an ideal candidate for a Master's Degree in Finance. During my time at school, I learned the fundamentals of business finance and economics as well. I build on this by reading content from some of the world's leading financial institutions.
My success in these areas allowed me to skip a grade, giving me more time to pursue extra-curricular activities. I worked with a small company in India that specializes in financial consulting. This hands-on experience gave me great insight into corporate Finance's complexities. It also helped me develop good communication skills and sharp problem-solving abilities.
I am excited to use my knowledge, expertise, and experiences to advance my understanding of the financial industry further. As a student, I will be committed to maximizing my potential by taking advantage of every opportunity the university offers. By working hard and combining real-life examples with classroom learning, I aim to establish myself as an engaged and capable student. Upon graduation, I can become a valuable asset to any financial organization or institution.
In Summary
Personal statements are vital to Master's applications and other selective ventures because they express your best qualities. Mastering the art of crafting compelling personal statements will help you go far in your academic and professional experiences. Make sure to apply our tips to maximize your chances of success. Good luck!
Explore All
Write Personal Statement Articles