Graphic design is a process of visual communication and problem-solving through illustration, typography, and photography.
When used effectively, graphic design can capture an audience's attention, convey messages, persuade people to buy products or services and create lasting impressions. As a graphic designer, it is important that you are able to market your skills and talent to people. A graphic designer personal statement is meant to help you do that.
This article contains some great personal statements and how to craft a good one.
How to Create a Graphic Designer Personal Statement
If you're looking to become a successful graphic designer, it's important that you have a strong portfolio showcasing your best work. In addition to your portfolio, submitting a well-written personal statement can be beneficial in helping you stand out from the competition. Your personal statement should highlight your skills and why you chose to pursue a career as a graphic designer.
The process of creating a graphic designer personal statement can be broken down into three steps: brainstorming, drafting, and editing.
Brainstorming
Brainstorming entails coming up with creative ideas. To come up with awesome ideas for your personal statement, you'll need to think about your experiences as a graphic designer.
Think of what makes you unique and why you want to pursue a career in graphic design. Once you have a list of topics to discuss, it's time to start writing. You can check the personal statements of other graphic designers for inspiration during brainstorming.
Drafting
The next step in creating your personal statement is drafting it. The draft should be around 100-500 words long and include all the information mentioned above. Make sure you proofread it carefully before submitting it; mistakes will only reflect poorly on your application.
Editing
At the editing stage, you should read through the statement to make sure you cover the basics of good writing. Editing is an important stage in the creation of any document, including personal statements.
During this stage, make sure that everything flows well together and that there are no grammar or spelling errors present. If necessary, get someone else to read over your statement, so they can provide feedback. After you've done your editing, you can submit the final version.
Examples of Personal Statements for Graphic Designers
We have some good examples of personal statements you can use when applying for jobs.
Template 1
I've been a graphic designer for the past several years, and the sheer power of this medium continues to astound me. With my current ability, I am able to take ideas from concept to completion quickly and efficiently. I combine creative design elements with practical technology-driven solutions.
My aptitude for learning new techniques has enabled me to stay abreast of rapidly evolving trends in graphic design. Ultimately, this enables me to create visually stunning results that deliver on both aesthetic and performance objectives. I am proud of the work I produce, continuously pushing myself to innovate and go beyond what is expected of me.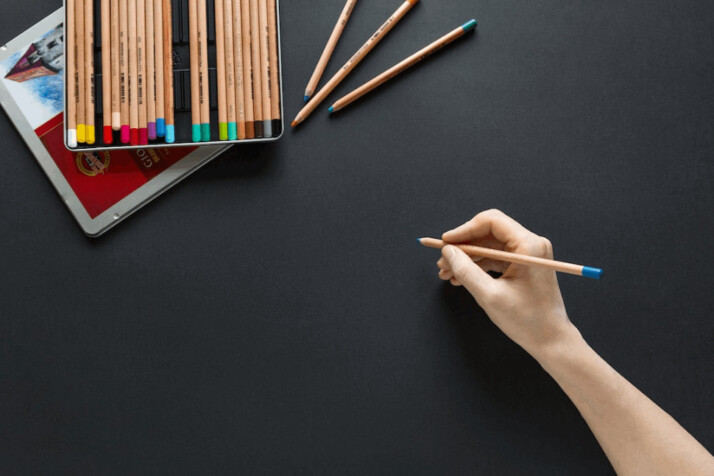 Template 2
I've worked as a graphic designer for the last decade. During that time, I gained expertise in creating eye-catching visuals. Throughout my career, I've worked with a variety of media outlets to create stunning designs that captivate audiences.
Through my studies at University and additional courses throughout my professional journey, I honed my craft and brought life to many projects. My ability to take complex concepts and translate them into compelling visual stories is one of my strong suits. It has allowed me to reach great heights in this field. Working with teams, both big and small, I am known for my collaborative spirit and willingness to explore new techniques. Additionally, I'm always eager to continue developing my skill set. For instance, recently, I have started experimenting with virtual reality graphics, which provide a truly unique experience.
Template 3
Having worked as a graphic designer for the past several years, I've developed an in-depth understanding of the profession. In addition, I understand how to leverage art to communicate a message. My experience has taught me how to think strategically and creatively when it comes to marketing campaigns or branding initiatives. I can efficiently collaborate with clients from different industries.
I also have extensive knowledge of tools such as Adobe Photoshop, InDesign and Illustrator. With these tools, I can create visuals that are both aesthetically pleasing and effective. Additionally, my attention to detail ensures every design project is completed within budget and on time, making me an invaluable asset to any business.
I'm a visionary with a passion for art, and I relish finding inventive solutions to complex design problems while never sacrificing quality. It is this commitment to excellence that has enabled me to become one of the leading professionals in the field. With a keen eye for aesthetics and a penchant for experimentation, I am confident that I will be a great addition to your team.
Template 4
As an experienced graphic designer with over 15 years of experience, I have seen firsthand the power and potential of this creative art form. From designing websites to developing promotional materials, I've had the opportunity to use my skills to reach out to students and advertise for companies. My work has been marked by innovation and diligence. I am always looking for ways to push boundaries and create captivating designs that leave lasting impressions. Additionally, I take pride in mentoring aspiring graphic designers and helping them to develop their craft.
I derive satisfaction from using my creativity to serve others, whether by assisting people in conveying their ideas visually or creating beautiful images. By combining elements such as typography, colors, shapes, textures and illustrations, I can produce eye-catching visuals that will engage viewers. Through careful attention to detail and aesthetic principles, I am able to give each project a distinct look and feel which encapsulates its purpose.
My passion for graphic design is unyielding, and I thrive on staying ahead of current trends while also mastering traditional techniques. With every new project comes an opportunity to explore my capabilities further and bring concepts to life in fresh and inspiring ways. As someone who values efficiency and results, I strive to deliver quality service that exceeds expectations.
Conclusion
Graphic design is both an artistic and business discipline that involves the manipulation of symbols. Like any other professional, graphic designers need a personal statement to showcase their skills. The steps in this guide, as well as the examples, can guide you as you create yours.
Explore All
Write Personal Statement Articles