Hobbies and interests in a personal statement can do more to bring focus and clarity to your statements than fields of study. A good hobby can make a much more exciting and unique statement.
Before writing a personal statement, ensure you have a comprehensive list of your most impressive accomplishments, hobbies, jobs, and talents. Your interests have a significant role in your statement. But don't think you can't discuss them because you don't have specific credentials.
This article provides tips on how to write compelling and distinctive personal statements using hobbies and interests. Read on!
Tips to Consider When Writing Hobbies and Interests in a Personal Statement
Personal statements benefit from including interest, but doing so might be challenging. You won't go wrong if you stick to these guidelines while writing your statement.
1. Don't Talk About Your Passion for Its Own Sake
Put less emphasis on the hobby than you should on the qualities it exposes about you.
Don't talk about your passion for its own sake unless it's relevant to your field of study. For instance, if you're applying to dental school, you should do more than state that you enjoy painting. Instead, you should explain how you plan to combine your appreciation for the visual and performing arts in your chosen field.
Making these associations may be complex at first. If you're stuck for ideas, try writing down why you appreciate your activity and your chosen field. If you see a connection, you should use it.
2. Avoid Claiming That Your Leisure Hobbies Are "exactly Like" Your Future Career
You may say that being a football team captain gave you the leadership skills you'll need as a doctor. You may also state that your love of art led you to dentistry.
Still, you shouldn't put too much stock in your current situation. If you can paint, that's great, but it doesn't indicate you have the skills to be a dentist. It's not fair to compare your responsibilities as a football captain to those of a doctor.
Recognizing that your interests reflect aspects of you differs from asserting that your interests are almost similar to your future profession.
The admissions committee will likely take great pride in their work. Therefore, it's not a good idea to compare it to your hobbies. There are two ways in which these ties can strengthen your application essay.
First, they demonstrate your ability to apply knowledge gained in various contexts to your professional growth.
Second, they prove that your extracurricular activities are relevant to your chosen profession. It is not merely a wishful thinking exercise about your future.
3. How Well You Do in Your Interest Is Important
If your college swimming team won the state title, don't just say that you swam there. Highlight the skills that helped your team succeed and include examples of how you've applied those skills elsewhere.
A well-rounded individual is very desirable in the eyes of the admissions' committee because achievement in one area usually equals greatness in another.
However, here's the catch: excelling in your pastime isn't enough. You need to demonstrate that the skills that helped you succeed in your fun can serve you well in your chosen profession.
If you don't, people may assume that you're the type to let your passions get in the way of your professional development and studies. You want your extracurricular activities to be a selling point, not a drawback.
4. Show How Your Interest Benefits Others
It's a given in nearly every personal statement that the author has some sort of altruistic motivation. However, only a few students can convey their genuine desire to help others in their accounts.
The admissions' committee can learn much about your character from hearing about your interests and passions. It is an essential detail to provide, but something that is normally expected to be said may make them more skeptical.
5. Your Interests Should Take up No More Than a Few Phrases
The admissions officers can be difficult to predict. Your Mount Everest climb may inspire the admissions board that they can't forget it.
However, how you describe your connection to the field you're applying to likely garner greater attention from admissions officers.
You should describe your activities in a few sentences, but you can organize them to maximize their impact. Include a brief discussion of your hobbies near the beginning of your statement to demonstrate how they influenced your early career path.
Your statement should emphasize your potential as a professional in your field, regardless of where you focus. With so little room, every word must count.
Example of Great Hobbies and Interests Personal Statement
The hobby or interest part of an application that stands out. Here's a great example of all we have discussed using an INK example;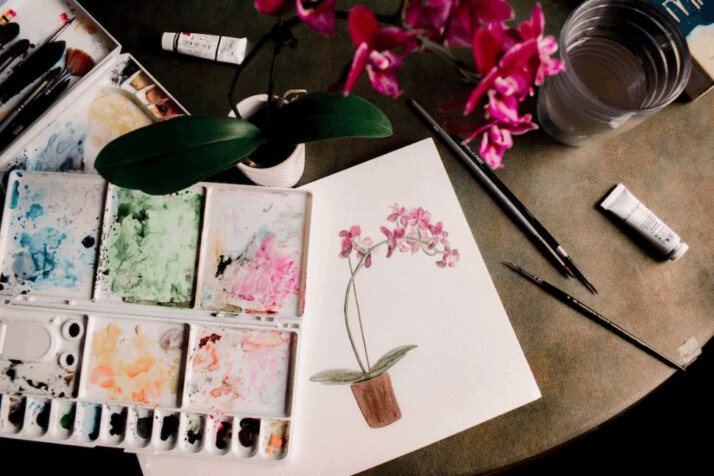 I am a passionate hobbyist with diverse interests and an enthusiasm for learning new skills. Over the years, I have explored many hobbies, including painting, photography, playing music, gardening, and cooking – just to name a few!
My approach is holistic and creative, seeking out novel ways to engage my interests in exciting and engaging ways. When I was exploring painting, I experimented with different textures and styles to create unique compositions that reflected my aesthetic.
Similarly, as a musician, I endeavored to use unconventional instruments such as kazoos and xylophones to create offbeat melodies. Furthermore, I love utilizing technology to further my endeavors.
These projects have challenged and taught me new abilities, from audio production to Photoshop design. All-in-all, I relish any opportunity to tap into my multifaceted creativity and explore the bountiful world of hobbies and interests.
Conclusion
Your hobbies and interests personal statement are significant! If you have any hobbies or interests that you would like to include in your essay, make sure they are narrow enough.
There's not enough time to show the committee your skill and passion for all your hobbies! Instead, you should go in-depth and show how the specific activity benefits others.
Explore All
Write Personal Statement Articles