Leaders are important in every aspect of life, whether in high school, the workplace, or elsewhere. Leaders are constantly available to help their followers set and reach a goal.
Leadership entails guiding and directing a group of people toward a common goal. When applying for jobs and specific leadership roles, a personal leadership statement can showcase your unique leadership skills. It can also set you apart as a standout leader. If you're wondering how to write a leadership personal statement, you've come to the right place.
A personal statement can help communicate your values and beliefs and demonstrate how you lead others. A leader must have effective communication, decision-making, strategic planning, strategic thinking, adaptability, inspiration, and emotional intelligence skills. These are some of the values to include in your personal statement.
This article will teach you how to write a perfect leadership personal statement.
What is a Leadership Personal Statement?
A leadership personal statement expresses the values, beliefs, and principles that guide your leadership style and behavior. It is a tool to help leaders identify their personal and professional goals and communicate them to others.
A personal statement helps the reader understand your expectations and the standards of behavior you expect to see in your team. It also outlines an individual's goals, skills, and experiences that relate to leadership. This statement is typically written as part of a job application, university application. Or as a way to demonstrate leadership ability for a professional development program.
Importance of a Leadership Personal Statement
A leadership statement clarifies an individual's personal values and beliefs.
It guides a leader in decision-making.
A leadership statement communicates your leadership style and helps build trust and understanding within a team or organization.
It demonstrates your leadership experience and achievements in previous leadership roles.
A leadership statement sets an expectation for the leader's behavior and for the behavior of those you'll lead.
It helps to create a positive and productive work environment.
It inspires others, especially those seeking guidance and direction, to develop their leadership skills.
What to Include in a Leadership Personal Statement
A personal statement gives you an avenue to highlight personal and professional goals and to communicate those goals to the readers. Below are key pieces of information to include in a leadership statement.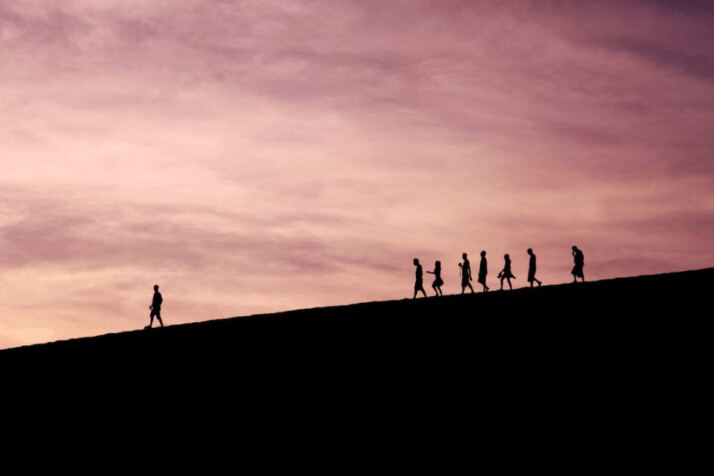 1. Your values
Your personal statement should reflect your values and beliefs about leadership. This might include values like honesty, integrity, collaboration, and inclusivity.
2. Your goals
A leadership personal statement should include your professional goals and objectives. These could be specific goals for your team or organization or more general goals related to your leadership style or approach.
3. Your expectations
It's important to communicate your expectations to the readers. Also, include information about the standards of behavior and performance that you expect from yourself and others.
4. Your leadership approach
Your leadership statement must include information about your leadership style and approach. This might include things like your preferred communication method, decision-making process, and problem-solving approach.
5. Your leadership achievements
Your personal statement should include past accomplishments and successes. This may include leading your team to achieve a specific goal or improving a process or system through your leadership efforts.
6. Your personal qualities
A leadership statement should include attributes and characteristics that make you a strong leader. This may include your communication skills, ability to adapt and problem-solve, or commitment to continuous learning and personal growth.
7. Other relevant leadership information
You can also include any relevant coursework, skills, degree, or training you have completed in leadership.
How to Write a Leadership Personal Statement
A good leadership personal statement must effectively highlight your values, goals, and vision as a leader. It should also reflect your unique style and approach to leading and inspiring others.
Here are some steps on how to write a leadership personal statement.
1. Define your values
Your leadership personal statement should reflect your core values and the principles that guide your actions and decisions as a leader. You should consider what matters most to you, such as honesty, integrity, compassion, or excellence, and incorporate these values into your statement.
2. Identify your goals
Your leadership personal statement should also include your goals as a leader. These may be specific objectives that you hope to achieve, such as increasing productivity or improving team morale. Alternatively, your goals may be more broadly focused on creating a positive impact or making a difference in the lives of others.
3. Clarify your vision
The next step is to include a clear vision for the future that inspires and motivates others to follow your leadership. This may involve envisioning a specific outcome or creating a shared vision for your team or organization.
4. Describe your approach
Your leadership personal statement should outline your unique style and approach to leading and inspiring others. This may include your decision-making, communication, delegation, or problem-solving philosophy. An effective approach in your statement is the SMART approach.
The SMART approach is a framework that can be used to develop clear, specific, and achievable objectives. It represents Specific, Measurable, Attainable, Relevant, and Time-bound.
Here's how to use the SMART approach to develop a concrete approach for a leadership personal statement:
Specific: Your approach should be clear and specific so that it is easy to understand and focus on. Consider what you want to achieve and how you will achieve it.
Measurable: Your leadership approach should be measurable so that you can track your progress and determine whether or not you have achieved it. Consider how you will measure your progress by using specific metrics or benchmarks.
Attainable: Your approach should be attainable, meaning that it is realistic and feasible, given your resources and constraints. Write about your ability to accomplish your goals and the resources you need to achieve your objective.
Relevant: It must be relevant, meaning that it aligns with your values, goals, and vision as a leader. You can consider how your approach aligns with your overall mission and purpose as a leader.
Time-bound: Your leadership approach must also be time-bound, meaning it has a specific deadline for completion. This will help you stay focused and motivated and ensure that you are making progress toward your goal as a leader.
5. Proofread and Edit
After writing about your goals, vision, and approach, the final thing to do is to proofread and edit your leadership personal statement. This step is vital to ensure that the personal statement is error-free, clear, direct, and catchy enough to grab the reader's attention.
Examples of Leadership Personal Statement
Example 1
I am a leader with integrity and a servant's heart. I have always been one to put the needs of others before my own. This has led me to become successful in many areas of life. My ability to lead by example and work collaboratively comes from my years of experience serving in the military. Whether leading a team through difficult terrain or accomplishing common goals, I have learned to create an environment where success is attainable for all.
Example 2
I am a natural leader with the ability to motivate and inspire people. I have a track record of success in leading teams and achieving results. My goal is always to create an environment where people can excel, reach their full potential, and contribute to team success. I pride myself on being open-minded, innovative, and forward-thinking; my goal is always to find ways to improve outcomes for everyone involved. With strong communication skills combined with integrity and accountability, I can be an effective leader. That is, a leader who builds trust among team members while motivating them toward common goals.
Example 3
Leaders are born, not made.
Throughout my life, I have been determined to be a leader and set an example for those around me. Whether it was captaining my high school soccer team or working as a project manager, I have always strived to lead by example. I continuously develop my skills and personal brand to serve best those who look up to me. Whether through mentorship, coaching, or simply providing support during difficult times, I am committed to leading with integrity. This is while inspiring others to reach their full potential.
Example 4
My core values are honesty, integrity, and compassion as a leader. I aim to create a positive impact and make a difference in the lives of others. My vision is to build a team that is collaborative, innovative, and committed to excellence. I believe in empowering my team members to take ownership of their work and fostering a culture of open communication and mutual respect. My approach to leadership is centered on collaboration, transparency, and continuous learning.
Conclusion
Leadership involves setting a vision for a team, communicating that vision to others, and inspiring and motivating others to work towards that goal.
As a leader, you are key in every organization, and because of this, only the best leaders are required. Your personal leadership statement is the opportunity to sell your leadership know-how to readers, especially employers, to convince them of your leadership capabilities.
Use Hey INK to generate your unique leadership personal statement, just like the ones above.
Explore All
Write Personal Statement Articles