A personal statement is crucial to the admission or job application process. It is your chance to shine and demonstrate to the admissions committee or employer that you're the best candidate. A personal statement should be well-written, focused, and clearly depict your personality and interests. Read on to learn how to write a personal statement that will boost your chances of getting an interview call.
Your personal statement allows you to grab the admissions committee's or hiring manager's attention. Put your best foot forward in this application section by demonstrating your accomplishments, experiences, and goals.
In this guide, you'll learn how to write a personal statement.
What Is A Personal Statement?
A personal statement summarizes your accomplishments, interests, skills, passions, objectives, and goals. It is frequently included on resumes, job applications, and college applications.
Although the content of personal statements for employment and universities is similar, university personal statements are typically longer and more in-depth. Three to four paragraphs are ideal for college personal statements.
When included in resumes and job applications, personal statements are typically one paragraph long. Remember to adhere to formatting instructions and restrictions, as employers and colleges may have their criteria.
By taking the time to carefully craft a catchy, compelling, and persuasive personal statement, you showcase your unique strengths and experiences. And demonstrate your passion and commitment to your desired field or job.
How to Write a Personal Statement
A personal statement is often required when applying for a job or academic program. It gives the admissions committee or hiring employer a better understanding of who you are and why you are qualified for the opportunity.
When writing your statement, it is essential to follow a few fundamental guidelines to ensure that it is effective and well-structured.
Here are some tips for structuring your personal statement.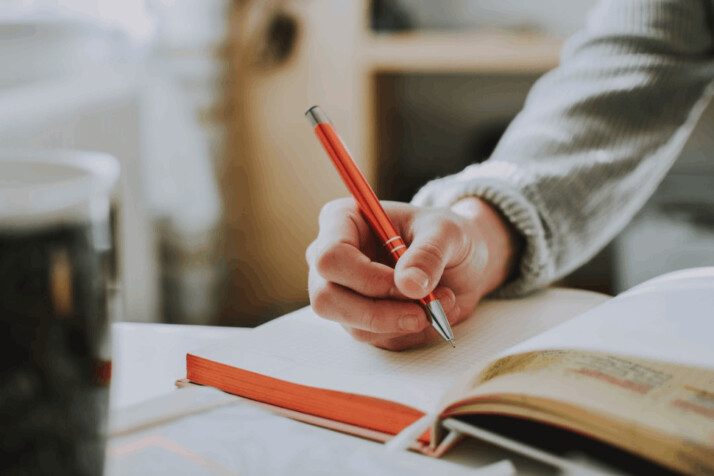 1. Start with an introduction
Begin your personal statement with a strong introduction that captures the reader's attention. And serves as a building block for the rest of your statement. In your introduction, you can briefly discuss your background and why you are interested in the opportunity you're applying for.
2. Describe your experiences, education, and achievements
Describe your relevant educational certifications, experiences, and accomplishments. This can include relevant degree programs, work experience, internships, or other activities demonstrating your skills and qualifications. Always include specific examples and details to make your experiences and accomplishments an interesting read.
3. Discuss your goals
Discuss your goals and why you are qualified for the opportunity you're applying for. Highlight your skills, knowledge, and experiences that make you a good fit for the job or program.
4. Include a conclusion
This is the final section of your personal statement. Summarize your key points and discuss why you're interested in the opportunity.
Your conclusion should leave the reader with a strong impression of you and your qualifications. You can describe how the academic program aligns with your career goals. Or describe your long-term plan for the job you are applying for and why they have to consider you.
5. Proofread and edit carefully
Before submitting your personal statement, proofread it carefully and correct any grammar or spelling errors. It's also a good idea to have someone else review your statement to ensure it is well-written.
The dos and don'ts of writing a personal statement
DO:
Be specific and provide concrete examples to illustrate your points.
Highlight your unique experiences, skills, and accomplishments.
Explain how the program or the job you are applying to, aligns with your long-term goals.
Proofread your personal statement carefully to ensure it is well-written and free of error.
Use a clear and concise writing style to make your statement easy to read and understand.
DON'T:
Use overly informal language.
Simply copy and paste information from your resume or application.
Be overly general or vague in your statements.
Submit a personal statement that is too long or rambling.
Include unnecessary personal information that do not contribute to your application.
How to Write A Personal Statement: Examples
Personal statement for a job application
I am Briggs Joanne, interested in the customer service representative position. With over five years of experience working with customers in various industries, my skills would be valuable to your team. I pride myself on providing paramount customer service by being friendly, helpful, and efficient. In addition to my communication skills, I have strong problem-solving abilities, which I often use to resolve difficult situations. Also, I'm always up for a challenge. No matter how big or small the task, I can handle it effectively.
If given the opportunity, I look forward to contributing my skills to helping your business grow further. Thank you for taking the time to look through my statement and for your kind consideration.
Personal statement for admission
I have always been passionate about learning, and I am excited to continue my education in an undergraduate program. My goal is to be a well-rounded scholar and eventually work as a college professor. In high school, I was consistently one of the top students in my classes. I placed first in the National Latin Exam two years in a row. And also achieved marks above 90% on both state achievement tests and Advanced Placement exams.
What motivated me most were the opportunities to think critically and engage with complex topics. For example, during my sophomore year, we read Henrik Ibsen's "An Enemy of the People." This book tells the story of a doctor who tries to expose corruption at his town's spa baths. But is met with resistance from everyone around him. It was interesting to examine how individual beliefs clash with those held by groups or communities. Something that often comes up in literature and real-life situations like politics or social media debates.
Aside from academics, I enjoy playing guitar (especially blues music) and spending time outdoors hiking or skiing/boarding. Overall, this program will provide me with more knowledge and the skills to continue to further my creativity.
Wrapping Up
Writing a personal statement is your first step in securing your admission or dream job. Project your interests in the opportunity you are applying for. Provide the admissions committee or employer with a clear picture of who you are and how you are the best fit for the opportunity.
If you follow through with the tips highlighted above, you will surely nail your personal statement. You may use Hey INK to generate a compelling personal statement like the ones above!
Explore All
Write Personal Statement Articles