Nursing is one of the most challenging and rewarding professions out there. And for those looking to embark on this journey later in life, writing a mature student nursing personal statement is crucial.
When creating a powerful application that will boost your chances of getting accepted, you should pay particular attention to the personal statement. This article will show why you need a personal statement and give tips for writing an excellent one.
What Is a Nursing Personal Statement?
A nursing personal statement is a piece of writing that conveys to the admission officers your identity and qualifications. This statement usually includes information about your interests and motivations to study nursing. It is an autobiography that communicates your expertise and skill. Additionally, it allows you to explain why you are a good fit for their nursing school in particular and the field of nursing.
Since nurses must be able to communicate verbally and in writing with their coworkers, patients, and the larger medical community, writing skills are crucial. One of the few opportunities the admissions' committee has to assess your communication abilities is through your nursing personal statement.
Your personal statement should contain truthful information about you and why you want to be a nurse. It should be candid, well-crafted, and written with a sophisticated tone.
Tips for Writing An Excellent Mature Student Nursing Statement
When writing a nursing statement as a mature student, it's essential to be clear, concise, and honest. Here are some pointers for making a great first impression:
1. Be specific
Be specific about why you're interested in nursing and what makes you passionate about the field.
2. Proofread your statement
Make sure your statement is well-written and error-free.
3. Show your experience
Discuss any experience (paid or volunteer) that you have in health care or related fields.
4. Lay emphasis on educational achievements
Highlight your academic achievements and discuss how they've prepared you for a career in nursing.
5. Answer the Question 'Why Now?'
Justify your decision to seek a nursing degree at this time in your life. Also, explain why you chose to study nursing instead of another field of medicine.
6. Maintain a flow
Being articulate, motivated, and professional will set you apart from other applicants – make sure these qualities shine through your statement!
7. Tailor your statement to fit the school
A nursing personal statement should be tailored to address a specific nursing school. Find out what your chosen nursing school is looking for in mature student applications. Vary your examples and make them relevant. Keep the following in mind when tailoring your statement:
Explain the professional attitude and ethic you possess that is relevant to the school.
State what you will bring to the nursing profession upon graduation. What benefits would your leadership skills bring?
Explain your plans for graduate school.
State your career goals and how you will achieve them.
Explain your understanding of the principles and values of the profession.
Mature Student Nursing Personal Statement Example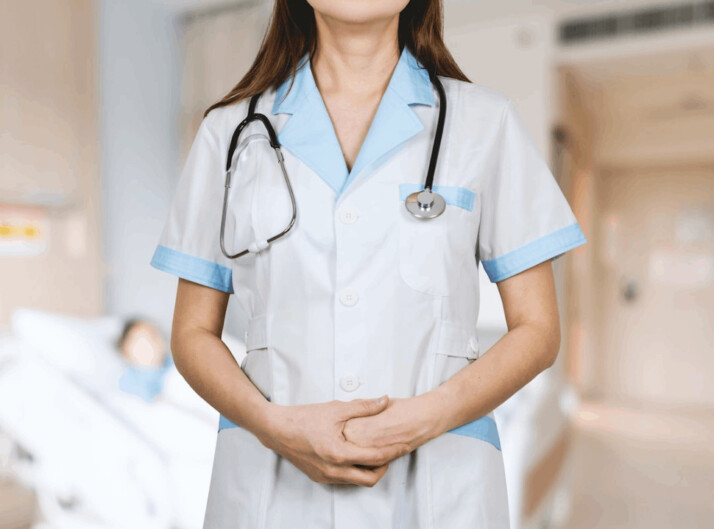 As a mother of four and working full time, I have plenty of experience dealing with people from all walks of life. This has given me the ability to be compassionate and understanding when needed, qualities that will make me an excellent nurse.
Nursing combines science with caregiving, two significant things to me. My interest in nursing began as a way to understand my health issues better, but it soon blossomed into a career ambition. I am excited for the chance to continue my education and become a nurse who can make a difference in people's lives.
Over the years, my ambition to become a nurse, namely one who cares for elderly patients, has grown. I've always felt that helping the weakest people give me the most fulfillment. But I needed to figure out what line of work would allow me to do that while simultaneously utilizing my skills.
After graduating from high school, I held a variety of occupations. As a result of one of them, I improved my communication skills and also took part in patient care. It was as a customer service representative for an insurance company.
I always connected with many of the individuals who phoned us from the nursing facility we represented. Therefore, accepting a job as a care assistant felt natural since it was great for connecting actively with people. Through that employment, I realized how fulfilling such work could be and how it gave my life meaning, both personal and professional.
I attended to the needs of several patients who were near death. That experience helped me understand the emotional demands of nursing. It also gave me a profound sense of satisfaction from knowing that I had improved their quality of life in their final days.
Second, as an in-home healthcare assistant, I had the opportunity to learn about various conditions and see nurses at work. For instance, I've lately been working with a tetraplegia patient with emotional and cognitive issues, occasionally resulting in problematic behavior. He can now live because we have built a mutually trusted relationship with him via tolerance and honest communication.
I have been learning many nursing skills, such as taking blood pressure and noting symptoms. And also the administrative procedures of nursing, such as keeping accurate notes, relaying information, and similar things. This is in addition to learning to establish trust and interact with even the most challenging patients.
Being an adult nurse is incredibly hard and requires more personal commitment than many other careers. This is evidenced by my experiences and the talks I have had with other professionals in the field over the years. Part of what appeals to me is that. The majority of the best things in life demand a lot of dedication and effort. I'm willing to accept this challenge. Also, my experience has honed my communication abilities, attention to detail, empathy, and work ethic. This has helped me prepare for nursing school and work.
Now that I have identified the right career option, I am ready to begin my higher education and pursue a career as a nurse. Before deciding which schools to apply to, I took the time to research a number of them. This is because it is crucial that I attend a university that values patient-centered care and have a top-notch curriculum and practicum opportunities.
On concluding my research, I decided to pursue my nursing degree with your school. Your sophisticated labs and learning facilities will give me the practical experience I need to become a great nurse. Thank you for your time, I hope my application is considered.
Final thoughts
In nursing care and research, mature students often have years of experience and high academic credentials. A mature student nursing personal statement should emphasize a personal demonstration of understanding, skill, and practice and a commitment to nursing.
It should also include how you would apply personal experiences to the profession and its values. Use Hey INK to generate the perfect personal statement, just like the one in this guide!
Explore All
Write Personal Statement Articles