Writing a UCAS law personal statement can be an intimidating task. It is even harder if you are unsure how best to represent your experience and qualifications. This guide enables even the most apprehensive writer to write an outstanding and impactful personal statement.
You will be able to craft a good personal statement using clear language, examples from real life, conversational phrases, and creative sentence structures. The statement will capture emotion and facts to make a lasting impression on admissions committees.
In addition to offering tips, you'll find UCAS law personal statement examples in this article.
How to Write Your UCAS Personal Statement for Law
A UCAS law personal statement is a great opportunity to make a strong case for yourself. Writing it well can make all the difference in being accepted into a law program or not.
Offer a Brief Overview of Your Credentials
To begin crafting your UCAS law personal statement, start by introducing yourself with a short overview of your credentials. Make sure you include pertinent qualifications, such as any degree programs completed or relevant awards received.
Don't forget to mention any internship opportunities, research projects, and extra-curricular activities demonstrating a deeper commitment to pursuing a career in law. This introduction should be concise yet informative enough for admissions committees to get a glimpse of who you are and what you have accomplished.
Provide Enough Evidence for Your Claims
Next, provide evidence to support the claims made in your introduction. Pick out two or three experiences that were especially meaningful to you when considering your path in law. Here you want to focus on how these experiences shaped you personally and professionally. You want readers to understand why you chose to pursue this area of study. When describing each event, use descriptive words and intriguing adjectives to bring it to life.
Explain What Sets You Apart
At this point, take some time to reflect on what makes you unique and sets you apart from other applicants. If there are any special skills or talents that would contribute to success within the profession, now is the time to share them. Be honest about where you excel, and don't be afraid to highlight positive traits like empathy or leadership capabilities.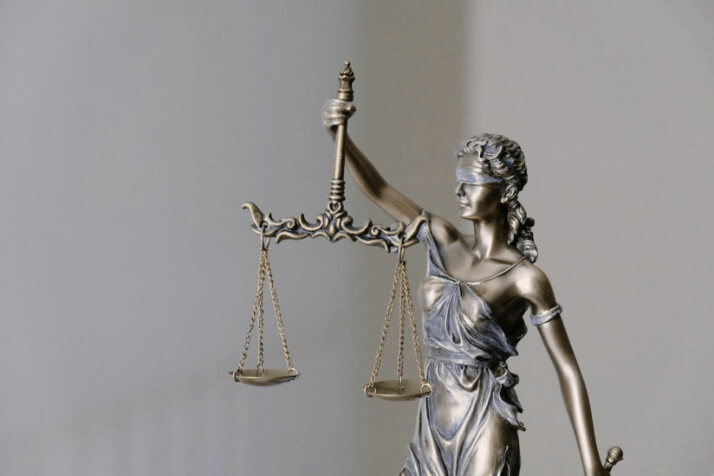 What Are Your Plans After Graduation?
The next step is to explain how you plan to use your education toward achieving your goals. If your goal is to become a maritime lawyer, describe what kind of cases you plan on taking on. You should also explain how they will benefit the community at large. Also, feel free to list any specific organizations or areas of interest that could help further advance your career post-graduation.
After focusing on the positives, move on to potential challenges that may arise during law school or after graduation. Knowing where weaknesses lie and having strategies in place for overcoming them will help create an air of maturity.
UCAS Law Personal Statement Examples
We have some UCAS law personal statement examples to give you a better idea of what your statement should look like.
Example 1
I have always been fascinated by the law, its history, complexity and application. After years of professional experience working in legal settings, I have developed an inherent understanding of the landscape. This understanding fuels my passion to become a student of this esteemed discipline. Applying for a place at your university is not something I take lightly. It has taken careful consideration and confidence in my ability to achieve success on such a journey.
My dedication and aptitude for the intricacies of the legal system are evident when engaging with difficult cases. I exercise independent thought and dynamic problem-solving skills and utilize persuasive discourse as a means of conveying insightful opinions to colleagues and clients alike. My quick wit and observational capabilities also allow me to immediately comprehend complex situations, enabling me to concomitantly synthesize information into succinct solutions.
I am confident in my capability to make a positive contribution to the Law program at your university. Taking part in two internships over the past three years has reinforced my commitment to pursue a career in the legal field. Being immersed in various contentious scenarios provided me ample opportunity to hone my skills regarding trial advocacy, negotiations and contract drafting. The tenacity with which I embraced every challenge equipped me with invaluable know-how on managing disputes while upholding established protocols.
I believe all these factors present a compelling argument for why I would make an ideal addition to the student body at your university. With enthusiasm and unwavering dedication, I am eager to embark upon this new chapter of my professional life.
Example 2
I've always been passionate about law. As an experienced professional in the field, I am confident that applying for a course at the university would enhance my existing knowledge base. I believe this will allow me to refine my ability to apply practical legal theories and develop innovative approaches to problem-solving.
Having worked with a variety of clients throughout my career, I am familiar with many of the nuances associated with the practice of law. This has enabled me to explore various issues in greater depth and learn from experts who are adept at critically analyzing cases. By drawing upon these experiences, I have developed an expertise that enables me to provide detailed and convincing arguments when required.
In addition, my acuity extends beyond the realm of jurisprudence, as demonstrated by my successful negotiation and resolution of commercial disputes between parties. On numerous occasions, I have had to mediate complex negotiations while balancing the interests of all concerned. This has proven invaluable to me as it has provided me with a thorough understanding of how to approach conflicts.
Coupled with my intellectual curiosity, this experience allows me to make reasoned decisions on intricate matters which requires skill, discretion and prudence. Above all else, I am determined to strive towards success both academically and professionally as a student.
Conclusion
You want to write a personal statement that catches your interviewer's attention and presents them with a good picture of who you are. Therefore, make sure to start with a strong introductory paragraph and be specific and systematic throughout your entire statement.
Read through the examples above for inspiration. If you need more help, you should use the new Hey INK tool. It can help you create great personal statements from simple instructions.
Explore All
Write Personal Statement Articles