Companies and brands greatly benefit from using social media to communicate directly with their target demographic. However, producing information that keeps readers interested enough to click on links or continue on a page can be challenging. This is where AI generated social media content comes in!
Thanks to AI-driven technologies that combine machine learning and natural language processing, you can create original, engaging content in minutes.
We've compiled a list of the top six AI-based social media content creators for your perusal. Keep reading as we explain these excellent programs and how to use them.
What Is AI Generated Social Media Content?
Gone are the days of spending hours writing and editing content to post on your social media accounts. AI generated content is here to make things easier for you!
AI-generated content uses natural language processing (NLP) to create unique content in a professional style and tone. By automating the content creation process, you can increase reach, improve engagement scores, and save time when managing multiple accounts.
Plus, using an AI-powered platform ensures that all your copy sounds natural and professional – just like a real person wrote it.
With AI-generated content, you get access to templates, tools, and solutions that simplify creating copy for your social media market. You can also create complete and detailed copies in minutes without worrying about research or formatting.
Top 6 AI Generated Social Media Content Tools for Unlimited Content
AI-Generated Social Media Content Generators are a great way to increase your reach and save time when managing social media marketing. These generators are economical and practical for businesses of all sizes trying to keep up with today's digital environment.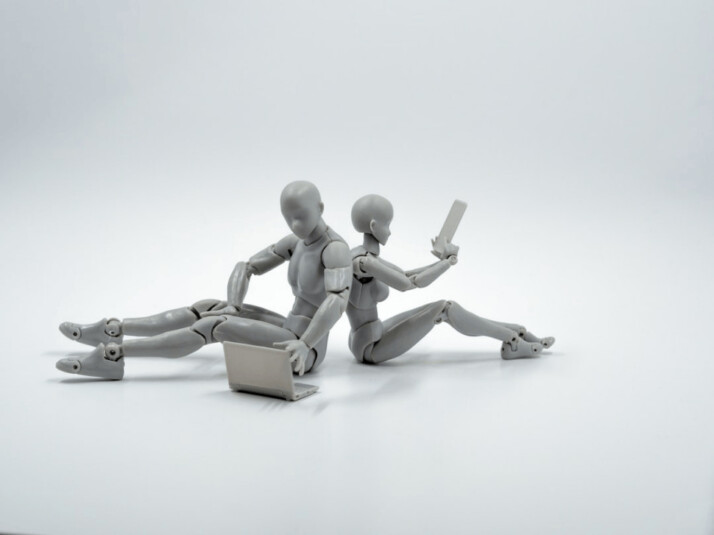 1. INK
With its intuitive layout and ability to generate SEO-friendly content, the INK app is a powerful content marketing tool. INK uses semantic scoring and analysis of rivals' data to help its users produce superior content and rank high in search engine rankings.
The app's 130+ templates help content creators and writers quickly create content for Instagram, Facebook, Twitter, and more. If you prefer to write or edit, the app has a distraction-free text editor and can generate many articles for a project. It also contains built-in grammar and language checkers and text rewrite features to fit your content preferences.
In terms of AI safety, INK uses its stellar content shield tool to ensure content is safe from search engines' penalties and restrictions.
2. Rytr AI
Rytr AI is an AI-powered platform for creating content for social media administrators. Based on the inputted post topic, it suggests captions and content to accompany it.
Rytr AI will generate suggestions for captions and posts based on a user's search for a certain topic or hashtag. After that, they can personalize the captions and updates by sharing them on their social networking accounts.
New content creators who wish to try social media management but don't have time to learn another program should use the software. While Rytr is lacking in the image generation department, its price is still reasonable compared to other programs.
3. Lately
Despite its restricted possibilities, its AI's neural network architecture and ability to generate audio and video make it brilliant.
You'll need to use additional software in conjunction with AI because it only supports social media publishing through Hootsuite and HubSpot.
To further expand your reach, you may automate the process of slicing your existing films into shareable, snackable pieces.
The cheapest plan restricts users to CSV exports, but higher-tier packages offer much more flexibility. If you want to publish posts via the app, you can use the AI-recommended keywords.
4. Predis.ai
The brand-new social media post generator Predis.ai packs some significant features. The most notable aspects of Predis.ai are the brand kits it allows you to create by just entering;
Brand's typefaces
Colors and social handles.
Simply select a post type, and the AI will generate the accompanying image, caption, and hashtags for you. You can make changes to the post and set a publication time from within the app. Using Predis.ai, you can also schedule many posts to be published simultaneously.
5. Ocoya
With Ocoya AI, you can quickly generate AI-generated artwork of a high standard. With Canva preloaded, you must select a template, make small text and element edits, and click Publish.
Users looking for specific terms can find your post using the platform's built-in automatic hashtag and tag generator. You can alter the captions that are automatically created to suit your needs.
Once satisfied, you can publish your work on social media platforms or embed it on your website. In terms of functionality and overall efficacy, it's easily one of the best social media content generators.
6. Jasper
Jasper is one of the most potent artificial intelligence (AI) writing tools. The company worked with search engine optimization and marketing experts to create the algorithms that create its content. Jasper can create copy for a wide range of uses, including but not limited to;
Blog posts
Emails
Product descriptions
Video uploads
Facebook ads.
Moreover, Jasper includes a function called Boss Mode, which may produce content significantly faster and more accurately. This improved version additionally utilizes Grammarly to check for plagiarism and correct grammar and punctuation. Jasper supports over 25 languages and includes additional organization capabilities that make it user-friendly for large teams.
Since Jasper's pricing scales are based on the number of words you need, the company's basic plan is best suited for shorter projects.
How to Choose the Best AI Generated Social Media Content?
Choosing the best AI social media content can be a daunting task. Knowing what you're looking for and how to find it is essential with so many options available. Here are some tips to look out for when choosing the best AI social media content generator:
1. Content Generation
Look for an AI that is capable of generating content quickly and accurately. This will save you time and ensure your content is up-to-date and relevant.
2. Target Audience
It's essential to understand your target audience and what kind of content they would like to see. An AI should be able to provide detailed insights into your followers' interests and preferences.
3. Budget
Keeping your budget in mind, finding an AI that offers a range of pricing options to fit any need is essential. Specific tools may offer basic free plans, while others provide unlimited packages with unique features.
4. Reach & Visibility
An effective social media strategy should help you increase your reach and keep track of results. Look for an AI that can recommend ways to improve your reach and score.
Conclusion
Ultimately, finding the right AI-generated social media content depends on what kind of content you are looking for. Do your research and find the AI that can provide a complete solution, from copy to template building in just minutes!
Explore All
AI Content Generation Articles