Your website is a channel through which your prospects connect with you. And it's how you make a first impression. Make the wrong first impression, and your brand might struggle to recover lost leads. That's why updating your website is vital, especially in a world where nothing is constant. Luckily, you can use AI to update website content.
AI is gradually becoming a core tool in the marketing world. Recent advancements in the field can supercharge your website content to drive more conversion and business growth.
Want to learn how AI can help you update your site? Check out the various ways to use AI to your company's advantage below.
What Is AI?
AI is an abbreviation for artificial intelligence. And it simply refers to a technology that covers understanding language processing, machine learning, deep learning, etc.
AI aims to perform mundane, repetitive, and exacting tasks faster and better than humans. It simply makes life less boring and a lot easier.
Marketers that have hacked into artificial intelligence have boosted revenue remarkably.
How To Improve Your Website With AI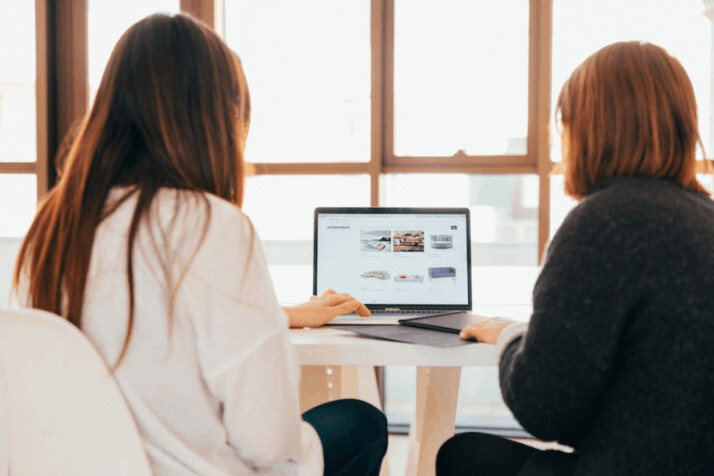 1. AI-powered Tools For SEO
SEO is the heart of any online business. Regardless of the services you render, your business is at risk if your audience can't find you online.
However, SEO is an ever-evolving process. That's where AI-powered tools come into play. They help you stay ahead of the curve and your competition.
Artificial intelligence provides a better understanding of user search behavior, making it easy to create customer-centric content.
With AI-powered SEO tools, you save time and money while improving your website's visibility in search engine rankings.
For instance, it quickly determines which keywords are most popular with users and helps you incorporate them for maximum impact.
It can also allow you to research competitive elements and ensure your content is up to date with the latest trends.
Examples of tools for search engine optimization are:
INK marketing platform: From keyword research and clustering to content creation, INK focuses solely on driving content optimization. It's a great software that helps you use AI to update website content.
Surfer: This AI tool analyzes loads of data to improve your website performance. It's great for research and optimization.
2. Personalized Marketing Strategy
In today's digital landscape, personalized marketing strategies are necessary to stay competitive. Besides its competitive advantage, your prospects expect personalized marketing. The only problem is gathering enough data to create tailored strategies. Without AI, this process would have been slow and expensive.
But artificial intelligence streamlines your marketing needs. It enriches your website with all the right elements that cater to each customer's taste. A website that recommends specific products provides accurate answers, and perfect prompts would steal the heart of any prospect. Isn't that what a successful business looks like?
3. Content Creation
Outbound marketing strategies are pretty effective but expensive. Hence, marketers opt for content marketing strategies. Artificial intelligence scales your marketing strategies to amp your results.
It provides insightful market intelligence on how your prospects interact with similar content online. You can use this to understand content trends and gather data that inform your content creation process.
Furthermore, it aids the seamless development of outlines or content briefs. And as a by-product, it allows you to craft copies that appeal to your target audience.
4. 24/7 Customer Service
Chatbots are popular on websites today. And they have a great influence on user experience. By employing AI-powered automated user flows, you can respond to your customers 24/7.
With chatbots, your customer service can focus on more pressing client concerns. AI offers more effective customer service solutions, and businesses know this for a fact. If you haven't adopted such advanced technology, it's about time you did.
5. Content Curation For Better Dwell Time
Besides actual content creation, AI makes your website more appealing through curation.
With machine learning, this technology evaluates each customer's patterns. It then applies this knowledge to create contents that address their pain points. One popular way to go about it is developing topic clusters. AI helps you research broad topics and related keywords that exhaustively discuss a subject matter that appeals to your audience.
Besides clusters, AI may curate and suggest helpful articles and products that interest your customers.
The technology can use algorithms to determine what type of content your customers would like and generate relevant pages for them.
Use AI To Update Website Content- Exploring AI SEO Content
Chances are if you need information about Beyoncé, you will hit the internet. The internet will also be your go-to guide for a DIY way to fix your faulty lock.
We live in a world where people turn to online content for almost any information. Hence, businesses need to stay visible.
Gone at the days when you could survive with simple SEO tricks.
Now, the competition is fierce. AI SEO is a major way to rank on the website.
AI is simply changing the way the internet works. To keep up, you need to learn to use AI to update website content.
How can you achieve this? We have a few tricks that will help.
Discovering Optimization Opportunities
Discovering quick scaling opportunities is the best starting point while using AI SEO. With AI tools, you can discover untapped ranking opportunities. Finding such diamonds in the rough can establish you as an authority.
AI-powered tools offer valuable insight into link-building opportunities. Finding your competitor's blind spots is a quick way to update your website content.
Optimizing Your Content For Voice Search
Voice search is quite popular because more people use virtual assistants like Alexa and Google Home.
Voice SEO or VSEO often consists of long-tail questions. So, focus on answering these questions to optimize for voice search.
Furthermore, voice SEO is conversational. An AI-powered tool like INK analyzes your content tone alongside other SEO elements while you write.
User Experience
How users interact with your content is vital to search engines.
It should be to you too.
User experience is a core aspect of SEO, and AI can easily boost user experience.
Tools like SEO surfer can run in-depth site audits to uncover UX improvements on your website.
Final Words
Outdated strategies or website content will get you nowhere near new conversions. A quick tip? Use AI to update website content.
Artificial intelligence is the future. And there's no going back now; you either embrace it in content creation and marketing strategies development or lose relevance.
Every business wants to build a loyal audience base. There's only one way to achieve this: an updated website driven by AI SEO.
Explore All
AI Content Generation Articles