As the world of social media continues to evolve, so does the demand for timely and engaging content. With AI becoming increasingly popular, it is no surprise that AI social media content creation tools have become a go-to choice for businesses. And we're here to give you a round-up of some of the best ones out there.
Whether it's for crafting ads, producing engaging visuals, or creating copies, these cutting-edge tools can help you stay ahead of the competition. Read on and get ready to level up your social media game!
Why You Need AI Tools for Content Creation
Content creation is an essential part of modern businesses. And AI tools can be a valuable resource in creating content that resonates with audiences. These tools can help you in a lot of ways. Here's a look at some of them.
Improved Searchability & Relevance: AI tools can quickly analyze large amounts of data. This helps writers better optimize content to include important keywords for improved relevancy and visibility on online searches.
Automated Content Generation: Creating quality content eats up a ton of time. But with AI tools, you can create blogs and other marketing copies in minutes. This is especially useful for large-scale projects that require a great amount of content, such as website building or writing long reports.
Writing Assistance: AI tools can provide writing assistance by suggesting words or phrases when creating content. For example, they can suggest synonyms to help make sentences more concise or detect grammar mistakes.
Personalized Content Creation: AI tools can learn user behavior and preferences over time and tailor content accordingly. This allows users to create personalized content that better resonates with their target audience.
Creative Visual Content: AI tools allow graphic designers and marketers to explore various creative possibilities. They can offer access to several tools and image libraries, enabling designers to develop unique visual content.
Who Should Use AI-driven Content Creation Tools?
Content creators of all types should consider leveraging AI tools for content generation.
Businesses, bloggers, and writers can benefit from utilizing AI-driven algorithms to create more personalized and accurate content. These tools can help anyone looking to establish a strong online presence.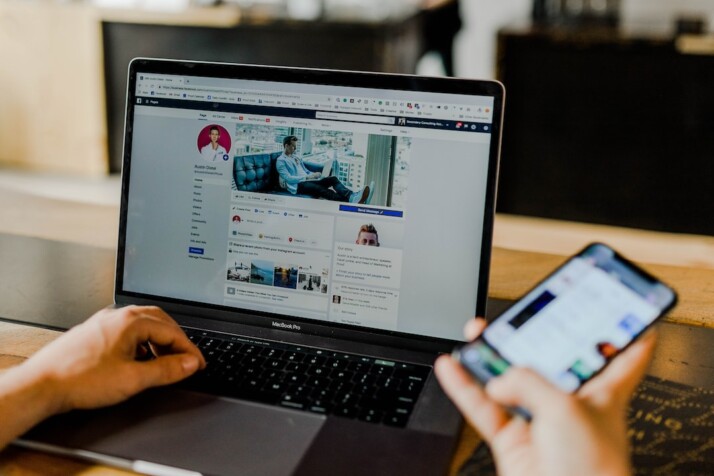 Best AI Social Media Content Creation Tools
INK
INK is the way to go if you want to create content that gets found. It's the ultimate AI content marketing assistant for marketing and SEO.
With INK, you can generate content from scratch in seconds. You can use it to write anything from blogs, ad copies, captions, emails, and so on. It uses AI and Natural Language Optimization (NLO) technology to generate high-quality and optimized content for your needs.
INK has individual tools such as a Facebook Ads Headline Generator, Hashtag generator, text summarizer, and more. And you can access all of these tools using the INK AI Assistant.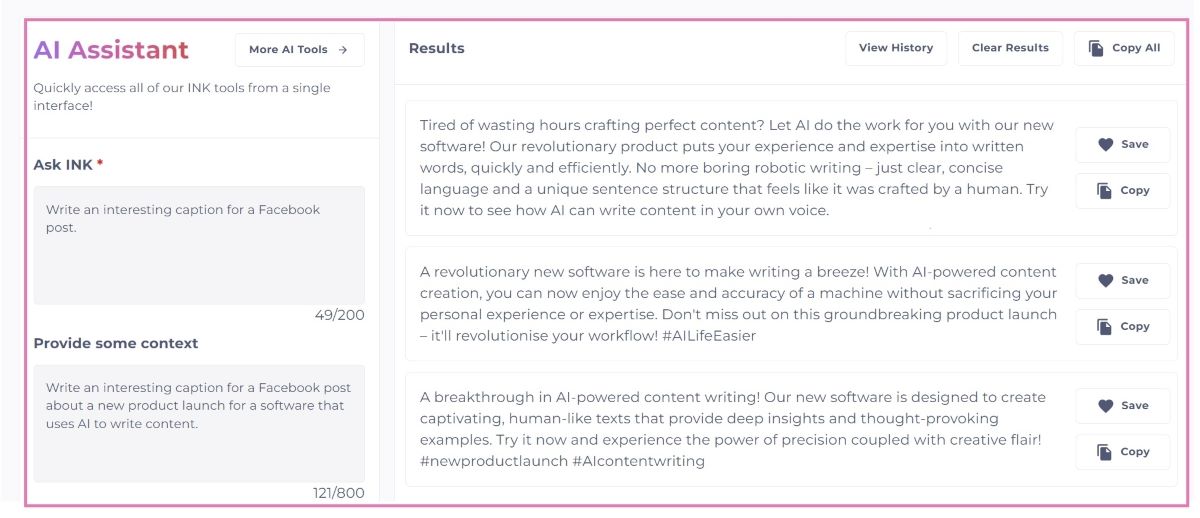 To use the INK AI, Assistant, you simply have to tell INK what you want it to do or write for you. For example, you could say, "Write an interesting caption for a Facebook post." You can then add more context and choose your tone of voice and output language. INK will then do the heavy lifting for you!
Top Features
Built-in spelling and plagiarism checker
It has an efficient image generator to add visuals to your posts
It lets you choose the tone of voice for your content
Can write in 20+ languages
Has an AI Content Shield to ensure generated content is safe from getting flagged as AI-written
Heyday
Heyday leverages AI to create content for your bots rather than for the blog and social posts. This type of artificial intelligence interacts with humans in real time and is called conversational AI. It can help a lot with optimizing customer interactions.
This tool allows your customer service agents to focus on more valuable interactions. And this leads to an enhanced user experience when people reach out to your brand through social media.
Conversational AI does more than simply answer simple tracking queries. It can customize product recommendations and even help you close sales.
It lets you automate interactions with customers in real-time
Facilitates high-value interactions for customer service agents
Uses Natural language processing and Natural language generation technology for better output
Grammarly
Grammarly helps make your content spotless and free of grammar or spelling errors. You can use Grammarly to double-check any content you create, from social media posts, emails, and Slack messages to your content management system.
It gives you real-time suggestions for correctness, tone, and clarity. Plus, it has an excellent plagiarism checker. This helps you write better social posts better and faster.
Top Features
Spelling and grammar checker
Plagiarism checker
Customized style & tone
Context-specific language suggestions
Headlime
Another great AI social media content creation tool that can make you great content is Headlime. It's fairly simple to use. It will ask you for some details about your product to understand what you're looking for.
It will then create high-converting copy for your content and sales pages. Headlime also has some templates that can make content creation much faster.
Top Features
Has Facebook Ads, Headlines, Idea Generators, and more
Easy to use drag-and-drop editor
Over 1700+ pre-made templates
Available in eleven languages
Lumen5
Video content on your social media channels can rake in more engagement from your target audience. And Lumen5 can help you easily create live-action video content that can do just that.
The templates and customization features that this tool offers are great for marketing and social media use cases. It also has a blog-to-video conversion feature.
Lumen5 offers a great library of videos and photos, making customization seamless. It also allows you to add your own logos, intros, and outros to fit your liking.
Top Features
Summarizes your blog post and uses AI to match it with relevant stock footage.
An audio-to-video feature that can turn a voiceover or podcast into video content
Over 50 templates for easier video creation
Wide range of stunning backdrops
QuillBot
QuillBot is a great option for those who want to reuse existing content for their social media strategies. It allows you to summarize or paraphrase your old content to a fresher version.
It identifies the most important information and preserves the context of the content when rewriting it. You can then use this new and improved content for online newsletters and social media platforms.
This tool can be used with any web browser or text editors like Microsoft Word and Google Docs.
Top Features
It lets you repurpose existing content for social media
Supports multiple web browsers as well as text editors
It has a grammar and plagiarism checker
Vocabulary enhancement
Canva
It doesn't matter if you're a professional graphics designer or not. Canva is a content creation tool that can help you create quality graphics.
Thanks to its user-friendly interface, you can create content that looks like it came from a professional designer. Even with little or no experience, you can throw something together within five minutes to add some pizzazz to your posts.
What makes Canva particularly handy for social media posts is that it already knows the ideal dimensions for different social networks.
Top Features
Drag and drop feature for easier content creation
Over 50,000 templates that you can choose, edit, and customize to fit your needs.
Photo editing features include cropping, collages, photo grids, photo blurring, etc.
Final Words
When it comes to creating content for social media, there's no denying the power of Artificial Intelligence (AI). With these cutting-edge AI social media content creation tools, creating remarkable visuals and captivating copies for your audience has never been easier. Try them out and strengthen your online presence!
Explore All
AI Content Generation Articles