Have you ever been faced with the task of writing a good advertisement? If you said yes, you already know that the advertising industry is tough. If you answer no, then read on!
We will make it easy for you to grasp the format of advertisement writing and help you craft one with confidence and quality.
What Is an Advertisement?
An advertisement is any paid-for promotional text, material, or visual form of communication delivered to potential clients or customers. This promotional announcement is used to draw the attention of the mass audience to different products, services, or offers.
Advertisements can be placed on several media channels, including print, broadcast, newspapers, magazines, and digital media. The standard format and word limit for advertisements are 50 words.
Why Is an Advertisement Important?
The very essence of advertising is attention. Getting attention is difficult, and being able to capture the audience is the key to selling a product, idea, or belief. And an advertisement is one of the most effective ways to reach potential customers.
So it's important to send something eye-catching to your target audience. It will grab their attention, draw them in and make them want to click on your ad.
Benefits of Advertisement
Writing for advertisements is different for most writers because the readers are different. They aren't just going to be sitting on the couch next to their laptop, reading the paper.
It's a complicated process with many different factors. It helps you as a writer to know what your audience wants and how to convey it. It might help you find new ways to reach your audience, which you might not have thought of before.
Five Parts of an Advertisement
Effective advertisement writing requires a high level of creativity and the use of psychology. The format of advertisement is essential to correctly convey your information to the target audience and make them act on it. There are five parts to an advertisement which are as follows:
A Catchy Headline: Do you know what makes people read a newspaper or magazine? It is a catchy headline. A catchy headline will hold the attention of the audience and get them to read the ad.
An Effective Sub-Headline: A sub-headline is a short, to-the-point statement that gives a reason for the advertisement. It appears directly under the headline. Keep it very short and catchy.
Selling the Benefits: The selling point of an advertisement is what makes it lure the target clients. Effective advertisement writers know the value of the benefits that someone can gain from using the product or service.
Attractive visuals: This part is significant as it attracts the attention of the audience. You must use the device of color and text to draw the eye of your readers.
A Clear Call-to-Action: Include a call-to-action in your advertising copy to get your potential customers to act on your offer. This call-to-action appears at the end of the ad copy and is used to create a sense of urgency.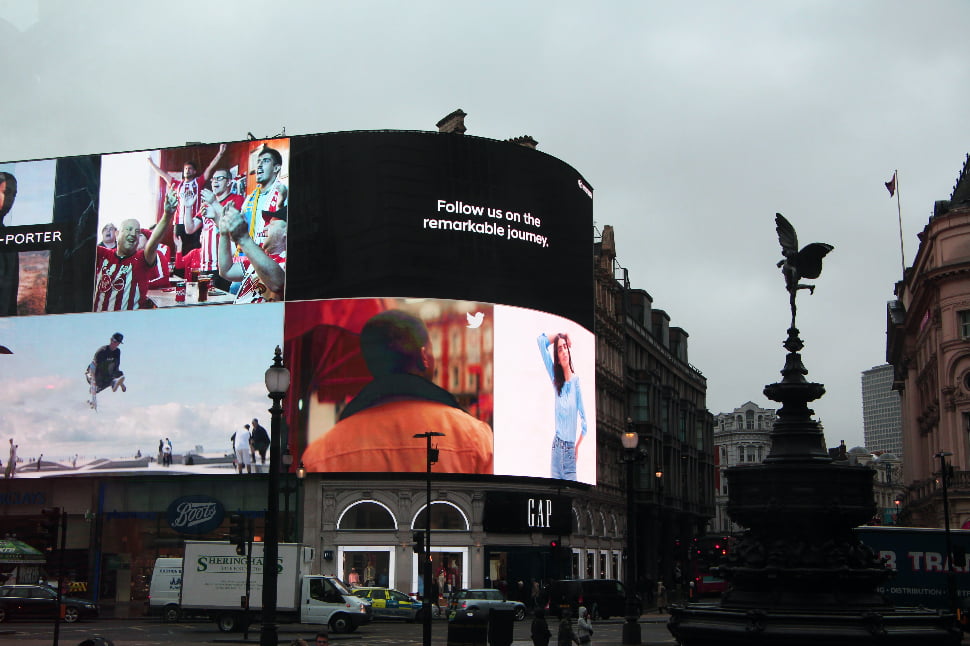 Types of Advertisement
Advertisements writing can be of many different types. While some may be simply informative, others can be persuasive to promote a product, cause, or idea. However, all advertisements can be broadly categorized into two types which are as follows:
Classified Advertisements:
Classified advertisements are the most common type of ads used. They are placed in a specific section of a local paper and are designed to appeal to particular individuals.
These are published under a number of headings, including situation vacant, sale of property, matrimonial, and lost & found. Classified ads are usually concise and compact. They are written in clear language avoiding prepositions or conjunctions.
Commercial Advertisements:
Commercial ads concentrate on selling something or exposing a product or service in a promotional manner. They are targeted to a specific audience and are usually produced by the advertising company.
These ads can use catchy headlines and different figures of speech in the language, such as alliterations, metaphors, similes, and more. They come in all shapes, sizes, and colors and are packed with multiple illustrations. They can be made beautiful by using various typefaces.
These take up more room and are therefore more expensive to print in newspapers.
Format of Advertisement Writing
An advertisement is a kind of public notice asking for or offering services or buying and selling property or goods. It also provides information about missing persons, pets, and more.
The general format for advertisements starts with a headline and then the important content in a few paragraphs. Examples of the correct format of advertisement writing are outlined below.
Advertisement Format for Situation Vacant
Start with the terms WANTED or REQUIRED
The name of the organization
Indicate the number of vacancies and the position that are being advertised.
The candidate's age and gender, if applicable
State the qualification and experience required for the post
Specify the salary scale, benefits, and application process
Address and contact information for correspondence
Advertisement Format for to-Let Ads
Start with WANTED or AVAILABLE
The type of accommodation
Specify the number of rooms/floors
Mention the expected rent
Type of tenant preferable
Address and contact information
Advertisement Format for Sale / Purchase of Property
Start with SALE or PURCHASE
Briefly describe the property, item, vehicle, or service
Mention the size, the number of floors, location, and surrounding when listing a property
For vehicles, specify the color, model, year, price, mileage, accessories, and condition
For household goods, give details about the condition, the price offered or projected
Advertisement Format for Educational Institutions
Start with the Institution's name
A brief record of the Institute
Mention the courses offered and their duration
Specify the criteria for eligibility
The fee structure and the services provided
Details on scholarship, if applicable
Deadline for application
Address and contact information
Advertisement Format for Lost and Found
Start with LOST or FOUND
A brief description of the item/object
Mention when & where the thing was lost/found
Specify the reward for finding the object
Contact address and phone number
Advertisement Format for Tours and Travels
Begin with PACKAGE AVAILABLE
Include the name of the travel agency
Name the location, length of the trip, and the budget
Price and any promotional discounts, if applicable
Contact information and phone number.
Advertisement Housing/Flat for Sale
The type of accommodation, no. of rooms/floors
Specify whether it is standalone or an apartment
Include the expected price or write negotiable
The location of the housing
Specify the area in sq. meters/ yards
Name of the authority responsible for the development
Whom to contact and when is the preferred time
Contact address and phone number
Advertisement Format for Tuition
Specify the classes and subjects
Include special qualities of the tutor
Required qualifications and experience of the tutor
Prior result of their students
Include contact information
Conclusion
An advertisement is one of the most effective marketing tools available to stand out from the crowd. Therefore, the correct format of advertisement is vital to maximizing its impact.
It's important to keep your advertisement captivating and interesting to keep your readers interested. It's important to keep your advert in line with your business objectives. With a little bit of research and creativity, you can create a more effective advertisement for your needs.
Frequently asked questions
What is the best format for ads?
What format is best for display ads? To go for a static display, we recommend either JPG or PNG. JPG files are smaller than PNGs, and advertising networks usually have size restrictions.
How many types of advertisements are there?
Advertising media include: (1) direct mail (2) newspapers and magazines (3) radio advertising (4) television advertising (5) film advertising (6) outdoor advertising (7) window display (8) fairs and exhibitions and (9) specially advertising!
How do you write an advertising campaign?
You should define your advertising goals.
Promote what you want to promote.
You must identify your target audience.
What are the venues where you want to find your audience.
You can decide when you'll run your campaign.
The budget for advertising should be set.
Advertise in outlets that you want to advertise.
Creating the advertising message and graphics.
How do you create an advertisement?
Don't forget to choose your target audience.
Conduct market research
Use your platform and font.
Consider whether you're building brand awareness or product awareness.
Make a memorable statement.
Gather creative assets
Create custom videos
Use striking visuals
What are the two main ad formats used in a standard display campaign?
Ad formats such as Uploaded Ads and Responsive Display Ad are common in Google Display Ads campaigns.
What is advertisement writing?
Advertisement writing is the act of asking for or offering services or buying and selling property, goods or providing information about missing persons, pets, etc. The medium is effective. A popular medium that targets a large number of people makes it.
What are the different ad formats and how do we use them in campaigns?
Ad formats vary based on your campaign type (App, Display, Discovery, Local, Performance Max, Search, Smart, Shopping, and Video) and campaign goal (for example, "Get conversions" for Video campaigns or "App install. Don't forget to learn about the different campaign types.
What is an example of a creative advertisement?
The larger the brand, the simpler creative advertising. McDonalds simply promotes its position at night through cleverly placed lamps that shine down on billboards to create the famous 'golden arches' brand symbol.
How do you write an advertisement format?
Indicate the number of vacancies and posts for which the advertisement is about. Mention age and gender when appropriate. Qualifications and experience are required for this position. Describe the pay scale, perks, and application process.
What is the format of message writing?
Formats of messages usually consist of elements such as date, time, receiver's name, the message, and then the sender's.
What are the 4 types of advertising?
Radio
Magazine. Your target market may be reached quickly and easily if you advertise in a specialist magazine.
Newspaper. Advertise in newspapers to reach a wide audience.
Catalogs, direct mail and leaflets.
Directories
Outdoor and transit
Television
Online
What are advertising formats?
Advertising Format is the ordinary technical execution of an advertising message, which is different from Advertising Spot or Non-Standard Advertising, referred to in the Technical Conditions of Internet Advertisement and the relevant Internet Advertisements Price List. The.
What makes for a good creative advertisement?
Advertising with a high level of artistic creativity contains appealing visual, verbal, or sound elements with aesthetically appealing meanings. Their production quality is outstanding, their dialogue is clever, their color palette is original, or their music is memorable.
Why do we write advertisement?
Advertisement is a kind of public advertisement that asks for or offers services about buying or selling property, goods, or services. Providing information about missing people, pets, etc. It is a powerful medium deliberately selected to influence the minds, tastes, and even motives of the masses.
What other types of ads formats are available?
| Type | Length | Best For |
| --- | --- | --- |
| In-stream skippable | 12 seconds to 6 minutes | Remarketing |
| In-stream non-skippable | 15-20 seconds, depending on the region | Brand awareness |
| Bumper | 6 seconds | Brand awareness, remarketing, mobile devices |
| Video discovery | No requirements | Remarketing |