The English language is replete with various words you can use to convey a specific idea. No matter how colorful, strange, or unique, there are words you can use to represent your thoughts accurately.
Mundane and uninteresting subjects can become attention-grabbing and interesting when you describe them with powerful adjectives. As if success can't get any more interesting, here are some powerful adjectives to describe a successful person.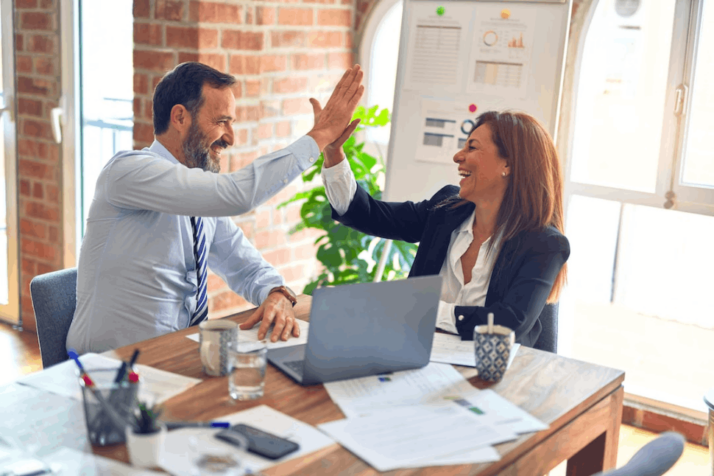 But before we elevate your writing style, there are some basic concepts that we need to clarify.
What are Powerful Adjectives?
Powerful adjectives are descriptors that represent or describe quality to a higher degree. Most times, to express a heightened degree of quality, we use the following format:
Very + normal descriptor
As its name suggests, a powerful descriptor can replace the very + normal descriptor and still create a more vivid subject description.
For example:
Very smart → erudite
Very confused → flabbergasted
Powerful descriptors paint a memorable picture such that readers can't ignore the subject and scene they describe. Instead of saying "very successful," writers can use words like remarkable, exceptional, and exemplary to describe someone successful.
The Importance of Strong Adjectives
Strong adjectives are important because they provide writers with a way to express an idea in a compelling manner. They also appear in persuasive and creative writing.
Strong descriptors draw a reader's attention to the object writers want their audience to focus on. They achieve this by introducing a sense of urgency to a piece. These words also leave the impression that a writer is eloquent.
Remember that unique ideas must be represented by powerful descriptors. Besides the fact that powerful adjectives do your subjects justice, powerful descriptors also give writers another way to paint a scene with their words.
When you weave your words with wit and use vivid imagery, you also create a world that pulls your readers. Your words prompt a person to invest their time into your ideas and, potentially, your business or product.
Eloquent speech is a powerful tool, both in creative and persuasive writing. Those who learn to use these words will find a new world of words they can use. They can use these words to help their readers better relate to their ideas.
If you're looking for adjectives to describe successful people, feel free to choose the best examples from the list below. You'll find that many of these adjectives focus on positive traits, experience, and a way of life.
60 Adjectives to Describe a Successful Person
Positive
Perseverant
Caring
Generous
Honest
Honorable
Confident
Focused
Great
Ambitious
Adaptable
Dependable
Disciplined
Enterprising
Excellent
Exemplary
Hard-working
Inspiring
Intelligent
Keen
Intuitive
Methodical
Meticulous
Motivated
Mature
Objective
Observant
Optimistic
Passionate
Persistent
Powerful
Practical
Precise
Productive
Proactive
Professional
Purposeful
Remarkable
Resilient
Responsible
Respected
Self-assured
Self-motivated
Skilled
Tenacious
Thorough
Versatile
Accomplished
Masterful
Competent
Expert
Gifted
Capable
Adept
Proficient
Talented
Experienced
Seasoned
Masterly
Determined
The Bottom Line
There are many types of success, whether it's in your job, relationships, or any personal venture. Just as success comes in many forms, there are also many adjectives to describe a successful person. All these words are positive, and they all represent a good thing.
Knowing the right words to use will allow you to express yourself profoundly. It's a manner of speech that encourages people to think of you as an eloquent and skilled writer. We hope this list of adjectives for successful people gives you a good starting point.
Additionally, you can also use resources like a dictionary and thesaurus to find more words you can use. They will also allow you to expand your vocabulary and may even pave your path to becoming a successful writer.
Explore All
Add Strong Adjectives Articles