A text rewriter tool takes your existing writing content and turns it into something new. These tools offer writers a more efficient way of recreating content without laboring for hours.
This article explores these tools to help you better understand how they work and why you need them. The article also helps get your rewriting journey started on a good note by introducing you to some of the best text rewriting tools.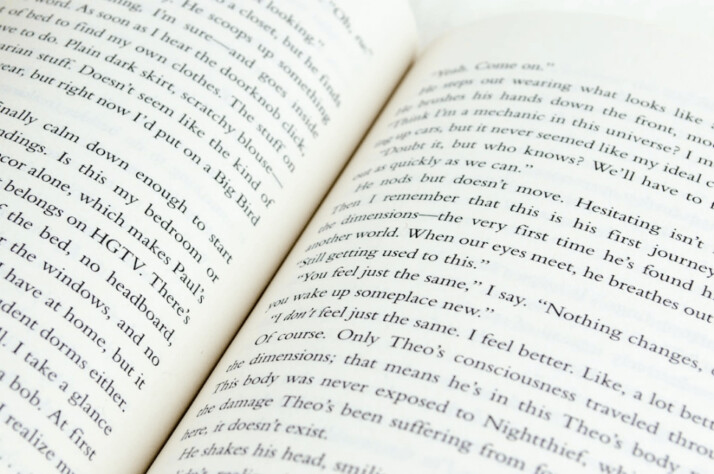 Who Needs a Text Rewriter Tool?
A rewriter tool is a highly valuable tool. Hence, anyone involved in writing should have access to one. The list includes students, bloggers, marketers, researchers, and freelance writers.
At first, it's easy to think these tools just find synonyms for a few words in your essay. This may be true of some basic rewriting tools. However, the latest AI text rewriting tools are game changers.
These tools are so efficient that they create an entirely new version of your article. The icing on the cake is that they do it faster without altering the meaning of your text.
Why Use a Text Rewriter?
Text rewriters sound good, but you're still wondering what their use is. You might want to dismiss text rewriters as just another overhyped tool; don't. Here are some reasons you may need a text rewriter.
1. Creating Original Content
Plagiarism is a concern for everyone because no one rates a copycat. As a student, researcher or writer, you don't want to be caught plagiarizing.
If plagiarism checkers flag your work, it's time to get a text rewriter. The rewriter tool will reword each sentence of your essay and article to pass plagiarism tests.
2. Avoiding Tone and Style Issues
If you're creating content in a relatively new niche, you may have minor issues matching the given style. It doesn't mean your writing is not good enough. Instead, it means that the language chosen to write your article is not ideal.
A quality AI-powered content rewriter will solve this problem with a few mouse clicks. They allow you to select the tone you want the rewritten content to conform with.
3. Refresh Existing Content
For bloggers and freelance writers, the need to create content that distinguishes your brand means your articles must be updated regularly.
The hard way of doing this is by rewriting each blog post and article. Text rewriting tools offer a simpler way to do it. You'll get your refreshed content in no time. It saves you a lot of time.
What Is the Best Text Rewriter Tool?
INK text rewriter is a quality option among the vast array of text rewriting tools. As you'll learn in the subsequent review, this tool takes writing to a new level.
INK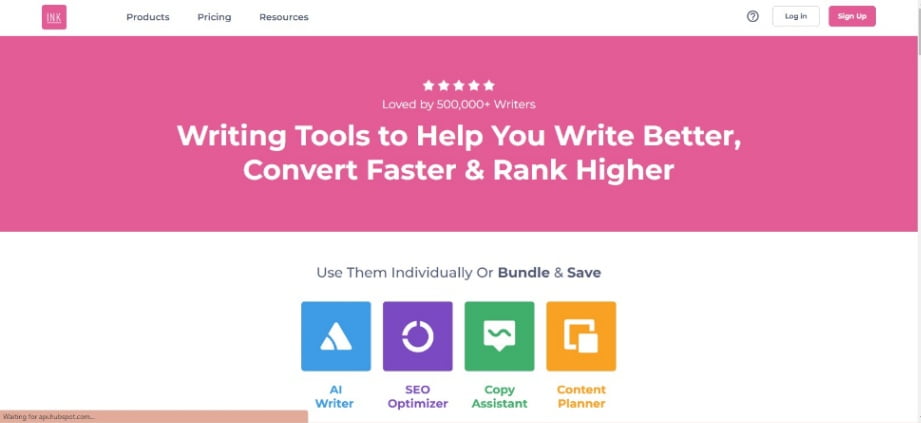 INK Editor offers different writing tools to help every writer elevate their writing. One of such is the rewrite feature that users can access through the desktop app and Chrome extension. The desktop app is compatible with Windows, macOS, and Linux. This app lets users create content faster with its immersive and distraction-free interface.
INK's writing tools are AI-powered, so users are guaranteed to get only top-notch outputs. You can rewrite any text simply by highlighting it. On a browser, users only need to click on the INK icon that appears close to the highlighted text.
The tool displays alternatives to the highlighted text. You can rewrite your text in a casual, formal or normal tone. The expand and simplify options also let you reword the text to make it longer or shorter.
QuillBot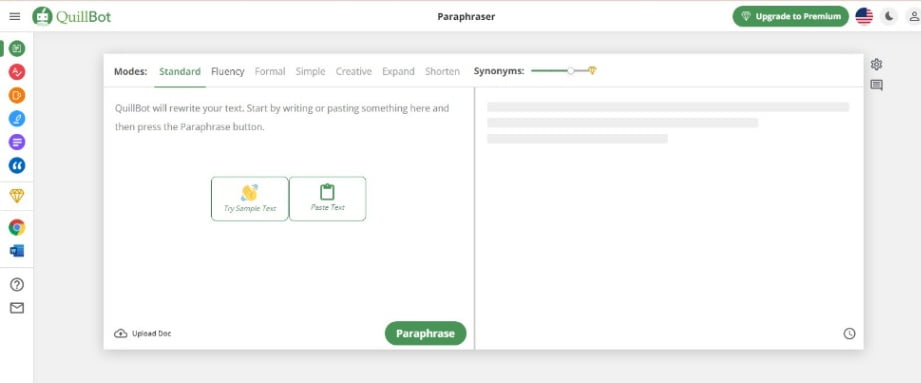 QuillBot is a popular rewriting tool, and it's been around for a while. On QuillBot's web interface, users can paste their text in the box provided to get started immediately. With seven paraphrasing modes, QuillBot covers most of your rewriting needs. Note that only two of these paraphrasing modes are available on the free plan.
You can also use QuillBot's add-ons for easy integration. There's an extension for Microsoft Word and another for Chrome browser. Overall, QuillBot is a straightforward rewriting tool with a simple yet useful design.
Wordtune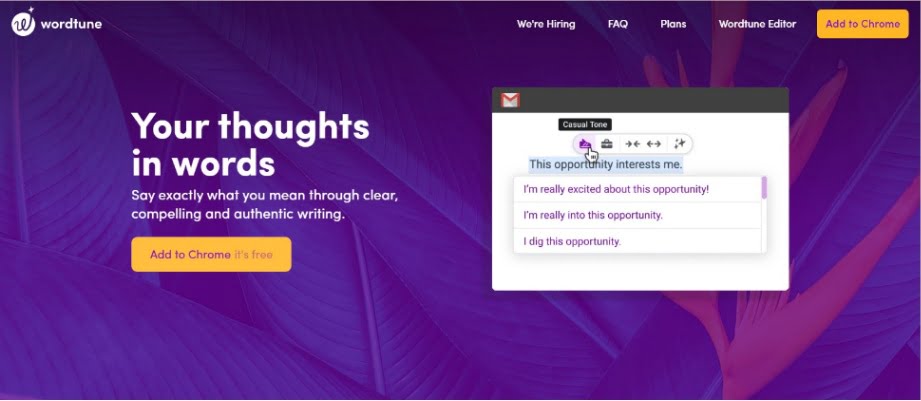 Wordtune helps users to convey their ideas better with its range of rewriting options. It is an AI tool with language models that understand the context and semantics of written text.
With WordTune, you can rewrite your text normally, casually, and formally. In addition to these options, you can also shorten and expand your sentences with Word Tune.
Word Tune has an extension for Word and works on other websites like Facebook, Twitter, and LinkedIn. Users get ten rewrites per day on Word Tune's free plan.
Word AI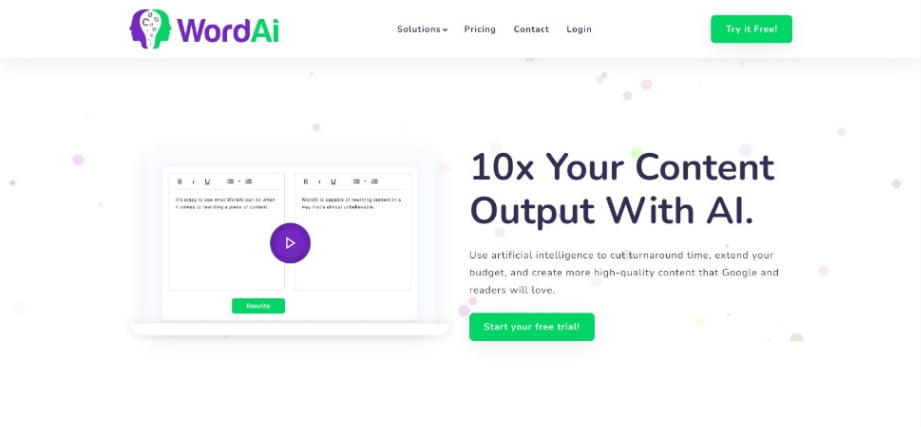 Word AI is a text rewriter tool that delivers fast and intuitive rewrites. This tool brings a new dimension to AI article rewriting with its bulk rewrite feature. This feature enables users to upload their articles at once. The feature goes both ways, as you can also download your rewritten content in bulk.
Word AI offers API integration that allows you to integrate the tool into any workflow. The tool also offers Article Forge integration and is compatible with HTML.
Word AI also allows users to control the tool's overall creative output. You can make the tool more conservative if you'll prefer to keep more of your original writing.
Copymatic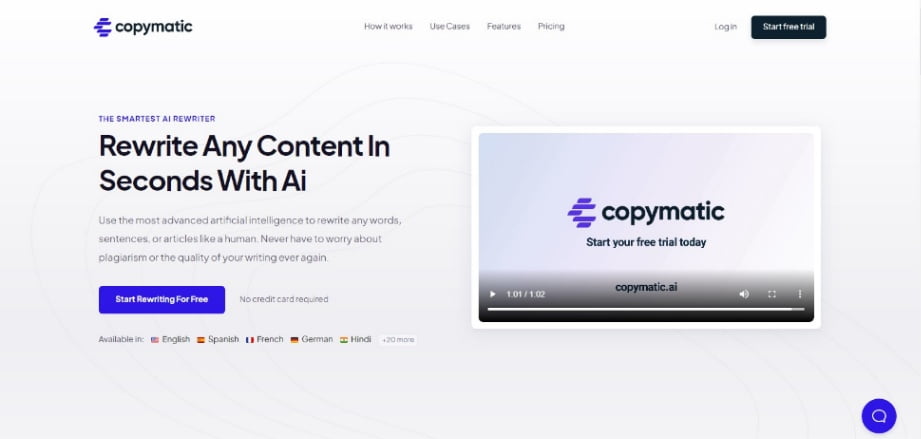 Copymatic's AI-powered rewriter is another quality tool. You can copy text into this tool the usual way to get it rewritten. In addition, you can enter the content URL, and Copymatic will get the content for you. You can adjust the tone of voice and creativity level of the rewritten content as well.
Conclusion
In summary, there are many reasons why you should use a text rewriter tool. You may use it to create original content, avoid tone and style issues, refresh existing content, and, most importantly, streamline your work.
You may be thinking: "why bother? I can do this on my own without any tool." The thing is that it will take you a lot of time to get this done. Ultimately, it is counterproductive. You do not want to spend hours rewriting a piece of content. Get an artificial intelligence-powered tool to do it.
Explore All
AI Rewrite My Sentence Articles