A company's profile is an opportunity to create a personal and authentic connection with its audience. It's a chance to tell the story about you, your brand, and why your company is unique. A profile usually includes an 'About the Company' section featuring the company's founding, why it exists, and other essential facts.
People who find you online want to know what your company is all about, including how you can help them. But how do you create the perfect about page?
Let's look at some cool ways to optimize your 'About the company' page today.
Company Profile: an Overview
A company profile is an essential asset to your business – it presents who you are and what you do to the world. It needs to be thoughtfully built, as a well-crafted profile is important in content marketing strategy.
The company profile includes the company's mission, vision, strengths, activities, products, tagline, and a succinct company description. About the Company section of the company profile includes the story of the company's founding, history, and other essential facts.
Company profiles are essential for the following reasons:
Investment decision: From the information on a company profile, an investor can decide whether or not to invest in the company.
Connect with customers: A company profile informs social media and website users about the company's origin, values, goals, and mission.
Differentiates your brand: A company profile is where you include your history and values, which are integral parts of your brand positioning strategy. Companies can separate themselves from the rest of the competition by telling their founding story and reason for existing.
Builds reputation: Company profiles reflect the brand's image and are used to show the world that you make quality product or service. With a well-built profile, you can tell the world what your company is known for.
What Is an 'About the Company' Page?
Every website needs a compelling one! The 'About' page briefly summarizes the company's founding story, highlights its most significant selling points, and answers potential customers' most pressing questions.
'About the Company' page provides vital information about the company, including its history, management team, and corporate philosophy. It gives the reader a first impression of the company and why they should consider it an option. You can use stories, photos, and personal interests to tell the unique story of your business.
Your 'about' page should:
Tell the story of your brand and why you started it.
Describe the problem the business aims to solve, including its target audience.
Explain the brand model or how your products are made.
Feature the management team.
Include persuasive content (e.g., an explainer video, data visualizations, links to blog posts) on the homepage.
How to Write an About the Company Page
An 'About the Company' page can give potential shoppers information about you and your company. In addition to being informative and descriptive, the page also helps to increase the efficacy of marketing. Here are eight things to keep in mind when writing this page.
1. Establish a Mission Statement.
You need to state your industry goal upfront and clearly. Your About page should explain who you are and what you do. The goal is to make an impactful statement that defines what your company aims to accomplish while also following the company's values. This gives the reader something to remember your company for even after leaving your website.
2. Outline Your Company Story.
Tell the story of your brand. The history of your company gives the audience a better sense of the process. Even as a start-up, tell how you got to where you are, including changes and growth process. Use the milestones and key dates before your founding to give readers a great backstory on your current venture.
Explain how the company has changed since its inception and how it hopes to become in the future. You can even include the future goals or aspirations that are in place.
3. State Why You Started.
What idea was your company founded upon? What problem was it created to solve? Include your motivations for starting the company in your story. Also, state the challenges you faced while starting and how the challenge has shaped your company to become better.
4. Describe Your Target Audience.
Many people might visit your website, but not everyone is your target audience. Identify and mention your target customer. This gives visitors an idea of what your business aims to achieve and what problem it is targeted at solving.
5. Explain Your Product and Service Offerings.
Spell out your major products and services. Generalizing your products or service makes it difficult for the customer to understand what you're offering. If visitors find it hard to decipher what your business is about, they'll become disinterested and move on quickly.
6. Cite Examples of Customers You've Served.
In your About page, cite examples of customers that trust and patronize your brand. Knowing about a company's past successes can influence prospects' purchasing decisions. This is because they will envision their success in that of your past clients.
7. Describe Your Values.
Describe who you are as a team or an individual, and also state your values. What's your company culture? What drives your business? Add pictures. Images are a powerful tool to humanize your brand.
Best 'About the Company' Examples
1. Starbucks: Starbucks is a store with a standard household product – coffee. It's 'About' page begins with a background story, stating the company's mission and products.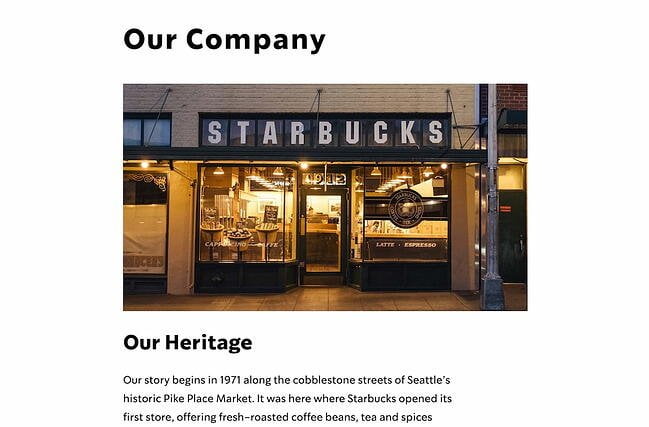 2. Seattle Cider: This company told its start-up story in its 'About' Section, including its mission and products. The management team and the awards the company has received are also displayed. This builds trust and helps the potential client decide whether to patronize them or not.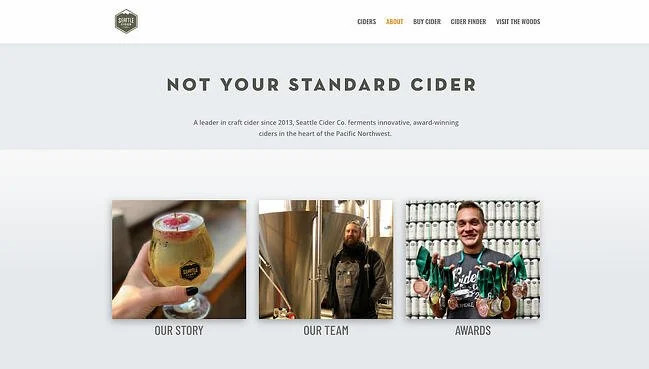 3. Delta: This company's About page showcases its values, including efforts to engage with the community and promote sustainability. It uses images to convey its brand story and mission.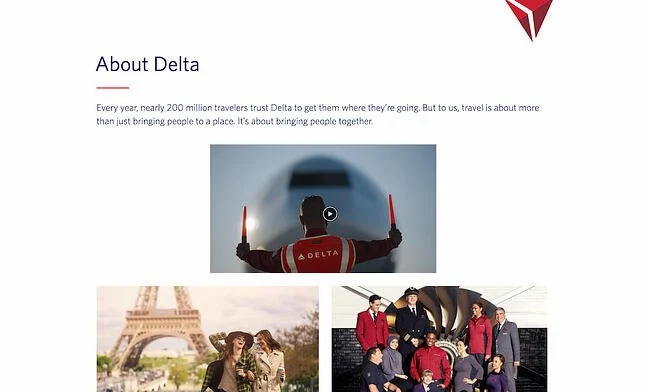 4. Tesla: Its 'About' page tells the company's history and how it grew to its current venture while maintaining the same values. It also included the company's mission and the products it specializes in.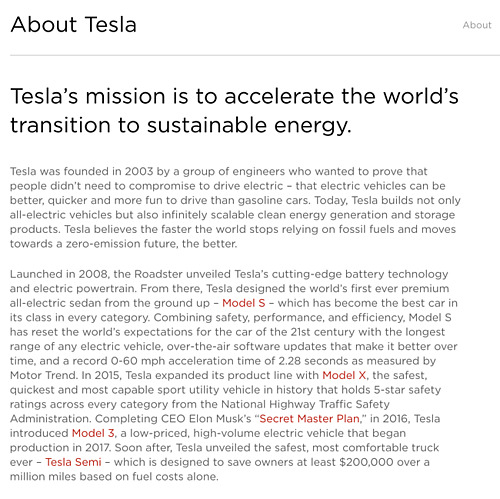 5. Landed, Inc: This company's About page starts with its vision statement, followed by its founding story, mission statement, and company description. It also highlights its services in bullet points to help prospects understand what they offer.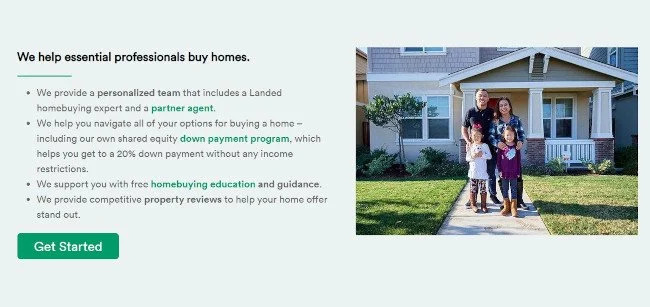 Wrapping Up
'About the Company' page sets out your company's purpose and origin to entice potential clients and fans to learn more. This is also an excellent place to highlight why you started your company, and give your target audience a reason to trust you. Learn how to write a compelling About page from this article!
Explore All
Brand Vision Statement Articles