Creating a unique company profile template is important. You have to consider the unique aspects of your business and make that the focus of your company profile. One way to do this is to create a template that's close to what your business aspires to be.
Each company profile is unique because each organization has special emphasis, values, and objectives.
Regardless of your perspective, writing a company profile may be a difficult task. On the one hand, one may be created in 15 to 20 minutes. On the other hand, a few hours could be spent establishing a company profile that:
Resonates with your target audience
Creates trust for a future purchase.
The corporate profile should distinguish the company and its products from its rivals. It should have a targeted and persuasive message to engage the intended audience, which will help advance their business.
In light of this, we decided to offer some suggestions on writing the perfect company profile.
Let's dive in!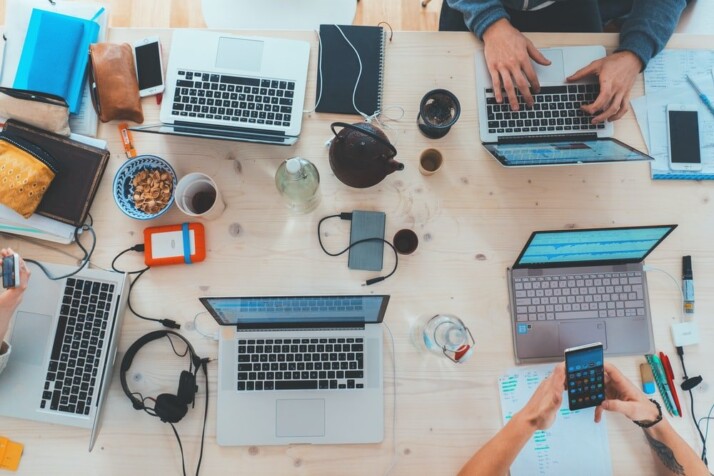 What Is a Company Profile?
A corporate profile describes a company's mission, objectives, vision, and history. Typically, a profile comprises an 'About Us' section that describes the company's origins and motivations. It also contains a piece that introduces the leadership team.
Two critical functions of a company profile are attracting investors for funding opportunities and connecting the company with its customers.
A company profile is a marketing tool that convinces business people and executives to listen to what you have to say. A great profile, by itself, is worth 10 times its length.
Some have discovered that the best way to write a profile is to follow the ADDIE model. The five stages of the ADDIE model for a company profile are:
Identification
Analysis
Design
Implementation
Evaluation
On the surface, this is a type of project management process for designing and creating a product, but we're going to show you a more meaning full and powerful version.
Before we begin, you might be wondering why you need a corporate profile in the first place.
Why Is a Company Profile Necessary?
A corporate profile helps to distinguish your brand. It describes what makes your organization special. It automatically identifies your brand because no other firm has the same origin story and raison d'être as your company.
Your firm's history and core beliefs are vital to your brand positioning strategy. A company profile is where you may highlight them without appearing out of place or irrelevant.
Company profiles surpass the conventional "about" page. They discuss the origins of your firm and why you continue to serve clients.
What Is a Company Profile Template?
A corporate profile template is a marketing instrument that highlights your brand's products, services, and activities. A persuasive corporate profile presentation should go beyond a simple brochure. It engagingly presents your business and informs stakeholders about your company's offers and distinctive traits.
Most small businesses do not create a business profile template unless they require one. While these profiles are occasionally created as one-page documents or even infographics, we maintain that the slide presentation style is likely the most effective.
Adding or removing material from one-page documents and infographics is difficult once they have been created. With a presentation, on the other hand, you can add or remove slides to adapt the information to the recipient.
What Does a Company Profile Template Consist Of?
A company profile template is a document which is used to house the information of a company. It typically has information such as the company's mission, goals, what the company does, etc.
Follow these tactics to make your company profile engaging, informative, and lead-generating.
1. Cover
Keep the cover simple and use the most excellent company image possible. If you don't have a business-related picture, consider using our Flickr and Unsplash integrations to find one.
2. Impressive Numbers
Utilize founding year, customers serviced, and monthly active users. The point is to pick KPIs, achievements, or accolades that you can boast about.
3. Mission and Objectives
We have replaced the standard mission/vision statements with our concept of business culture (without a vision), yet we recognize their necessity.
4. Core Team
Discuss your core team, or at least the portion pertinent to this document's recipient. Try to limit it to two to four people and provide the shortest possible description.
5. Services Offered
This type of "what we do" slide may not apply in all situations. You may wish to include additional services or products your company offers if you are using this presentation for a business proposition.
6. Clients
There is no more substantial evidence than social proof. This slide is your opportunity to boast about your most notable clients and the projects you've built with them.
7. Projects and Products
As an extension of the clients slide, include some of your most notable projects/products. Get a star or hero image for each and include a brief description of your organization's accomplishments.
8. Quotes
Once again, social evidence is highly beneficial to these presentations. Place them here if you have press quotes or reviews from relevant individuals.
9. Add Contact Details
Insert website, email, and social media platforms links and addresses.
Create the most effective company profile presentation immediately!
To Wrap Up
It's important to have a company profile template because most people use it to arrange or manage the information about companies.
Is your firm the one that developed from a modest family-owned business to a multibillion-dollar corporation? Or is it a corporation that places ethics and sustainability at the heart of its brand?
You can establish your reputation through marketing, customer service, and sales efforts, but it all starts with a carefully crafted company profile template!
Explore All
Brand Vision Statement Articles