How to Write a Motivation Letter: 5 Expert Tips
A motivation letter is not a resume that lists your experiences and skills. It is a much more personalized, focused story about why you are the best possible candidate for a scholarship or volunteer opportunity.
Motivation letters present the opportunity to perk up the ears of school committees with stories of your unique accomplishments. The question of how to write a motivational letterrequires a well-thought-out answer.
This article discusses the tips for crafting a compelling letter of motivation.
What Is a Motivation Letter?
A motivation letter is a personal letter that highlights one's professional skills and reasons for applying for a scholarship, or a volunteer position. This letter is usually fact-based and accompanies supporting documents like the transcript of grades.
Motivation letters focus on a personal story detailing your personality, interests, and motive for applying to a program.
A motivation letter is not a cover letter. Unlike motivation letters, cover letters are used for paid job applications. They highlight the candidate's job experiences that match the position applied. A cover letter is an introduction to your resume.
On the other hand, a motivational letter is a powerful pitch that showcases the candidate's positive attitude and desire to contribute to the company.
You'll most likely be required to write a motivational letter in the following scenarios.
When applying for an educational program at a university or college (i.e. undergraduate, graduate or postgraduate degrees).
When applying to work as a volunteer in an organization.
If you're applying to work at a non-profit organization.
When applying for an internship in an establishment.
Structure of a Typical Motivational Letter
Motivational letters should be written professionally. It is essential that the letter appeals to the reader and gets them excited about your personality. Such letters should also portray you as the right candidate for a scholarship, internship, or volunteer position.
A typical motivational letter follows this structure:
An introduction.
The body.
Conclusion.
How to Write a Motivational Letter
The following step-by-step guide on how to write a motivational letter will help you craft a winning letter.
1. Write an Outline
An outline is the skeleton of your letter. It is a guide that helps you establish the goal you're trying to achieve. You'll have a good idea of what to include and what to leave out of your letter with an outline.
Write an outline highlighting the content of your motivation letter in the correct order. Outline the topics to cover and include points under it. Some topics to note are:
Why you wish to study the course or volunteer with the organization.
Your qualities or skills that will benefit the school or non-profit.
What interests you have about the school or non-profit organization.
Ensure you include all relevant details under each topic you highlighted. Some motivational letters such as that for a Ph.D. program might need more details about your specific future plans and experiences.
You might need to cross-check your outline with the information you got from the school or non-profit you're applying to.
Review your outline as much as possible until you're satisfied with it. If need be, move points to create a more logical flow. The outline you created will help you stay on track when you're writing the final version of your motivation letter.
2. Write an Introduction
The introduction is the first part of your letter. It tells your reader who you are, why you are writing the letter, your goals and the desired outcome. Address the recipient by name to allow them to connect easily with you and to give your letter a personal touch.
Your introduction should hook the reader into reading the rest of your letter. You could also include details about your notable achievements in this section. Consider this example:
Dear Mr/Ms. [recipient's surname],
My name is [your name] and I am a [position/qualification/area of study]. I am writing to apply for a [volunteer opportunity/scholarship] at [name of school/organization].
3. Write the Body
The body of your letter should discuss the points in your outline. Each topic should begin in a new paragraph. Check the program or volunteer requirements from the company or institution's website and explain how you're a good fit.
Explain why you're interested in the program, demonstrating that you share the organization's values with a story or examples. Include your skills, demonstrate knowledge and express passion for applying for the position without begging or showing off.
Your letter aims to convince the recipient of your value, so use compelling words and persuasive language. However, state only facts; you do not want to ruin your chances by telling a lie. The body of your letter should be between 5-7 paragraphs.
4. Conclusion
The conclusion of your letter should summarize your points and leave a positive impression on the reader. Remember to thank the recipient for their time. Also, include a call to action, encouraging them to reach out to you if they have any questions. Typically, your conclusion should include:
An overarching goal – "I'd love to be part of this program because…"
A thank-you note – "Thank you for considering my application…"
A call to action – "Please contact me if you have any questions for me…"
5. Proofread
Take time to proofread your letter and ensure it is free of grammatical and spelling errors. Cross-check the information you provided against that on your application form to ensure you've not offered contradicting information. You may ask a friend or a professional for help with proofreading to be sure it is error-free.
5 Expert Tips for Writing a Motivation Letter
The following tips will help you craft an outstanding motivation letter that'll persuade the recipient that you're a good fit.
1. Follow Guidelines
Where guidelines regarding formatting, length, and others are provided by your prospective non-profit or school, follow them to the latter. With no specified instructions, use the standard formatting, i.e., 12-point font and Times New Roman or Arial.
2. Reflect Your Personality
Write in your unique voice to reflect your personality. Include exciting details that'll make your letter stand out. Don't use humor – remember it's a professional letter, so use a serious tone.
3. Use Simple Language
Write your motivational letter using simple vocabulary. It's neither the time nor the place to show that you're smart. While proofreading, identify any unnecessary complex terms or jargon and replace them with more straightforward terms. Use active and short sentences rather than passive and long sentences that can be misconstrued.
4. Focus on Your Strengths
Rather than focusing on your limitations, write about your strengths. Your letter aims to convince recipients that you're valuable to their organization or school.
By keeping the tone of your letter positive and writing about your strengths, you help the decision-makers identify the value you're offering them.
5. Go Straight to the Point
Your letter should not be overburdened with unnecessary text and ramble on about every topic. Keep it short and focus on what you want to say. Use a sincere tone and write passionately about the program or position.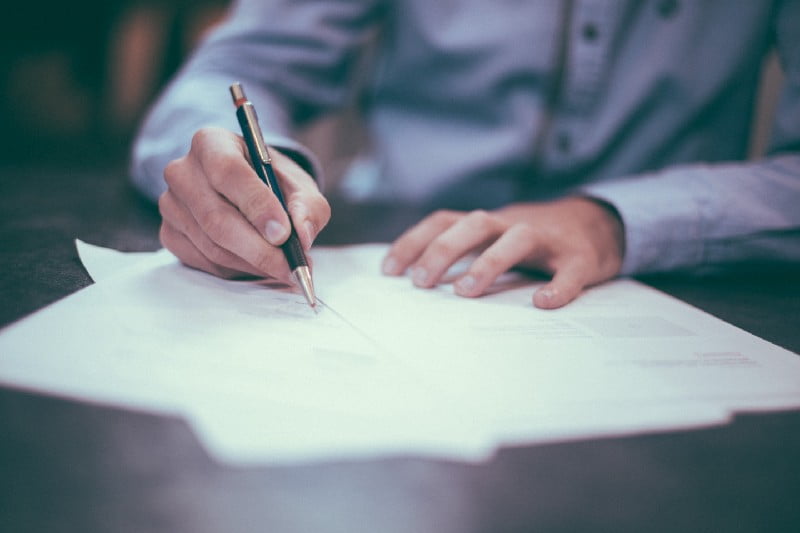 To Wrap Up
A motivation letter is an official letter that a student or an applicant writes to make a personal or professional case for an application. A well-crafted motivation letter will increase your chances of being considered for the program or position you've applied for.
Your motivational letter should inform the reader of what value you will bring to them. It should also state what you're looking to accomplish if your application is granted. Most importantly, your letter should persuade and convince the reader of your abilities and make them see you as valuable to them.
Frequently asked questions
What is a personal motivation statement?
These are the basics. The purpose of a personal statement is to promote yourself, aka why you are the right candidate for an undergraduate degree. Motivation letters are more about your future study plans and how your Bachelor's application will assist you in your pursuit.
How do you start a motivational killer letter?
Start off with a good impression.
Make it unique to your job.
Write clearly
Include relevant experience
Keep the resume in mind when resuming.
Describe what you've done.
Finish strong
How do you address a motivational letter?
If you know the hiring manager's name, go with "Dear Mr./Miss Last Name," but if you're unclear about their gender, marital status, or preferred pronoun, just address them with. People should address their recruiters using their title if they have a professional or academic title.
What motivates you to apply for this position answer?
Be succinct and present details in your answers to any interview question. Whatever you say about your motivation, you need to back it up with examples from your studies, work experience, and/or extracurricular activities, and it should omit skills and aptitudes necessary for the job you're seeking.
How long can a motivation letter be?
A motivation letter should be between 500-700 words (or whatever length your dream institution recommends). However, do not forget this after you've finished writing your draft and only consider it when you're trimming it down to a presentable length.
Is a motivation letter the same as a cover letter?
Motivation letters differ from cover letters in that they offer examples of how you apply for the job position you want to apply for. Motivating letters, however, focus much more on your personality, interests, and motives.
How do you write a motivational essay?
Despite your ability to demonstrate personality in your essay, don't forget to discuss your career goals. Indicate your motivation for choosing this career path and why you are most suitable. Explain why you are the best candidate for the job. Don't overdo it by showing off or praising yourself.
How long should a motivation letter be for a job?
Cover letters should be between a half-page and one full page. Cover letters should never exceed one page.
What are your motivations to apply for this job?
I have completed a challenging assignment.
coaching others
acquiring new skills
Finding solutions to problems is key to improve processes.
overcoming challenges
Leading a team or being part of a group.
Goals, deadlines, and goals.
learning new things