What words best describe you? Funny? Determined? Hardworking? These words are adjectives. Adjectives modify one's personality. They're an easy and great way to describe yourself to others who're just getting to know you. If you need to figure out the best words that describe people, you're in the right place.
When used in writing, personality adjectives help you paint a picture of yourself to the reader in a few words but even more effectively. They're typically used when describing historical figures, writing a biography, or an autobiography. If you need to address an audience or write a cover letter for a job post, you'd typically need to describe your personality. Let's see some of the personality adjectives you could use.
Adjective Overview
Before we delve in, let's understand what an adjective is. You probably know that an adjective is a part of speech. But what is its purpose?
Adjectives are words that describe or modify nouns or pronouns in sentences. They make writing powerful, more exciting, and more effective. They provide extra details about the noun or pronoun they modify, making the sentence more appealing to readers.
Some adjectives are bad, good, beautiful, and kind. Let's see how useful an adjective can be. Consider the sentences below.
This is my wife.
This is my beautiful, amazing, and compassionate wife.
The second sentence is more explicit, listing the wife's qualities and helping us understand her personality better.
Words that Describe People
Adjectives are powerful – they add meaning to a noun or pronoun. You can use either a positive or a negative adjective to describe a person's personality. If you want to create a positive image of the person, use a positive adjective. And negative adjectives if you need to spotlight the negative features of a person.
Finding the perfect word to describe someone's personality can be challenging. With these personality adjectives, you can offer some insight into a character without long, overly-complicated words or phrases. Here are some of the words that describe people.
Positive Adjectives to Describe People
Affable
Non-judgemental
Decisive
Gregarious
Dependable
Hardworking
Observant
Sensitive
Agreeable
Determined
Adaptable
Sensible
Affectionate
Courageous
Self-confident
Adventurous
Creative
Optimistic
Ambitious
Hilarious
Organized
Amusing
Persistent
Socialable
Artistic
Philosophical
Sympathetic
Bright
Efficient
Industrious
Placid
Talkative
Broad-minded
Energetic
Intelligent
Plucky
Thoughtful
Calm
Negative Adjectives to describe People
Inconsiderate
Overcritical
Stupid
Arrogant
Devious
Aggressive
Cynical
Impolite
Nervous
Sneaky
Aloof
Deceitful
Impulsive
Obstinate
Stubborn
Overemotional
Sullen
Bad-Tempered
Tactless
Belligerent
Dishonest
Inflexible
Pig-headed
Thoughtless
Domineering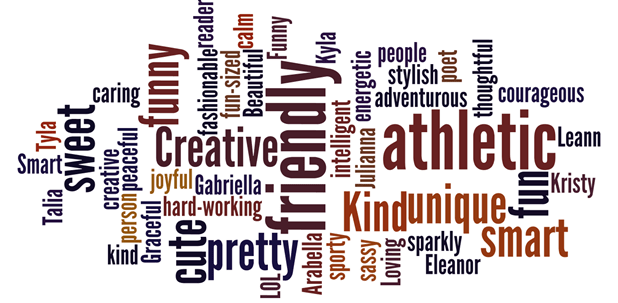 To Wrap Up
Adjectives are a great way to increase the quality of your writing, making it more appealing to your reader. Sometimes you might find yourself in a situation where you don't know what descriptive words to use. You don't know what an appropriate adjective would be, or you're unsure how to conjure up the perfect one. The list in this guide will come in handy when describing a character without using overly-lengthy phrases or words.
Explore All
Descriptive Text Articles