The best way to get acquainted with someone is to ask them questions. This will help you get to know them and eventually get the conversation rolling. If you're out of ideas on what to ask a guy you just recently met, don't worry. We've got you covered with a long list of casual questions to ask a guy.
You want to ask questions that aren't too personal or that make him feel uncomfortable. Try to ask sincere questions that will help you in getting to know him better.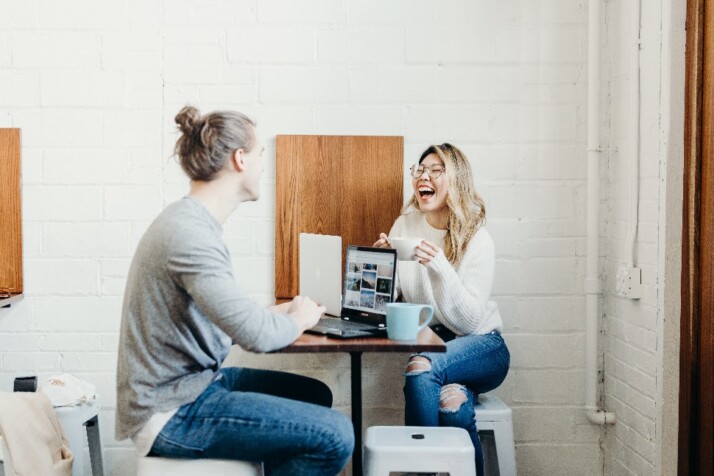 Quick Tips for Sparking Up a Conversation With a Guy
We all know how nerve-racking some dating situations can be, so to make the process smoother, here are some quick tips. These will help you ask questions seamlessly and keep your conversation going.
Ask them about something they like: Guys will have a lot to say when you ask them about a topic they're interested in. Let's say he likes basketball; try asking him who his favorite play is or if he's played in school before.
Avoid questions that are too personal: This is especially important if you've just recently met him. You don't want to sound rude and get into his personal life.
Slip questions into a conversation: This isn't an interview where you bombard him with questions. If you want to know him better, try to slip your questions into your conversation. This will make your conversation flow more naturally.
Great Casual Questions To Ask a Guy
General Questions to Ask Guys
These are great questions to ask a guy you just met at work or a party. They can be an effective way to keep your chat interesting and fun.
What are your personal goals?
What kind of childhood did you have?
How do you feel working for (company)?
What's the one thing you can't tolerate?
What expectations do you have of yourself?
Who are your family and friends?
What was your most memorable birthday?
What kind of music do you like?
What's one item you've crossed off your bucket list just recently?
What is the funniest memory you have of high school?
If you could describe yourself using only one word, which would it be?
What is your favorite character from childhood?
What kind of animal do you find the cutest?
Would you rather choose fishing or hiking?
Questions to Get to Know Him
Most of these questions focus on getting to know his interests and hobbies. This will help you gauge whether your personality clicks with his or not.
What type of food do you like?
What kind of music do you like listening to?
Do you like pets?
What is your dream job?
What's your favorite hobby?
Do you like traveling?
Do you like sports? If so, what are some of your favorite sports?
What's your favorite drink?
Do you like cooking? If so, what do you like to cook?
Do you believe in destiny?
What's your favorite movie?
Would you rather live in the middle of the city or the suburbs?
What do you think is the best season of the year?
For a First Date
We all know how awkward going on a first date can be. Sometimes you just run out of things to say next and end up playing charades. Luckily, there are some questions to help you keep your conversation flowing on your first date. Here are some of them:
What's one thing that you don't like the most about Women?
What do you think about dating on the internet?
Who was a celebrity crush when you were a kid?
Do I make you nervous?
How do you feel around me?
Do you ever lie, so you can get what you want from girls?
What was your first impression when you saw me?
Would you rather win 1 million dollars or fall in love?
Do you have any questions for me?
What is your romance spirit animal?
Ice-Breaker Questions
These questions will not fail to strike up a conversation with anyone. Some of these are fun situational questions that will get them thinking!
If you could live in any period or age, what would it be?
How do you like eating your pizza: folded, flat, or with a knife and fork?
How would you title your autobiography?
If you could live a day like any animal, which animal would you be?
What is the tallest building that you've been in?
Have you ever seen a Broadway show?
What is your biggest pet peeve?
Which character on TV can you relate to the most?
What emoji do you use the most?
If you could be any celebrity, who would you be?
What is the first thing you would do if you won the lottery?
What's the one thing you can't live without?
To Wrap Up
It's normal to feel shy when you're around someone new. During situations like these, asking thoughtful questions can be a lifesaver.
Few people know how to start conversations, so here are some great casual questions to ask a guy. With these questions, you will gain insight into their personality, beliefs, and interests.
Explore All
Engaging Questions Tool Articles