Are you looking to apply for a marriage green card? You'll need to prepare for many steps, one of which is the marriage or wedding interview. The interview process is usually the last part of the green card process. Waste no time and start preparing for your interview with the help of these wedding interview questions.
We've listed some important questions you may be asked during the interview. Even though this interview may still be months away, knowing what to expect will make you more confident and prepared for that important day.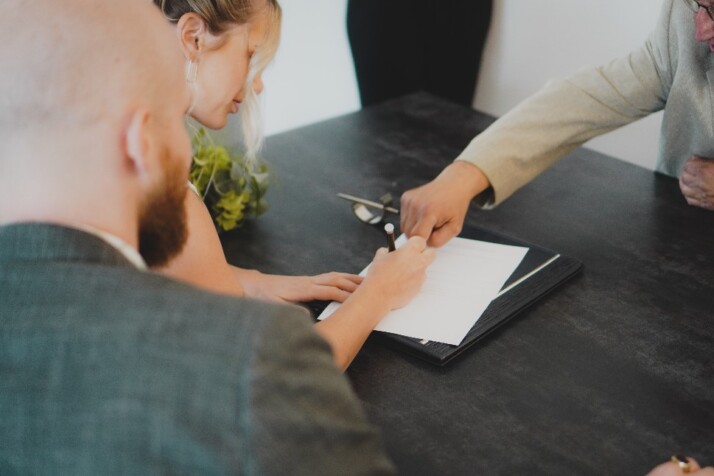 How Many Questions Will the Officer Ask About the Marriage?
If everything appears in order and the officials handle your case like a regular adjustment of status, you can expect only a few questions. These can be basic questions like how you met or when your wedding was.
If immigration authorities become suspicious that your marriage could be fraudulent to obtain a green card, expect many questions. To better prepare for these kinds of situations, check out the questions in the next section.
Wedding Interview Questions
Basic Interview Questions
What is the full name of your spouse?
What year was your spouse born?
How did your spouse come to the U.S.?
Where was your spouse originally from?
Do you have children from your spouse before your marriage?
Has your spouse been married before?
Does your spouse have siblings? How many are they? What are their names?
What are the names of your mother-in-law and father-in-law?
Questions About The Development of Your Relationship
When did you meet?
Is there anything that you have in common with each other?
How did you travel for dates?
How long did it take for your relationship to turn romantic?
What was the length of time you waited to get married?
Who proposed?
The ring was chosen by whom?
What made you decide to have a [long or short] engagement?
How did your parents or friends respond to your relationship?
Wedding Questions
How many people were at your wedding?
Were both of your parents there?
In what location was the wedding held?
Could you please tell me if there was music or other entertainment?
What kind of cake did you serve?
Who were the bridesmaids and groomsmen?
What time did the guests arrive?
Did the bride change her clothes for the reception?
Did you go on a honeymoon? Where did you go?
Information Regarding Your Relationship with Your Spouse
Do you remember when you married your spouse?
How did you and your spouse get married?
Do you intend to have children with your spouse?
How did you meet?
Did you live with each other before you got married?
Are you and your spouse living at the same address? How long have you been living together?
What did your spouse propose to you?
How did they propose to you?
Which one of you pays the bills?
Do you have a shared bank account?
Do both of you attend religious services? How often?
How did both of you celebrate your last birthday?
What kind of television shows do you and your spouse watch?
Information About Your Marital Household
Do you live in an apartment or a house?
What color is your apartment building/house?
Is your apartment complex equipped with an elevator?
Do you pay your rent/mortgage every month? How much?
What type of flooring is used in your bedroom? (carpet, wood, etc.)
What color is your refrigerator? (You should be familiar with simple details like the colors of your appliances and furniture in your home.)
How many bathrooms do your apartment/house have?
How many TVs are in your house?
Do you have a television in your bedroom?
Spouse's Personal Information
Does your spouse have tattoos? Can you describe them?
Does your spouse have a smoking habit?
What color are your spouse's eyes?
What is the cell phone number of your spouse?
Does your spouse have scars?
What is your spouse's job?
Do you make coffee in the morning for your spouse?
What time does your spouse usually return from their work?
What time did your spouse come home last evening?
How does your spouse usually eat breakfast?
What are your nicknames for your spouse?
Does your spouse wear cologne or perfume?
How much are the annual earnings of your spouse?
Conclusion
Marriage or wedding interviews are essential steps in getting your green card application approved. It would be best if you answered with confidence so that officers don't doubt the authenticity of your marriage. Practice with these wedding interview questions, and you'll be better prepared!
Explore All
Engaging Questions Tool Articles